A local events company is turning some of the North's most impressive spaces into unique pop-up cinemas this year.
The Village Screen is a small independent events team that was set up back in 2015 to create stunning cinema experiences showing classic films in unexpected locations – with some of the past popular venues including Manchester's very-own Victoria Baths, Kenwood Hall in Sheffield, and Hathersage Swimming Pool in Yorkshire, as well as a range of other drive-in experiences.
The company is also known for working with some of the UK's best street food vendors, musicians, and entertainers to create its "unmissable" cinema experiences.
In case you haven't heard, The Village Screen has already this year turned one of the Peak District's largest caves, the dramatic Peak Cavern, into a cinema space for a series of pop-up events, and kitted it out with cosy blankets, hot water bottles, and more for a truly special experience.
Films were projected onto a 21ft screen, with state-of-the-art sound and lighting.
Visitors were also greeted by live music, street food stalls, and pop-up bars before heading through to the cinema area, surrounded on all sides by stunning natural limestone walls.
The Peak Cavern itself is one of the gems of the Peak District, with a fascinating history, as the rock formation used to be known as the 'Devil's arse', because of the fart-like noises created by the water that flowed through it.
It also has the largest cave entrance in the British Isles, at 20m in height, 35m in width, and 100m in length.
Inside are the remains of a rope maker's village – and in more modern times, it's The Village Screen that keeps visitors flocking back here.
At all The Village Screen events, moviegoers can get drinks and snacks delivered to their seats during the film, and add on 'Snuggle Packages', which include blankets, hot water bottles, cushions, and a selection of sweets and chocolate.
The Village Screen is currently screening classics at Victoria Baths in Manchester, and at Kenwood Hall in Sheffield – and the full lineup is below.
Tickets are on sale now at thevillagescreen.com/pop-up-cinema.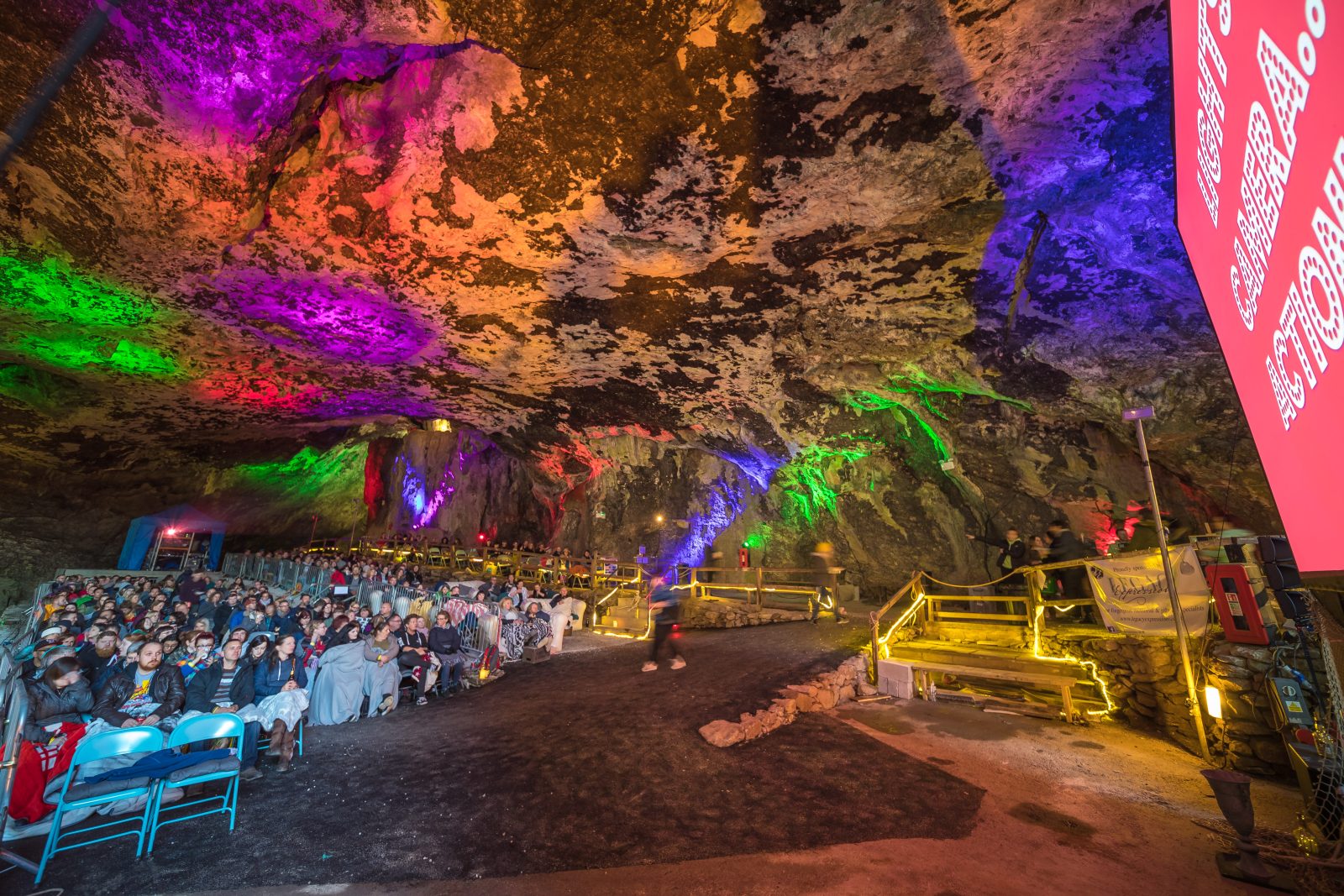 The Village Screen Lineup – Summer 2022
Thursday 4 August – Grease (7:30pm – 11:15pm at Kenwood Hall)
Friday 5 August – The Full Monty (7:30pm – 11pm at Kenwood Hall)
Saturday 6 August – Dirty Dancing (7:30pm – 11:10pm at Kenwood Hall)
Sunday 7 August – Jurassic Park (7:30pm – 11:30pm at Kenwood Hall)
Friday 19 August – Dirty Dancing (7pm – 10:40pm at Victoria Baths)
Saturday 20 August – The Grand Budapest Hotel (7pm – 10:40pm at Victoria Baths)
Featured Image – Nathan Dainty at It's Nate (@itsnate.uk / www.itsnate.uk)