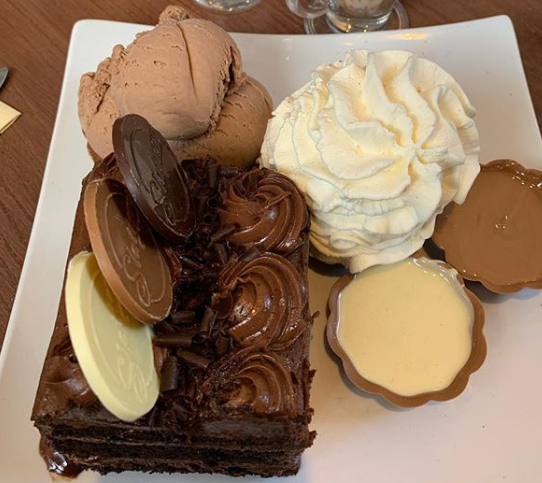 Whenever I see a food challenge, I immediately think 'yeah that looks well easy, could definitely polish that off in no time'.
My problem, however, is my eyes are perpetually bigger than my belly, and the reality is there's more chance of Oasis reforming than me finishing off the mountain of food put forward.
It's called a food 'challenge' for a reason, and that reason is they're really fucking challenging. Otherwise what would the point be?
And that's exactly what the good people at Slattery's Patissier and Chocolatier have done, put together a chocolate challenge of such monstrous proportions that only 3% of takers have managed to complete it.
Located in Whitefield, the cake shop aren't messing around, and challengers will have to consume a large portion of their American-style chocolate fudge cake - served warm with a portion of homemade chocolate ice cream - a portion of fresh cream and two chocolate pots filled with liquid chocolate sauce, all washed down with a glass of their hot chocolate.
Think you've got what it takes? Well if you successfully manage to destroy all of the above, you'll receive a Slattery chocolate medal and a 100g box of chocolates (although you're probably not going to want to eat that for a long, long time).
Personally I don't have a sweet tooth so this challenge does nothing for me - I'm more of a wings guy - but if you do enjoy chocolate in all of its glorious forms then get yourself down and fill your boots!