The five-star Lowry Hotel has turned its River Restaurant into a leisurely, luxury winter haven
The Lowry Hotel has been a fancy fixture on the River Irwell for the best part of two decades, offering a plush waterside stay that's just a few pebble bounces away from the city centre.
Luxury never goes out of style, but the birth of similarly sumptuous guest houses - such as Hotel Gotham and the Stock Exchange - has put this seasoned establishment under increased pressure to stay fresh in the face of new competition.
In response, The Lowry have come up with a simple solution: Create an environment that people just don't want to leave.
The hotel has quietly revamped its River Restaurant and slipped some freshly-printed menus onto the tables for a cosy winter setting with warming cuisine to match. By blanketing customers from the cruel weather outdoors, they've built a dining space that feels like an opulent refuge – designed for a longform dining experience rather than a hurried lunch.
New wooden decor has been dotted with warm shades of colour and surrounded by a leafy periphery, making a visit to The River Restaurant at this time of year akin to curling up inside a vibrantly-wrapped Christmas wreath.
You get the typical five-star treatment, of course. Chairs pulled out. Coats carried to the cloakroom. Napkins gently folded onto laps. But what you also get is a sense of leisure.
It can be easy to feel, well, uneasy in such a high-end establishment – especially if you don't consider yourself part of the ordinary clientele. But the staff at The River Restaurant strike the balance between building a sense of homeliness and making you feel like the most important people in the room. It's pure comfort.
After selecting a bottle from the vast wine menu (there's an option for all palates here, guaranteed) and ordering the mighty Wellington, our waiter waltzes over with two unexpected starter plates.
"Your food will be out in 15 minutes, here's something to keep you going" he tells us, delicately placing an "amuse-bouche" of creamy soup down to whet our appetites.
"It will be worth the wait, trust me."
He's right.
The mains roll our right on cue and they taste as good as they look – and a quick glance around the room reveals that other customers are enjoying the same kind of experience as us.
Even the businessmen who've brought down their laptops for a quick bite whilst they work end up accidentally remaining in their seats for hours, wondering where the time went.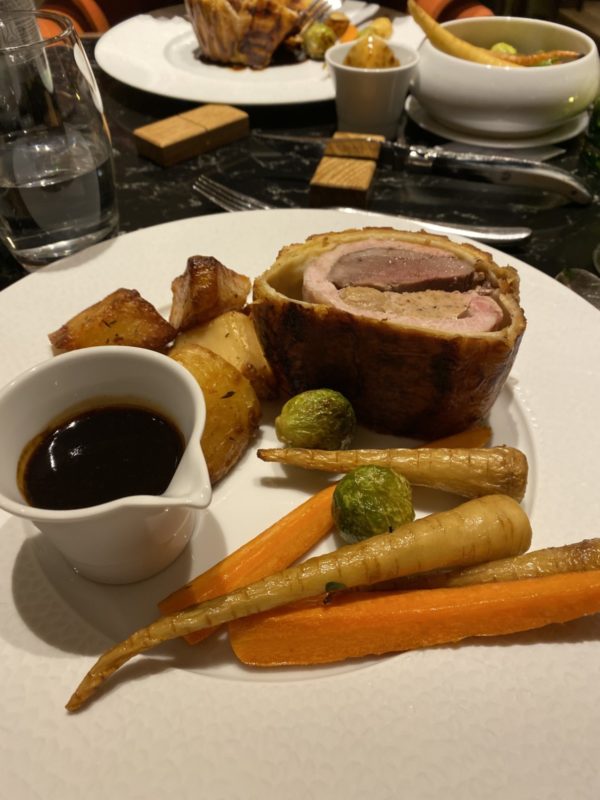 With this careful winter revamp, The Lowry Hotel has turned its restaurant into a place where luxury meets leisure - sheltering diners from the din of the city.
You can't help but feel anything other than utterly relaxed when you leave; a sensation that ought to withstand the rain, wind and sleet of the outdoors upon exit.
If you're looking for a restful, lavish dining experience during the colder months – the River Restaurant ticks all the boxes… plus a couple of extra ones that guarantee you stay a little longer.