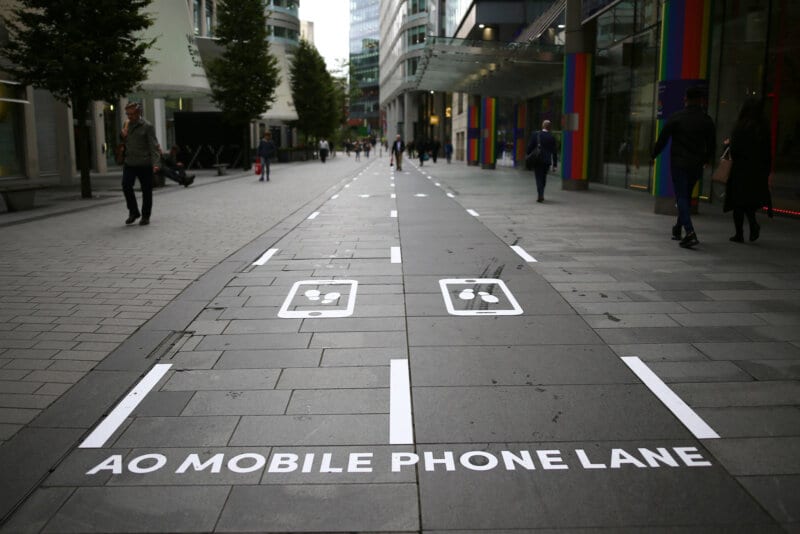 Now this is an idea I can 100% get behind, having previously written about the need for a fast walking lane on Market Street.
Slow walkers are a blight on our lives, and those who stumble along like a zombie glued to their phones are the worst offenders.
Luckily, at least in Spinningfields a temporary solution to this problem has been introduced - a 'slow lane' especially for people on their phones.
The two 75-metre long 'mobile phone safe lanes' have been installed by AO-Mobile, after their research found in the last 12 months a whopping 96% of the population have experienced someone walking and not paying attention because of their phone.
AO-Mobile's trial features a designated pathway to stop people who walk with their eyes glued to their mobiles from bumping into each other.
The pavements along Hardman Boulevard now have arrows and signs that mark out separate walking lanes on the pavement exclusively for slow-walking smartphone users.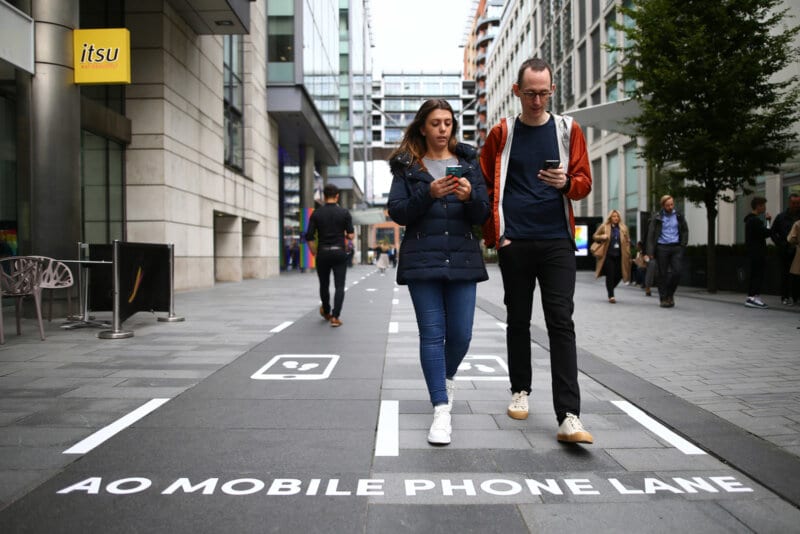 According to AO-Mobile, a whopping 75% of Brits say they are guilty of walking and using their phone at the same time, and 19% of people feel the government and local councils should step-in or provide guidelines for safety purposes.
And 70% say they regularly walk and text completely oblivious to what is going on around them, and 38% say someone has bumped into them due to being a phone zombie.
Richard Baxendale, MD of AO-Mobile, said:
"
We have to be realistic and responsible when it comes to the way society is changing. Our research found Brits being distracted by technology when walking is becoming an issue people want tackled. Our trial slow lane is an important first step that may well be adopted by other cities in the future. AO-Mobile is all about making mobile phones simpler and we wanted to highlight that people should pay attention to our new deals and customer service, rather than keeping their head down and missing out.
Us Mancunians are the worst offenders when it comes to 'distracted phone walking', with 91% admitting they regularly walk and look at their phone, and a further 32% saying they've bumped into a lamppost - 59% also admitted they've tripped up because they weren't concentrating.