Dramatic footage shows the police chasing a burglary suspect down the motorway.
The suspect attempted to escape officers by driving the wrong way up the M61 in Salford in a stolen BMW, with the high-speed chase captured on dash cam.
Officers from GMP's Tactical Vehicle Intercept Unit (TVIU) managed to eventually force the suspect to slow down so they could arrest him.
The stolen BMW had been taken in a recent burglary in Lancashire, with the chase happening at 2.15pm yesterday, Thursday September 12th.
Luckily there were no injuries.
GMP wrote on Facebook:
"
#RESULT - Officers from our #TVIU have arrested a man on suspicion of burglary after a pursuit in #Salford. Car stolen in recent burglary from Lancashire. Offender tried to drive wrong way along M61 to escape. Tactical contact used to stop pursuit and protect public. No Injuries.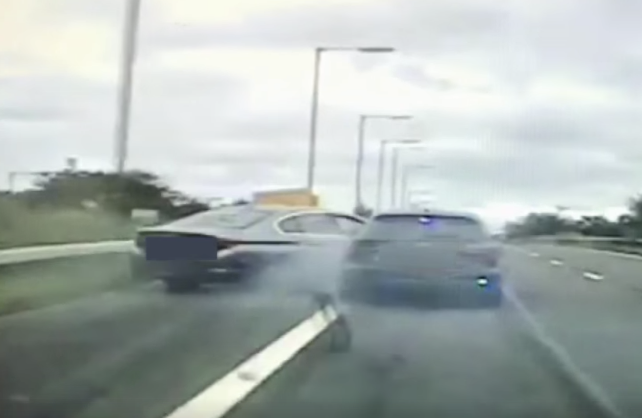 Footage shows an unmarked GMP Audi manoeuvring to slow the stolen car down, with its lights flashing.
After it was posted on Facebook people were quick to praise officers, with Sue Jones writing: "Well done TVIU job well done and no injuries fantastic driving".
Zoe Whalen added: "I saw the aftermath of this yesterday! They had the driver pinned to the side of the slip road off the A666/m61! Wondered what had happened!! Well done!!"