"Ey luv, 'ow ya doin? Fanceh comin' round my gaff forra chippy tea 'n a few cans?"
What self-respecting person wouldn't fall weak at the knees after having that gently whispered in their ear? That's right, none, because owt said in Mancunian is instantly sexy as hell - plus no one can resist a chippy tea.
From Liam Gallagher to Jason Manford and Ian Brown, the salt of the earth tones of Manchester have entertained and enthralled us for years. Imagine listening to Oasis but instead of spending your days in the sunsheeiiiiiiine, some posh twat was warbling on about the lovely old sunshine in perfect Queen's English. Nah, don't think so.
The Mancunian accent is dead good, mint, top of the pile with no competition and there's no denying it, r'kid.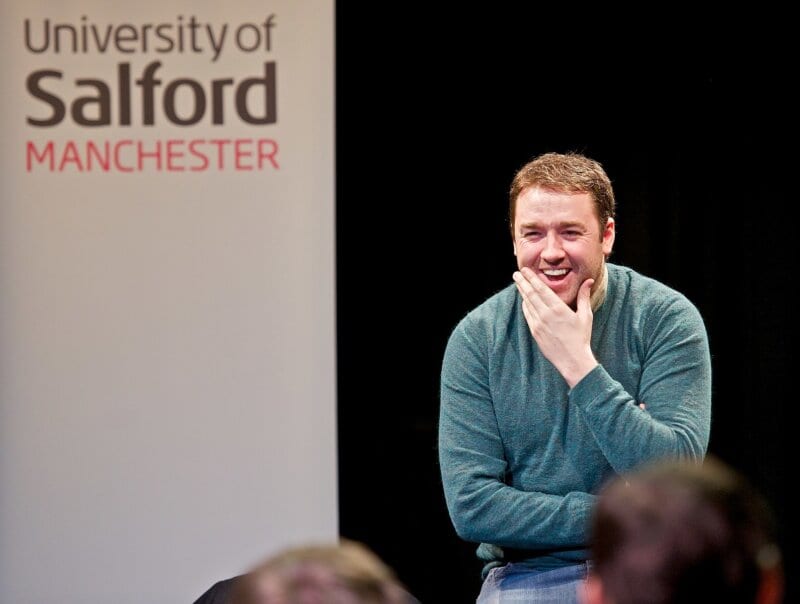 Which is why this poll ranking the top 50 sexiest accents in the UK has thrown me. Not only is Manchester not ranked number one, but the actual winner is absolutely mind-boggling.
Travel website Big 7 Travel conducted the survey, asking their 1.5 million-strong social audience which UK accent they found the most desirable. The top ten is fairly solid, although there are a few bizarre choices in there.
Northern Irish and Glaswegian come in at numbers two and three respectively - no qualms there, both solid accents with a lot of character to them. Number four is Queen's English, which I kind of get for people not from the UK - Hugh Grant has put the work in promoting the handsome yet endearingly awkward bumbling English gentleman in his films - but personally I have no time for that snobby bollocks.
Literally if you have a Manchester accent do us all a favour and never shut up ??

— nessy♡ (@AneesaSheikh) May 8, 2019
And this is where it just gets plain wrong, as the number one spot is taken by the Essex accent. Essex? They're the human embodiment of Barbie and Ken Dolls, spilling sentences out with so much speed they almost look like they're having a stroke, while somehow also dragging their words arrrrtttttt foooooooreveeeeeeerrrrrrr.
The Mancunian accent only manages fifth place, and when considering number one and four this only adds insult to injury. The rest of the top ten consists of Scouse (booo), Geordie, South Welsh Valleys, Yorkshire and Cockney, in that order.
In an unsurprising turn of events Brummie came rock bottom in 50th place - even the Peaky Blinders can't rescue that mess of an accent. Salford was ranked separately to Manchester, and surprisingly their accent came a lot lower than their neighbours, registering an embarrassing 42nd place.
I miss havin a manchester twang to my accent. This essex accent thing is gross?

— janani (@jananii96) May 9, 2019
The Manchester accent is so attractive to me

— lauren (@laurenhancock17) May 2, 2019
In other Greater Manchester news Bolton came in at number 32, while over the county border in Preston they went one better, coming 31st on the list. The Lancashire accent in general fared a lot better, ranking a respectable 15th.
So there you have it, a list of the top 50 sexiest accents in the UK which is officially wrong, very, very wrong.
To check out the full rankings and be baffled, you can read the original article here.