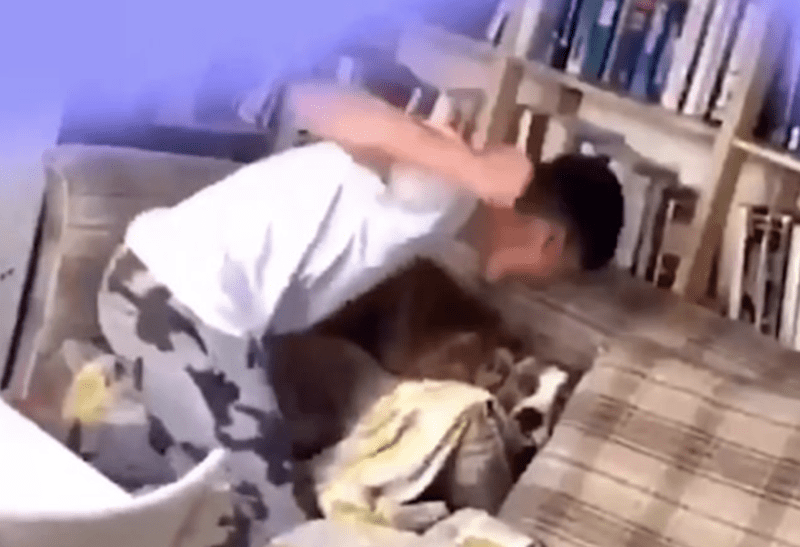 A man who was recently caught on camera brutally punching his dog in his Manchester home has been banned from keeping animals for three years.
Eden Chemo, 18, pleaded guilty to causing unnecessary suffering to his dog Zeus by hitting and screaming at him while the submissive dog lay and took it.
The attack was recorded by a friend at the man's home before it was eventually uploaded to Twitter.
Who will check up on this scrote? He should be jailed for GBH ?

— Ange Whittaker Ⓥ (@aspiringbumpkin) June 18, 2019
It didn't take long for the post to go viral – racking up 80,000 views – and for the RSPCA to be alerted by dozens of social media users.
Speaking about the incident, RSPCA inspector Emma Dingley said: "This was a cowardly and nasty attack on a dog which was laying down in his home and seemed to have no idea why he was being subjected to such violence."
"Zeus has come on leaps and bounds.... at first he was frightened of hand movements and if anyone went to stroke near his head he would drop to the floor, now he has grown in confidence and he is such a lovely and friendly dog."
It's great to hear that Zeus is now in good hands and is getting better, but while Mr Chemo was fined £300 and ordered to carry out a 12-month community order with 80 hours unpaid work, some people aren't happy with the punishment – and we're not surprised.
Eden Chemo - May you rot in Hell after brutally punching your dog. Can't believe you only got 3 years ???????? Prick. ?? #Coward

— Alison Franks (@alisonfranks23) June 18, 2019
NAME: EDEN CHEMO. Banned from keeping animals 3 years, 80 hours voluntary work and £300 charges. I ASK YOU?? SHOULD BE LIFETIME BAN AND JAIL 5 YEARS! Sickening moment thug, 18, brutally punched his dog https://t.co/amoX0trO07 via @MailOnline

— PLorna Lake JC4PM2019 (@LornaChows) June 18, 2019
What do you think? Should it have been a permanent ban from keeping animals and a harsher fine? Let us know what you think in our Facebook comments.