Metrolink made one young lad's day after sending him his own special tram map.
Five-year-old Theo Cochran is obsessed with the tram system, and despite living in Middlesbrough he often comes to Greater Manchester to visit his grandparents in Salford.
His mum Beth Cochran contacted Metrolink to try and purchase a system map for Theo. They then contacted TFGM, and together they got a specially-printed map of the entire Manchester tram network sent out.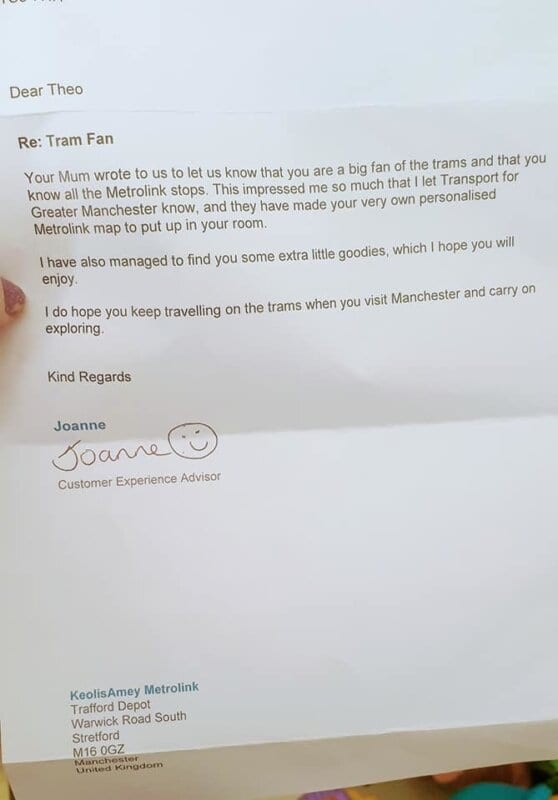 Theo has autism, and can name every single one of the 93 stops on the Metrolink network, as well as the seven lines that make up the entire 60 mile system.
According to his mum, the schoolboy was 'absolutely over the moon' with the gift, saying while it might only seem like a small thing it 'means the world' to Theo.
Beth wrote on Facebook:
"
Anyone who knows Theo knows that he is OBSESSED with Trams. Specifically those which serve Manchester and Greater Manchester. He knows every stop on every line. This mama contacted Metrolink on the off chance that we would be able to buy a Metrolink system map and my email was picked up by an absolute angel called Joanne who contacted Travel for Greater Manchester. They loved Theo's story so much that they printed him his own personalised Tram system map. He's absolutely over the moon. I know it doesn't seem like a big deal but to Theo, it means the world. Faith in humanity, restored (somewhat).
What an amazing gesture for the little lad!