No one can forget the horrific events of May 22nd 2017, when a bomb exploded at an Ariana Grande concert at the Manchester Arena.
Twenty-two innocent people lost their lives that tragic day.
The youngest victim of the senseless act of violence was Saffie-Rose Roussos, who was only eight years old. Now her mum has bravely spoken out about the daily struggle since losing her daughter.
Lisa Roussos opened up about the emotional turmoil she's faced every day since the devastating tragedy, in an interview with The Mirror.
She was left in a coma for six weeks after the attack, and when she woke up she was given the worst possible news, that Saffie had sadly passed away.
After suffering 117 shrapnel wounds from the bomb blast, she went through two years of rehabilitation, regaining the use of her legs, and now she's determined to do something positive so her daughter's death was not in vain.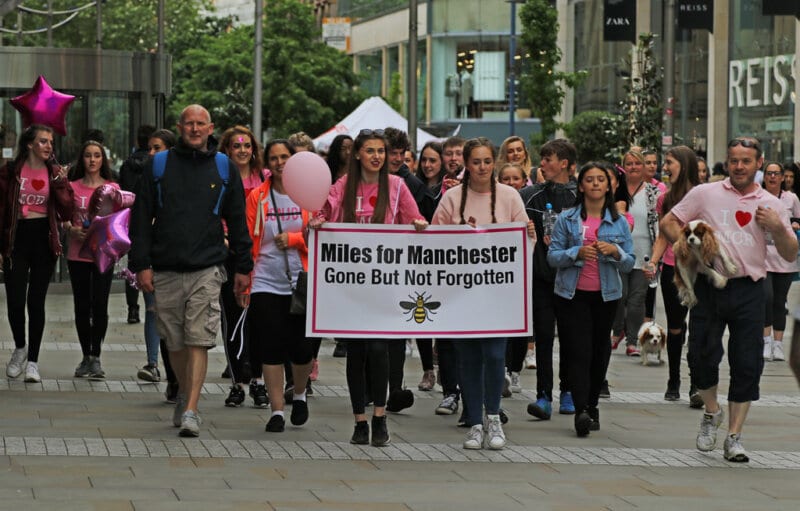 Lisa plans to walk the 10km Simplyhealth Great Manchester Run on May 19th, to help raise donations for a new charity she's launching in Saffie's memory, which will support victims of terrorist acts.
She told The Mirror:
"
I just have this overwhelming need for something positive to come out of something so terribly awful. You live for your children, so when one is gone, how can you ever be happy again? Some days I don't know how to carry on. But my other children deserve to be happy and that's what keeps me going.
"
How can you accept saying goodbye to a child? You can't. So I try to take her with us by talking about her all the time. She's with me. Always by my side. It's not like I talk to her, but she is in my thoughts every second. She's just there. I think about what she would be doing. If I'm in a clothes shop or a cake shop, I'll think about what Saffie would have chosen.
Lisa is setting up the new charity with her husband Andrew - it's going to be called 22 MCR in memory of the 22 Manchester Arena bombing victims. They will raise funds to offer financial, as well as emotional support to survivors and those bereaved by terror attacks.
RIP Saffie-Rose Roussos, gone but never forgotten.