Nando's just made their restaurants even more tempting for plant-based sauce lovers after announcing the launch of VEGAN PERinaise.
From 1 January 2020, vegan PERinaise will be available at Nando's restaurants AND on the shelves in Tesco supermarkets, just in time for Veganuary.
The Nando's menu, despite being a chicken restaurant, has been progressively turning more veggie and vegan-friendly over the last few years, and this is just one of the many recent meat-free additions.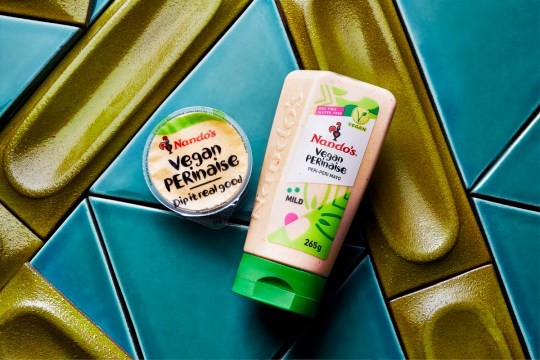 Obviously, this doesn't mean that normal PERinaise will now be vegan-friendly, it just means that vegans will be able to ask for it. So don't worry meat lovers, normal PERinaise is still very much a thing.
A pot will cost 60p in restaurants, with takeaway options available, and you can grab 265g bottles of sauce from Tesco for £1.90.
Vegan PERinaise contains: water, rapeseed oil, vinegar, sugar, cornflour, salt, apple vinegar, spices (red chilli pepper, African Bird's Eye Chilli, paprika, white pepper, black pepper), potato protein, thickeners (guar gum, xantham gum, propylene glycol aliginate), onion puree, preservative, lemon puree, green chillies, garlic puree, antioxidants (calcium disodium EDTA, ascorbic acid), rosemary extract.
Comments