Whirlpool has recalled over half a million washing machines over fears of them overheating and catching fire.
The manufacturer has pulled exactly 519,000 Hotpoint and Indesit models from shelves and is advising owners of specific models to unplug them immediately.
The issue comes from a design defect with the door-locking system on machines sold in the UK between October 2014 and February 2018. That's a lot of washing machines.
Whirlpool has released a list of models that may be affected by the defect and is urging people to double check it in case their appliance is there.
If you do have one of these machines, you are risking a potential fire when the heating element during a washing cycle goes above 20C.
The company has even set up a website where you can check if the model of your washing machine is on the list (but the website is actually down as I'm writing this).
Hotpoint /Indesit washing machine recall - if yours was bought since 2014 call 0800 316 1442 or visit https://t.co/ezjXx2N9wB to check if their appliance is affected

— Chris Choi (@Chrisitv) December 17, 2019
The website reads: "People's safety is Whirlpool's priority, which is why we are proactively recalling certain models of washing machines manufactured under the Hotpoint and Indesit brands between 2014 and 2018."
"To find out more about the recall and to check whether your machine will need to be recalled, you can click the button below or call 0800 316 1442."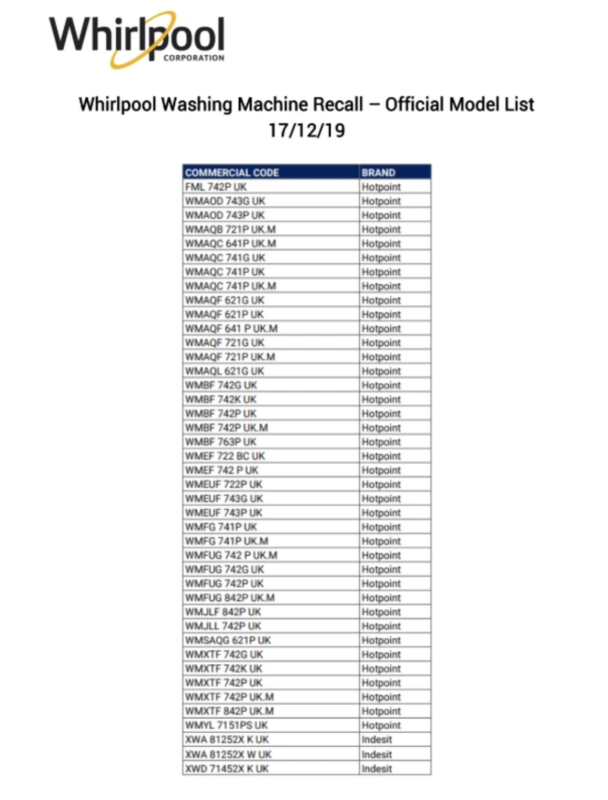 If your washing machine is being recalled, you will be able to choose between two options... A like-for-like replacement washing machine provided free-of-charge, or a free-of-charge in-home repair of your appliance.
Time to go grab the torch and pull my washing machine out...
Comments