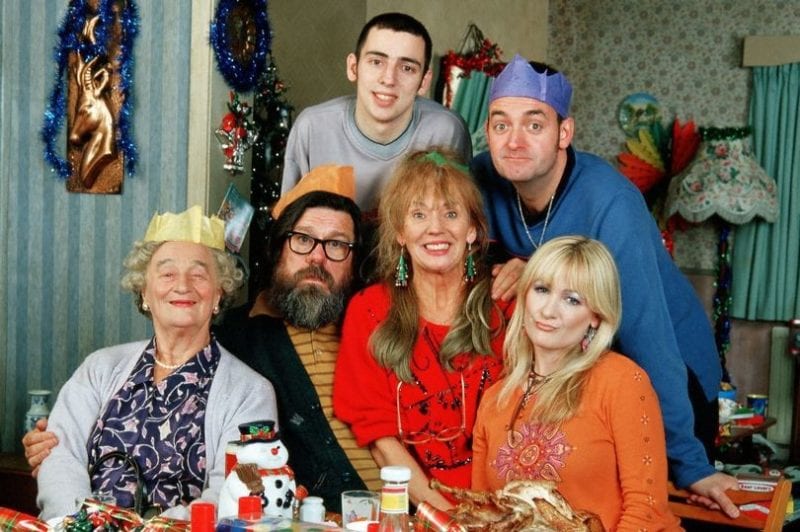 It's the end of November and that means only one thing, your Christmas party is coming up – and we want to make sure it's a banger!
It's about get real busy in Manchester city centre over the next few weeks, so you're going to want to plan ahead as much as possible this year to avoid that rushed, last minute party that sees you and your work pals crushed into the corner of Sinclairs on a Friday at 5pm.
We've lined up what we think would make a cracker of a night out, with various places to go in the city centre for food, drink, games and just sheer entertainment.
The list below is perfect to either book for your Christmas party, or just to just turn up to on the night. We don't want to tell you exactly how to arrange your festive evening on the tiles but if you mix any of the below into an eclectic day or night (or both) then you're bound to have a messy one to remember!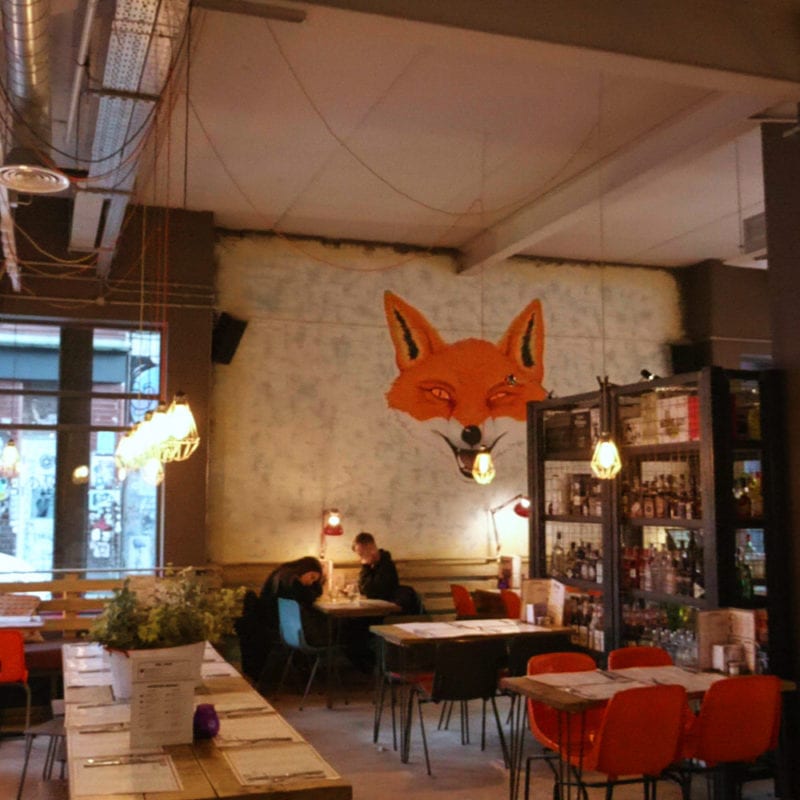 Yard & Coop
This place has become one of the chicken staples of the city and they are about to deck the Yard with festive chicken and booze.
This Christmas, they're offering parties from 2 to 200 people, and with their team of cluckin' festive obsessives on hand to take away the stress of organising they'll make it a Christmas party to remember. You can enquire about their parties here.
Their popular fried chicken feast is also getting a festive makeover called the 'Dirty Santa Afternoon Tea', and you won't want to miss it. Find out exactly what the Dirty Santa has to offer on the Yard & Coop website here.
If you fancy some festive fried chicken on the night of your  Christmas party there is nowhere else to look – get yourself a table booked now!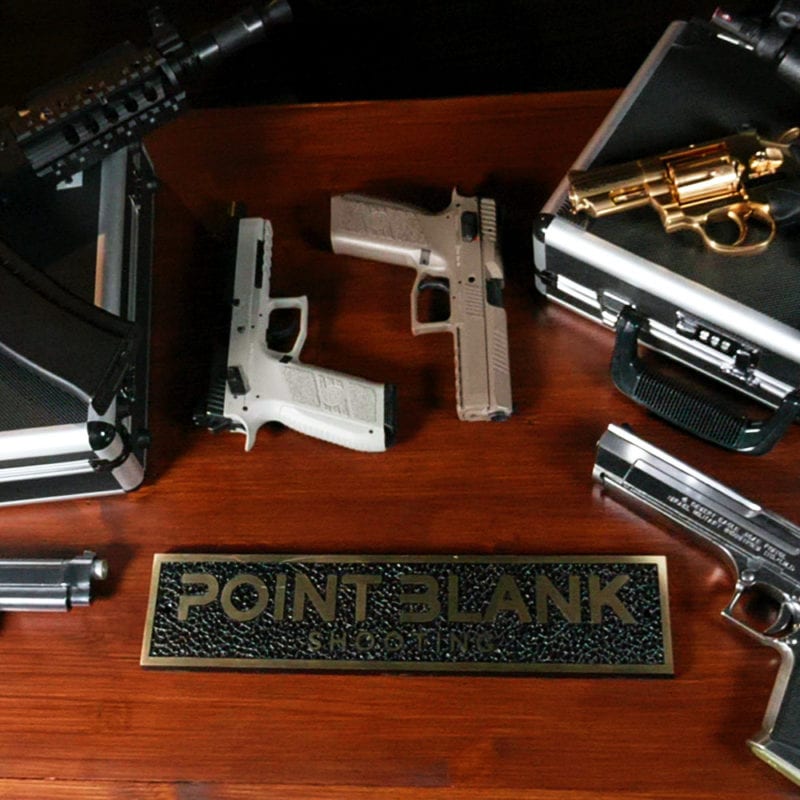 Point Blank
Fancy shooting some guns on your Christmas party? Well Point Blank is the perfect location to grab some food and challenge your work pals to a game of simulation shooting.
The popular digital shooting range on Deansgate is also home to some great food and cocktails, so if you're not planning on heading there after you've had your meal, you should definitely check out their food menu.
The UK's first simulation shooting range offers visitors a unique leisure experience with exceptional shooting realism using the most up to date technology – basically, it's a sh*t load of fun when there's a group of you. Perfect for your Christmas party.
Check out their website here where you can enquire or even book ahead for your Christmas night out.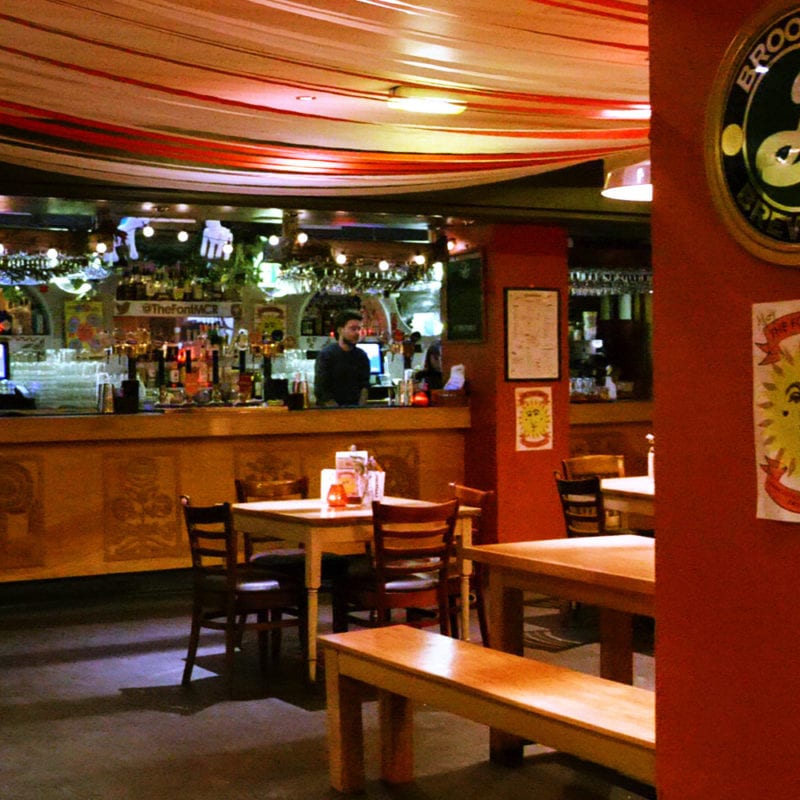 FONT
This legendary student location is getting festive with a range of new Christmas cocktails for you to enjoy at the usual low prices.
Font can also cater to Christmas parties of any size, with a wide selection of craft beer, huge range of cocktails starting at just £2, prosecco and plenty of homemade food.
Check out their Facebook page for some of their recent cocktail creations and check out their website to enquire about their Christmas party packages (or email manchester@fontbar.com).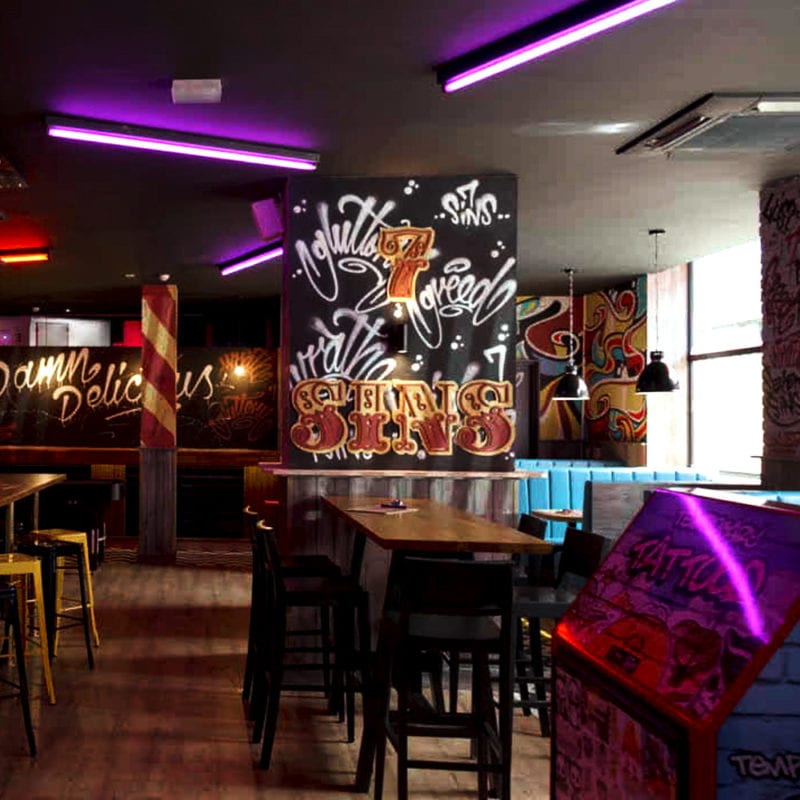 7Sins
If you're planning on hanging around the Northern Quarter on your Christmas doo then 7Sins arcade bar is always a great shout with two floors to spread across.
And with their new 'Winter Is Coming' cocktail menu on its way it's a great location to shoot some pool with your work pals and grab a bite to eat. It's also a great central location to meet.
You can also jump on the shuffleboard table and there are plenty of arcade games. Keep in mind that there is also a two-for-one happy hour on cocktails running every day until 7pm.
Check out their website here for their menus and to also reserve a party!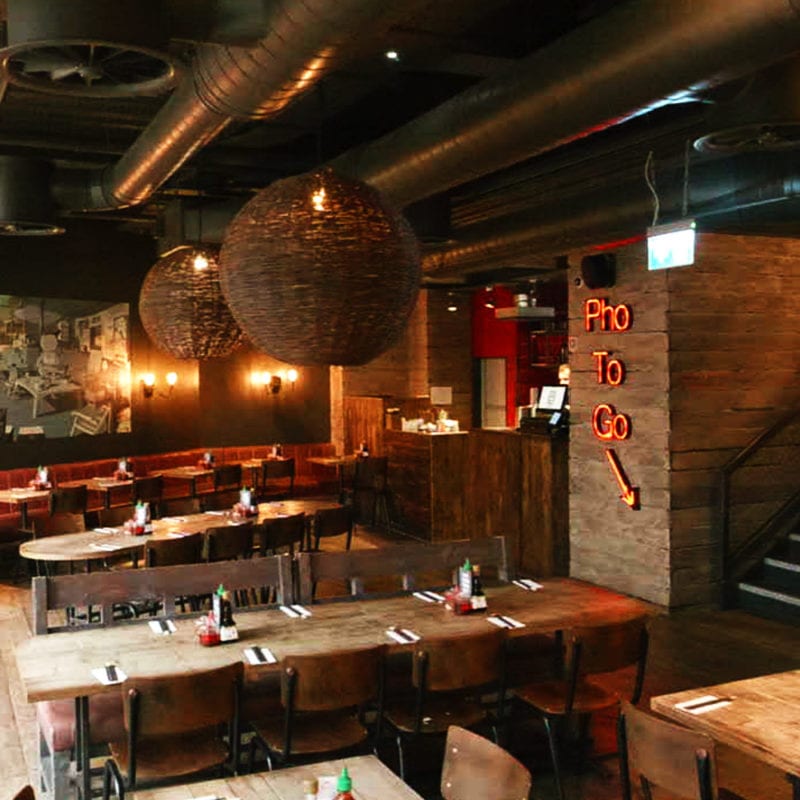 PHO
Deck your bowls with herbs and chillies and check out Pho for an Asian-themed Christmas dining experience this year.
The Vietnamese paradise has launched their special Christmas set menus, and whether you're just turning up over Christmas or planning a party with your colleagues, they've got ya covered.
This year they are also introducing their very first completely vegan set Christmas party menu. Check it out here.
Whether you're starting your night at Pho, or ending it there, you won't regret it!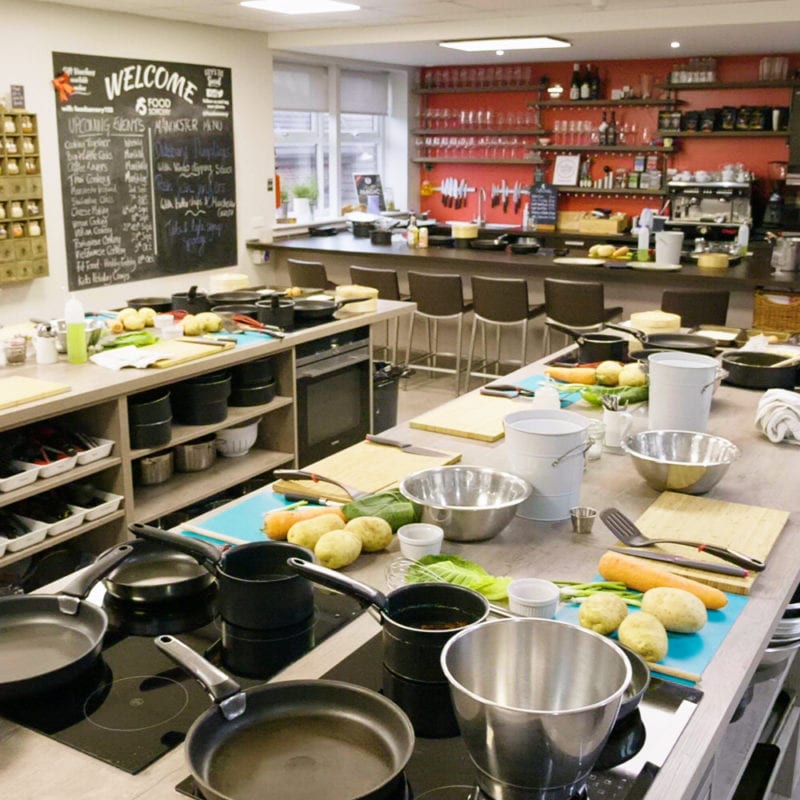 Food Sorcery
Looking for a way to spice up your Christmas party and do something a little different? Food Sorcery has got you covered.
Food Sorcery is an awesome place to learn to cook with a professional chef  in a fun environment! Cooking in 2s or 3s, you will create both a starter and main course before enjoying it with the rest of your party.
You'll get a welcome drink and canapés on arrival and there is an awesome wine list on hand to get merry while you create your dishes. Find out more here.
You can also encourage your friends to unleash their inner Chef with a Food Sorcery Cookery School voucher this Christmas.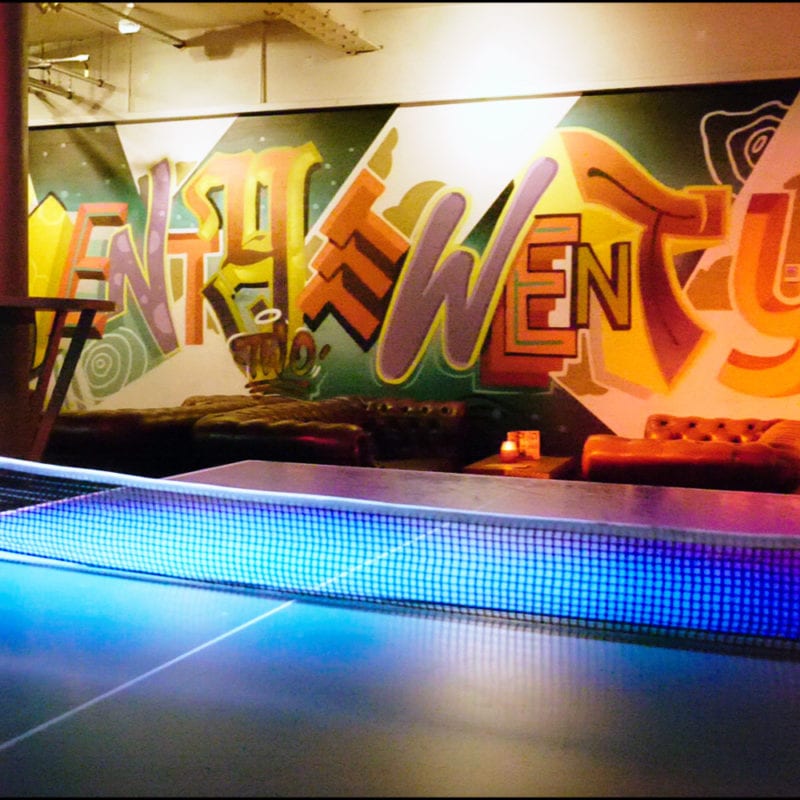 2022
One of Manchester's original ping pong havens is another great shout for your Christmas party.
The Northern Quarter basement bar is in the heart of the Northern Quarter and can cater for Christmas parties for between 10 and 300 people.
Their venue is regularly hired by national companies for staff parties due to their cool as f*ck setting and ability to put on a great event. Their cocktails are not to be overlooked either.
Check out the Christmas page on their website for more information and to enquire about your Christmas shenanigans!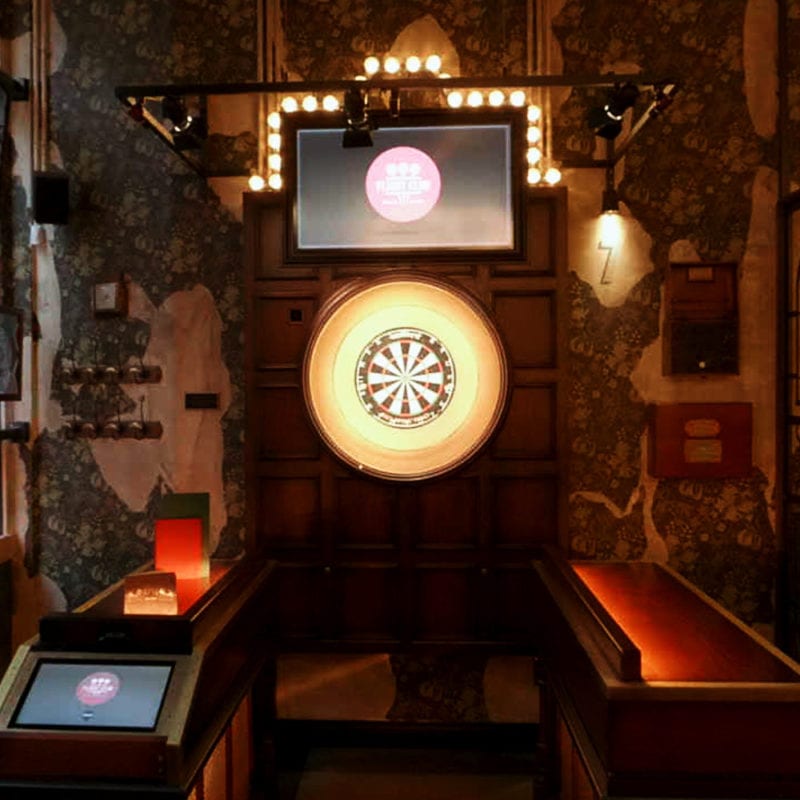 Flight Club
Flight Club is always a great destination for groups, so it's an absolute shout for your Christmas party.
What says Christmas cheer more than a dangerously competitive game of darts with your pals while knocking back some festive cocktails? Flight Club's got you covered.
The massive bar and social darts location has become a hotspot for parties this year, which is why you should probably get booked in with them as early as possible. It's likely darts might be off the table for Christmas already though, but their insanely decorated venue and world class drinks are still worth visiting for.
Check out their food and drinks menus and make a reservation on their website.