If you tuned into This Morning, well, this morning, then you will have seen a woman 'marrying' her dog live on the show.
Yes, you read that right - viewers got to witness the whole bizarre ceremony, with many quick to blast the programme.
Elizabeth Hoad had previously discussed plans to marry her dog, Logan, and got her wish earlier today, with Alison Hammond officiating the ceremony and Kem Cetinay on ring duty.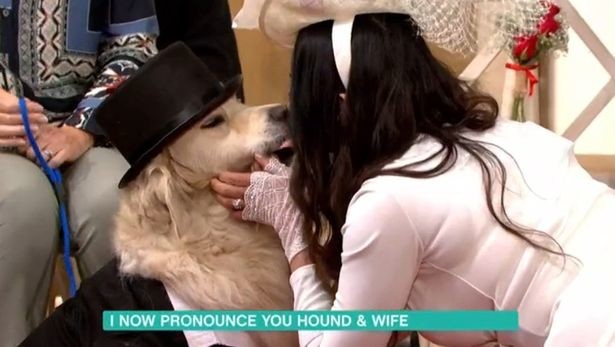 She told Eamonn Holmes and Ruth Langsford that she had given up on men after four engagements and 221 dates, saying she wanted to marry her dog instead.
Elizabeth added:
"
It was like we were meant to meet. He's saved me and I've saved him. I was broken before I got him. I got a dog behaviourist when I first got him and she said he'd saved me.
Eamonn Holmes walked Elizabeth down the aisle in her white dress, where she 'married' her pet Golden Retriever in front a confused nation.
During the vows Elizabeth promised:"With my body I promise to take you for daily walkies and all that I have in my doggy treat cupboard I give to you, and all those cuddles on the sofa I share with you."
Afterwards, Elizabeth placed a wedding bracelet on the dog's paw and said 'I do'.
Hmm, that's enough internet/TV/life for today thanks...