Plane food has an awful reputation, and when you're that high up in the air and hungry there's nowt much you can do but fork out for the overpriced crap they're serving.
To be honest for short flights I just eat before I get on, seems daft wasting your money on an expensive, crap sandwich when you'll be off soon enough - and probably in a country with some great local food on offer.
I once saw a man order a tapas board (or the closest thing to tapas Ryanair offer) on the very, very short flight from Manchester to Dublin, and by the time it arrived we were descending so it was time to put tray tables up. He sat there with a sweaty pile of chorizo and cheese on his lap, quickly shoving olives in his gob before we landed. Daft.
Anyway, airplane food is about to get a whole lot spicier, with Jet2 announcing they're going to be the first UK airline to serve Nando's onboard.
The Leeds-based company has revealed several new additions to their menu, including Nando's Peri-Peri Flight Bites - two snacks infused with its famous Peri-Peri spice.
Their next offering will be a dip and dunk Nando's Box, featuring hummus, Peri-Peri drizzle and salted pita chips.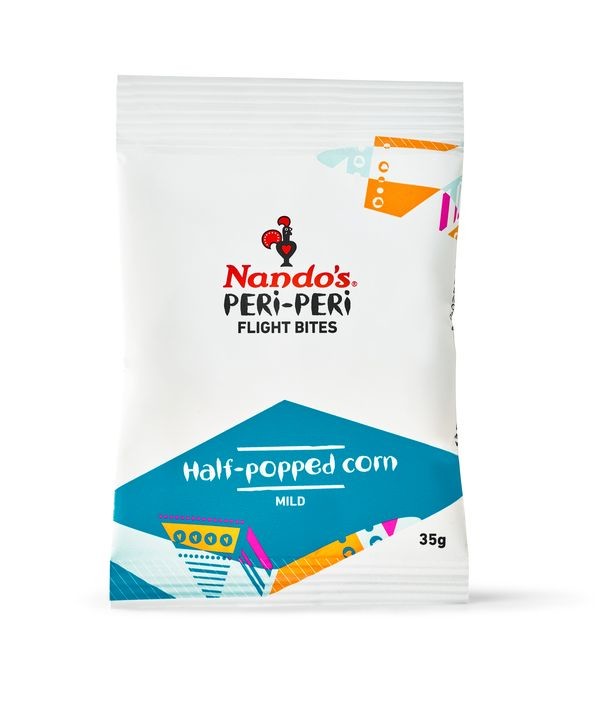 As an added bonus you can also win a voucher for a free Nando's meal in select boxes.
A Jet2 spokesperson said:
"
To give customers even more reason to feel sky-high with excitement this summer, Nando's vouchers can also be found in selected Nando's boxes onboard, entitling one person to a free Nando's meal. The new in-flight menu is Jet2.com's biggest and best yet, with a number of new additions to give customers more choice and variety than ever. Following the introduction of its first ever in-flight vegan meal earlier this year, the warming and hearty penne arrabbiata pasta dish, the company has added the vegan and gluten free "Gnaw" chocolate bar, with Nando's Half-popped Corn also suitable for vegans.
Hopefully this is the first step towards a full Nando's menu on all flights. That's the dream anyway...