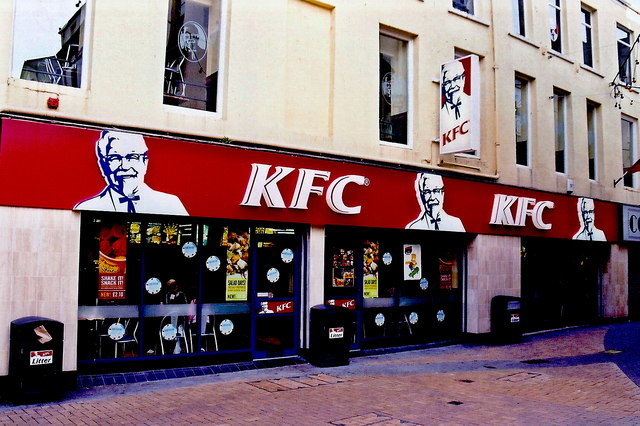 Nothing beats a KFC for helping to eradicate a hangover, or just to eradicate hunger in general to be perfectly honest.
There's something about the Colonel's secret recipe that puts his chicken a cut above the rest.
But what extremes would you go to to get yourself a bucket of chicken when your bank balance isn't quite agreeing with you? Probably not as far as this guy, although if you had the skills you might give it a go.
This 27-year-old lad took things to another level, although the long arm of the law has now caught up with his little blag and he's due to appear in court, after being arrested for allegedly scamming KFC out of a year's worth of chicken.
That's right, he ate for free at the fast food chain for an entire year, after telling employees he was from head office.
The South African man reportedly told staff he had been sent down from KFC headquarters to perform quality checks, to make sure the chicken was up to standard.
South African man arrested for eating at KFC free for a year by saying head office sent him to taste if they are up to standard. pic.twitter.com/1V4eD7IR2i

— The African Voice (@teddyeugene) May 12, 2019
India Today reported the man was a student at the University of KwaZulu-Natal, and that he'd confidently strut into restaurants across Durban, telling staff he was there to perform quality assurance checks and scoffing a load of chicken in the process.
Other reports claim he'd even carry an ID card from 'head office', dressing up in a suit and arriving in a limo to add further prestige to his claim.
According to local media outlet Xpouzar, one of the man's friends is a part-time limousine driver, and he'd use his limos to make himself look 100% legit - because obviously everyone from KFC's head office prances around in limos.
A KFC staff member said:
"
When he arrived we would all try to act our best so that we didn't piss off the man from head office - he was so convincing because he was so confident, and even colleagues from other branches of KFC know him. When he came in, he rushed to the kitchen and checked everything, taking notes and then asked for samples of whatever he wanted. He probably worked for KFC before because he knows everything.
Although what he did was illegal, you've got to admire the balls it takes to walk into numerous KFCs for a whole year, 'testing chicken for head office'.
It's like if Catch Me If You Can was remade with millennials.