You might remember we recently brought you the news that a man was caught having sex with a plastic cone at Wigan North Western station.
Trevor Smith was spotted in a lift with his pants down, 'thrusting his hips and appearing to have sex' with a cleaning cone during a drunken night out gone very wrong.
Now someone else has been getting in on the inanimate plastic action, as a shocked motorist spotted a man 'writhing up and down' on a traffic bollard earlier this week.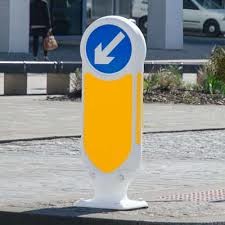 The incident happened down the road in Doncaster, The Sheffield Star reports, with a driver who declined to be named saying: "I thought this guy was just waiting to cross the road, but as I got closer, I could see he was rubbing up against the bollard, writhing up and down on it."
The anonymous man continued:
"
He was fully dressed but he seemed oblivious to the fact that he was in the middle of a busy street. I don't know if he was drunk or something, but he certainly seemed to be enjoying himself! I couldn't get a proper look at the guy's face as I slowed down, he just seemed lost in his own world, humping this bollard. There was no-one else around. I've no idea what it was all about.
The incident occurred on Monday night at about 10:45pm. According to reports, the bollard was a yellow and blue illuminated directional marker - sounds sexy.
I don't know what it is about plastic safety indicators, but they seem to be driving everyone wild these days...