Don't worry your eyes aren't deceiving you, Piccadilly Gardens really was named one of the best picnic spots in the UK.
Some mad bastards from London thought the city centre eyesore would be a good place to sit down with a lovely selection of food and spend some quality time.
Yesterday Olive Magazine tweeted a picture of New Islington Marina - I guess that's close enough to Piccy Gs for someone who's never travelled further north than Barnet - advising people to pick up a slice of lemon and poppy seed cake and head down to Piccadilly Gardens.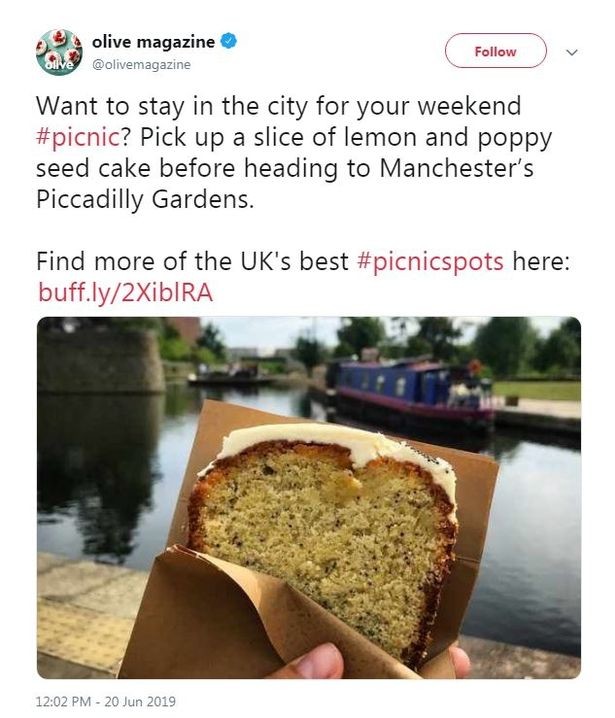 The London-based publication described the known drug hotspot as 'a bustling spot close to the creative Northern Quarter', urging readers to stick to the 'inner city gardens' if they don't want to escape the city.
I mean, who wouldn't want to tuck into a delicious spread next to the charming Berlin Wall, dodging drug dealers and aggressive drunks?
People were quick to call them out for their absolutely insane suggestion:
Places I'd rather have a picnic than Piccadilly Gardens
1. The Gaza strip
2. An ISIS strong hold
3. The fast lane of the M56

— L Jackson (@leighj1982) June 20, 2019
Manchester's Piccadilly Gardens is absolutely NOT one of the UK's best picnic spots. pic.twitter.com/Qrl9IJ4EFK

— Haiden Fearon (@HJFearon) June 21, 2019
Editorial meeting
'Let's put out a tweet to promote our picnic article'
'I know, I know; let's make it about an in-the-city picnic'
'How about one of those out-of-the-way cities that people do city breaks in'
'Manchester has a place called Piccadilly Gardens'
'Sounds heavenly '

— Tim Storey (@Timsta) June 21, 2019
You'd only go Piccadilly Gardens for 3 things

Score some drugs
Drinks with the locals
Both the above and sleep

You would definitely not take your kids for a picnic there it would be child abuse to let them see this sad part of life.

— Knights Of The Flopperism ®️ (@Flopperism) June 20, 2019
The funniest thing I've heard in ages, picnics in Piccadilly gardens:)?

— Raredave (@raredave) June 20, 2019
Piccadilly Gardens is a place people walk through to catch a bus or tram. It's not safe to stop walking, never mind have a picnic! This article was not written by a Mancunian ??‍♀️

— MaryAliceMcM1 (@MaryAliceMcM1) June 20, 2019
After receiving a barrage of tweets informing them that they were wrong, so very wrong, Olive deleted their original tweet, and have now removed Piccadilly Gardens from their article list.
Thanks for your tweet. We've taken on board the feedback and have removed from the guide

— olive magazine (@olivemagazine) June 21, 2019
Next time southerners, how about you actually leave London and visit some of the places you're suggesting. Just a thought...