Thieves will go to extraordinary lengths to try and part you from your hard-earned money, but this attempt fell very wide of the mark.
Cheshire Police shared a letter by someone pretending to be from Barclays and failing massively - I usually have a lot of sympathy for victims of crime, but if anyone falls for this then god help you.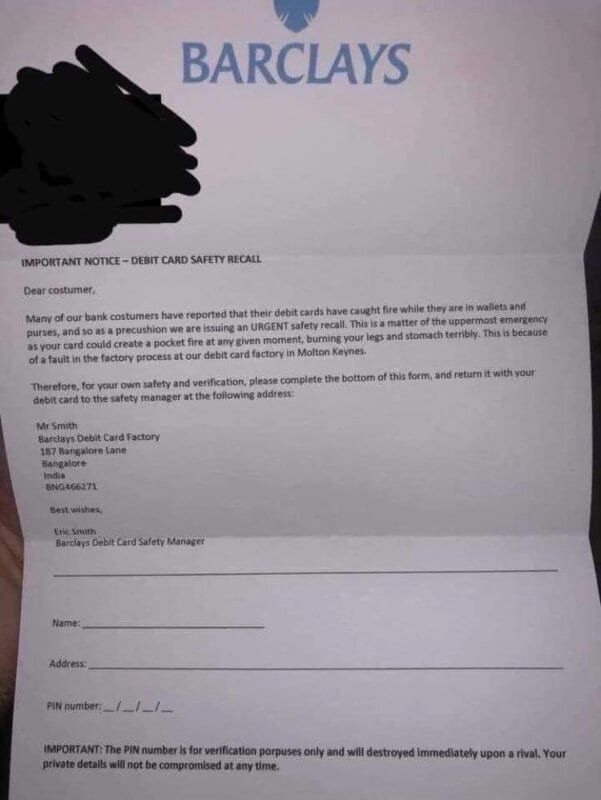 They took to Facebook to warn people about the fake bank letter, which has apparently been sent to homeowners, in which people are advised to send their debit cards to an address in India as there's a risk they might 'catch fire'.
The letter is purportedly written by a Mr Eric Smith, a 'Debit Card Safety Manager' at Barclays, and he asks that people send their cards to Bangalore Lane, Bangalore, India, along with their PIN number for 'verification porpuses' (I hope they aren't working the porpoises too hard).
The letter reads:
"
Many of our bank costumers have reported that their debit cards have caught fire while they are in wallets and purses, and so as a precushion we are issuing an URGENT safety recall. This is a matter of the uppermost emergency as your card could create a pocket fire at any given moment, burning your legs and stomach terribly. This is because of a fault in the factory process at our debit card factory in Molton Keynes. Therefore, for your own safety and verification, please complete the bottom of this form, and return it with your debit card to the safety manager. [sic]
Cheshire Police were rightly unconvinced, saying: "As far as scams go, we think this one will take some beating...This letter from 'Mr Smith' at 'Barclays' is warning people about Spontaneous Debit Card Combustion...that's debit cards... catching fire".
They're not wrong...