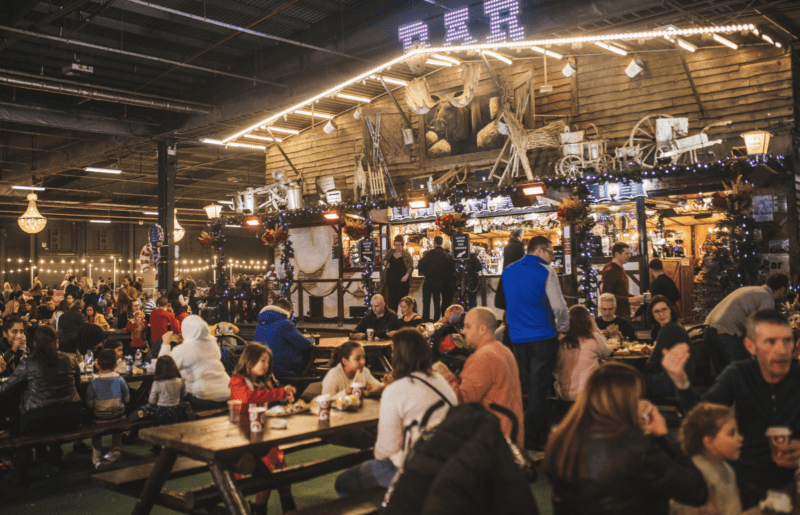 Christmas is around the corner, somehow, and Greater Manchester is already gearing up for the festivities – with the annual markets opening their freshly built wooden doors last week.
But your festive calendar just wouldn't be complete without getting your skates on and pretending you're Torvill & Dean, when in reality you're just Tony and Dean from Stockport.
Anyway, you'll be glad to hear there's plenty of ice rinks popping up across the city this Christmas for you to go and pretend you've "been doin' this since you were a kid".
We know ice skating can be done all year round, but it just doesn't feel right spending a rare sunny Manchester day inside a big frozen dome, does it? But in Winter it's a different story... Here's all you need to know about the ice rinks in an around Greater Manchester over the next two months...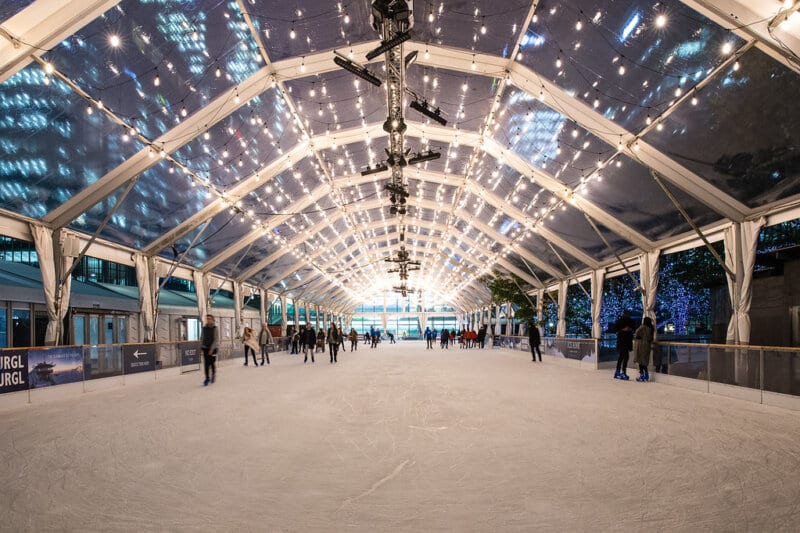 Skate Manchester, Cathedral Gardens
If you're planning a trip to the Christmas markets to coincide with your skate, or fancy doing a bit of shopping first before popping ya blades on, then this is the rink for you.
Skate Manchester is calling Cathedral Gardens it's home for 2019 and is forming part of the new, highly-anticipated Ice Village, which includes an Ice Tiki Bar, Santa's Grotto and Ice Cavern this year as well.
The rink is also housed under a clear roof which means you can skate under the sun, moon and stars, whatever the weather and knowing Manchester like we do, this is probably for the best.
There's also penguin skating aids available if you're planning on taking the children, or if you think you might need a little extra help yourself (we're with you on that one, we won't lie).
For more information and to book tickets, click here.
Location: Cathedral Gardens, Manchester, M4 3BG.
Opening Times: 8th November 2019 until 5th January 2020 from 11am-9pm everyday.
Ticket Prices: £11 for anyone 13+ and £9 for children aged three to 12.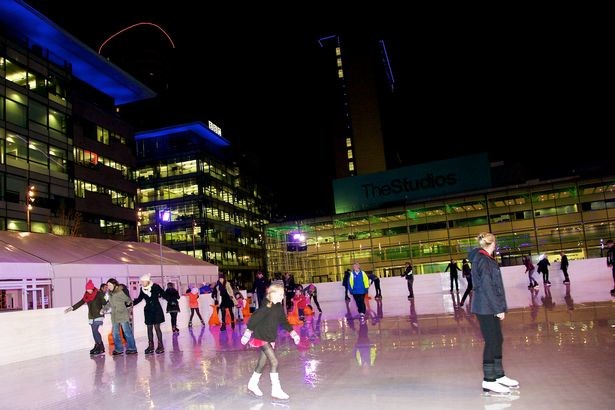 Manchester Ice Rink, MediaCityUK
MediaCity wants to get in on the festive fun this year and Manchester Ice Rink will be taking centre stage for the first time in a good few years.
They're also partnering with The Lowry Outlet Mall and The Lowry Theatre to showcase all the Quays' area has to offer with a whole host of festive events, including Christmas markets and shows.
The rink will be open to the public from Friday 15th November, which is also the night of the MediaCity lights switch-on, so if you're looking to make a proper trip out of it and catch the Christmas lights too, then this might be a good date to bare in mind.
For more information and to book tickets, click here.
Location: MediaCityUK, Salford, Manchester, M50 2HE.
Opening Times: 15th November 2019 until 5th January 2020 from 3pm-8:45pm weekdays and 10am-9pm at weekends.
Ticket Prices: £13 for adults, £11 for children aged 12 and under.
Winter Funland, EventCity, Trafford
After a really successful first year, Winter Funland is back for more.
For 2019's festivities at EventCity, a Christmas circus, panto, funfair, Santa's grotto and live reindeers will also accompany a gigantic, real ice skating rink.
Skate instructors will be able to assist you in, well, not falling over, plus penguin skate aids are once again available for the little ones.
For more information and to book tickets, click here.
Location: EventCity, Trafford, Manchester, M41 7TB.
Opening Times: 6th December 2019 until 5th January 2020.
Ticket Prices: £23.50 and children under three for FREE.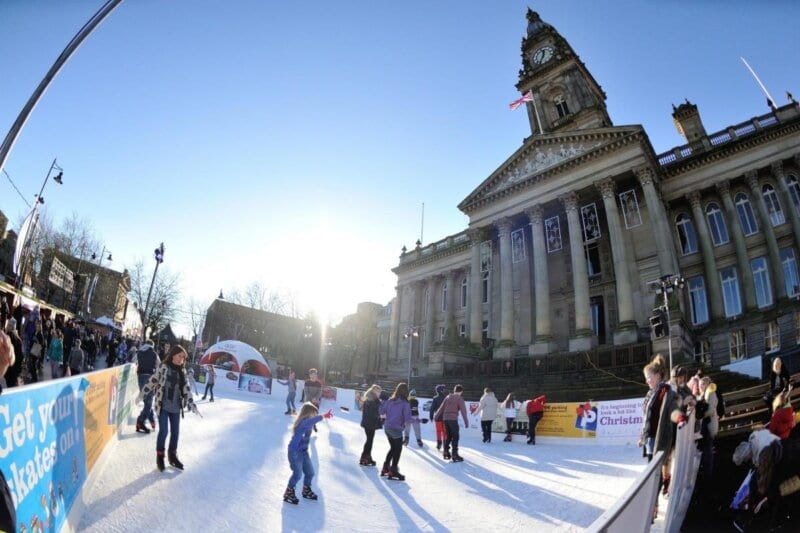 Bolton Winter Festival Ice Rink
Only 20 minutes outside the city centre, the ice rink at Victoria Square, next to the town hall in Bolton, will be one of the main attractions at this year's Winter Festival.
The fabulous, roof-covered ice rink is bigger and better for 2019 and along with a Santa's grotto, Teepee Cafe Bar and family festive zone, the town centre will be turned into a winter wonderland.
Skating aids are available for children who need them and there will also be an indoor and outdoor skate exchange/viewing area where you can watch your friends and family if you don't fancy getting your skates on.
For more information and to book tickets, click here.
Location: Victoria Square, Bolton Town Centre, Bolton, BL1 1SA.
Opening Times: 7th December 2019 until 6th January 2020 from 10am-8:30pm.
Ticket Prices: £8 for adults, £4.50 for children and £24 for a family ticket.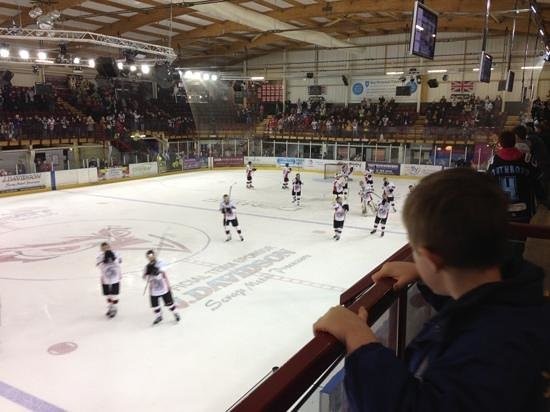 Planet Ice, Altrincham and Planet Ice, Blackburn
As we've seen, most ice rinks at this time of year are pop-ups, but these two trusty-favourite indoor rinks in Altrincham (Trafford) and Blackburn (Lanacashire) are with us all year round and whether it was a family day-out, a birthday party, or a school trip maybe, we bet you've been to one of these at some point in your lifetime.
Opening times and skate sessions are the same as they always are, with the exception of public holidays, but as you can imagine, they usually get a bit busier in November and December, especially with all the festive events scheduled, so make sure to plan ahead.
To check events and book tickets, click here.
Location: Oakfield Road, Altrincham, WA15 8EW and Lower Audley Street, Blackburn, BB2 3DY.
Opening Times: Various times at both locations. Check the website for specifics.
Ticket Prices: £7.10-£10.80 (Altrincham) & £7.50-£10.20 (Blackburn).