Good news for fans of cult classic The Lost Boys, as you'll soon have the chance to meet the cast.  
Five members of the original lineup will be coming to Manchester later this year, for a huge horror convention reunion.
The 1987 cult vampire film is about two teenage brothers who move to a small fictional town in northern California and end up fighting a local gang of vampires.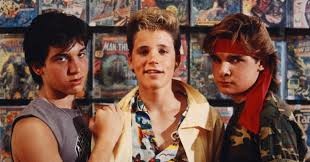 It starred Kiefer Sutherland, Corey Haim, Corey Feldman, Jason Patric, Billy Wirth, Tim Cappello, Jamison Newlander, Jami Gertz, Dianne Wiest and Alex Winter.
During the For The Love Of Horror convention the stage will be transformed into a huge Lost Boys set, and you'll have the chance to meet and get photos with Kiefer Sutherland, Jason Patric, Billy Wirth, Tim Cappello and Jamison Newlander.
A spokesperson said:
"
We will recreate that full scene from the film and will even have flame thrower cannons next to the stage. This is as close as you will get to stepping into the film. It's one thing having Kiefer Sutherland as a guest on your convention, but to have him as a guest in a UK exclusive Lost Boys reunion like this where the photo shoot is in a Lost Boys set, it really does take it to a different level. Once we knew Kiefer was in Manchester on our event weekend, we chased and chased until we got our man. Due to his performing commitments with his band, Kiefer can only do Sunday for 3 hours. This means that photo and autographs are limited and will sell out so we advise anybody who wants them to buy them immediately.
For The Love Of Horror is taking place at the Bowlers Exhibition Centre on the weekend of October 19th and 20th 2019.
For more information and to book tickets for the event and photo ops, visit their website here.