Audio
Elton John dazzles in the first of his final shows at the AO Arena in Manchester
One of rock's all time greats - a singer, pianist, composer and sensational showman to the very end. Words by Luke Foylan
Now then Manchester – if you were on the ball buying Elton John tickets at first release way back in 2018, it's the night you've been waiting almost five long years for.
And as Elton appears on stage and kicks off his first night at the AO Arena on Wednesday evening, the arena erupts into monumental cheers. Clearly, it's been worth the wait.
It's been more than half a century of touring for Elton, and after performing over 300 concerts worldwide in his Farewell Yellow Brick Road tour, he's now reached the final UK leg.
Everywhere you look inside the venue you're surrounded by glitter-clad baseball jackets (true to Elton's iconic LA Dodgers baseball uniform), flashing LED glasses and bright feather boas.
Tonight, Elton appears with a swoosh of the lights, perfectly perched at his piano, in true Elton style, with signature rhinestone glasses and bejewelled white tails. The grin on his face is enormous – as is ours.
Bursting straight into 'Bennie and the Jets', you're instantly blown away by the true showmanship and speed at which he can chase the piano chords, still as dexterous now at 76 years old as he was when his career launched in the 1970s.
Playing 'Candle In The Wind', we get a glimpse into what could have been his and Bernie Taupin's inspiration for one of his biggest hits. With his opening line of "Goodbye Norma Jean" we get the beginning of a beautiful montage of the late Marilyn Monroe.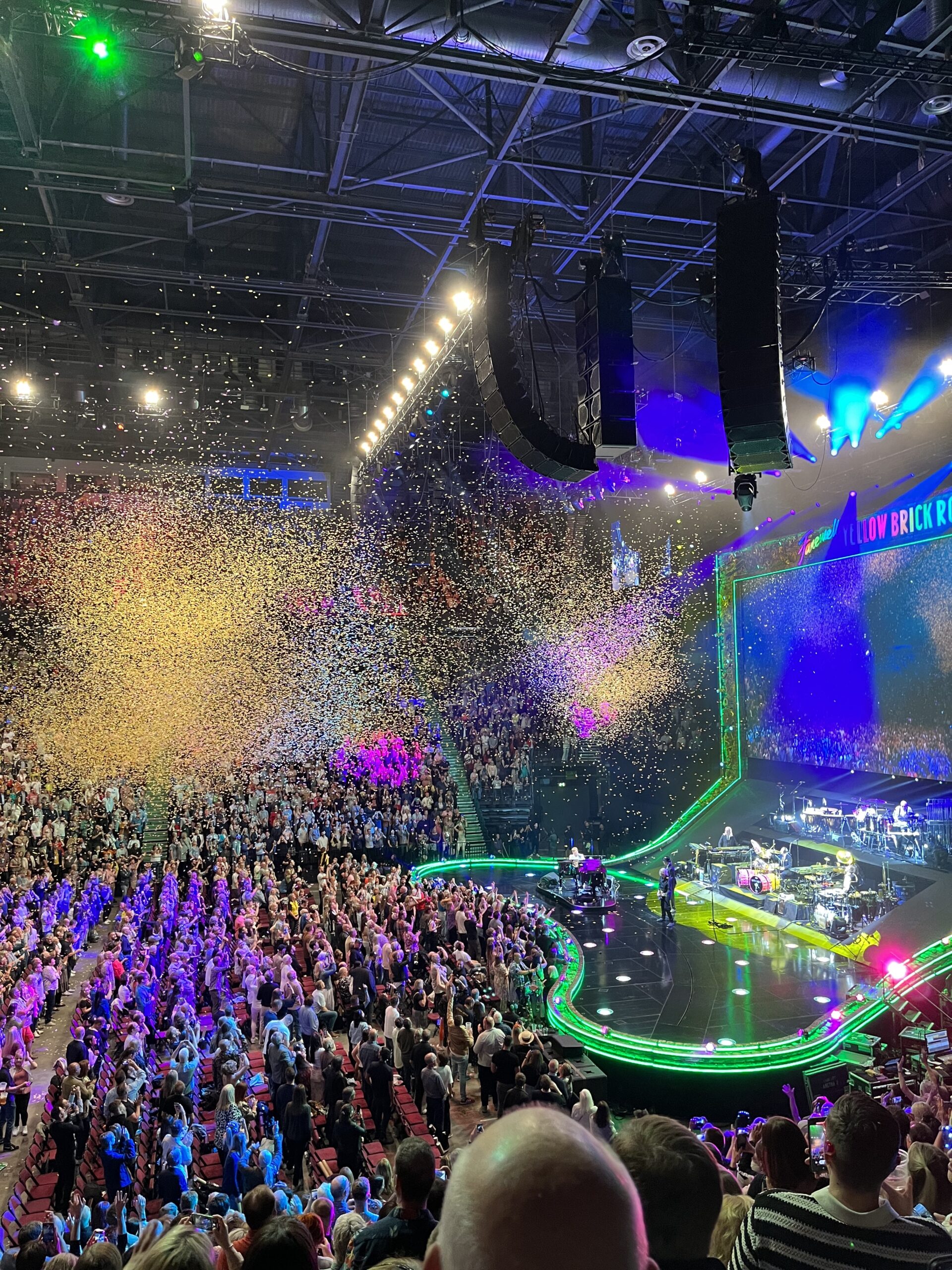 Perhaps Elton isn't as physically nimble as he used to be, however, his wit and charm are still untouched by the years.
He slams his piano hood at the end of each song and orchestrates the applause.
Besides, you don't need to bounce across the stage anymore when your grand piano glides you from left to right as the night goes on…
Elton confesses his love for the city of Manchester, claiming that it always did have the best audiences – and has always remained the same.
This was his 24th show in Manchester, his first in 17 years, and his last ever opening night here.
Signing off in his signature Elton John tracksuit, he glides up into the stars on his showbiz stairlift for what will be his last appearance for so many of his fans.
What a retirement party it was.
Elton John will perform two more shows at the AO Arena Manchester this weekend – final tickets are on sale now with Ticketmaster.
Read more
Featured image: The Manc Group