Christmas
A history of Manchester's giant Santas through the years
Manchester's giant Santa has served us quite a few different looks over the years - we take a look back at his various incarnations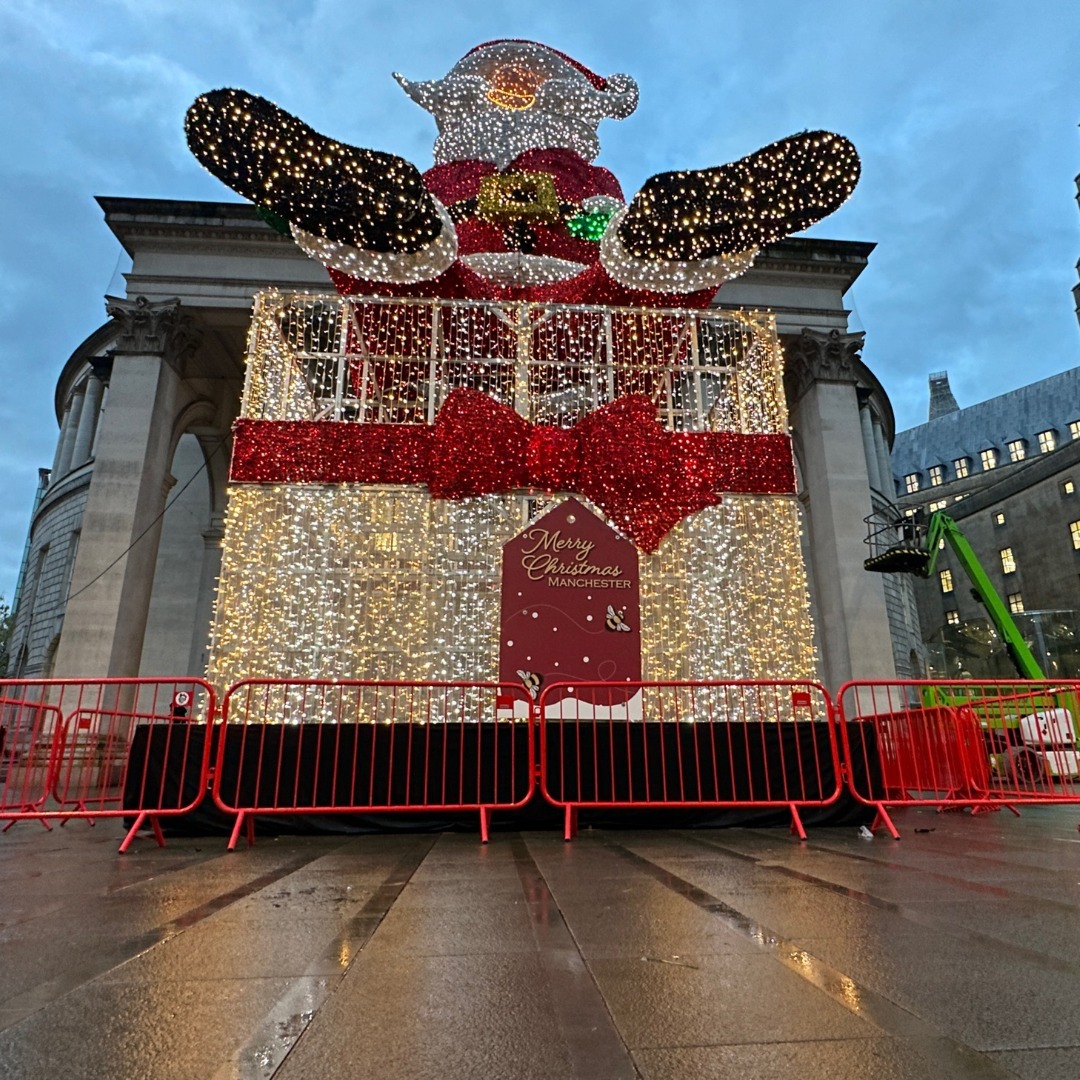 Manchester is no stranger to a giant Santa – we've been sticking them up high on the tops of buildings (and other things) since the eighties.
Over the years, though, it's fair to say that Father Christmas has changed his look somewhat.
Santa's look has transitioned mightily with the times, from a lithe 80-foot tall Santa scrambling up the Town Hall clock tower in the mid-eighties to the infamous, now-retired bug-eyed 'Zippy' – so named for his resemblance to the classic Rainbow children's TV character.
Our latest giant Santa, meanwhile, boasts a twirling moustache and sits atop a huge, twinkling present.
First unveiled to the city in 2019 at Piccadilly Gardens following a lot of very public heartbreak around the retirement of Zippy, this year the 2.3 tonne festive mascot can be found outside the central library in St Peter's Square.
Keep reading to discover how the giant Santas have changed through the years.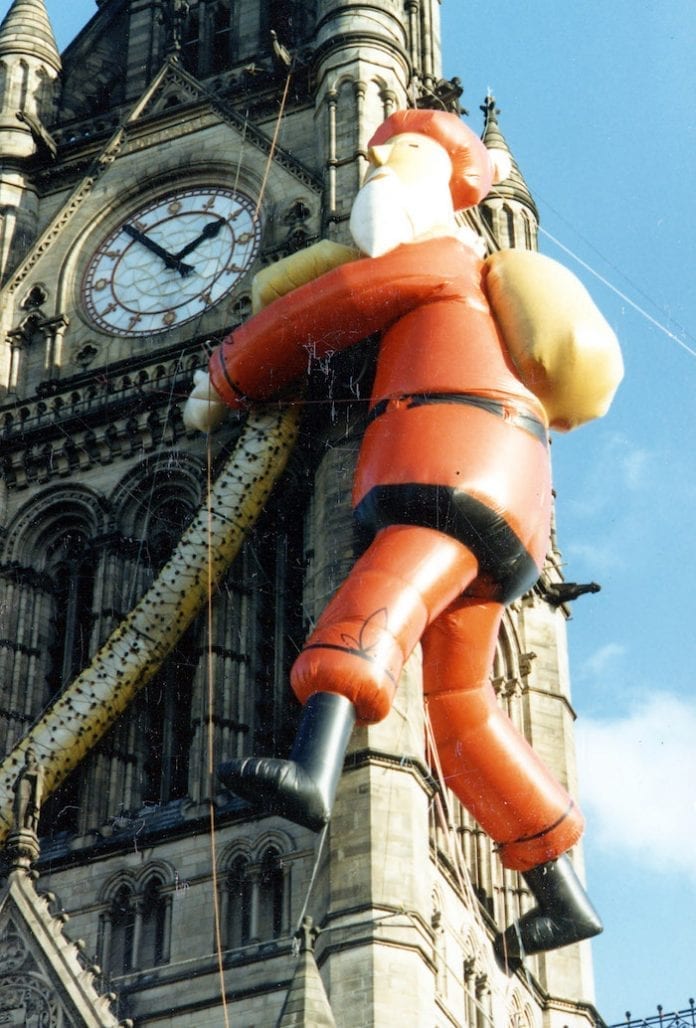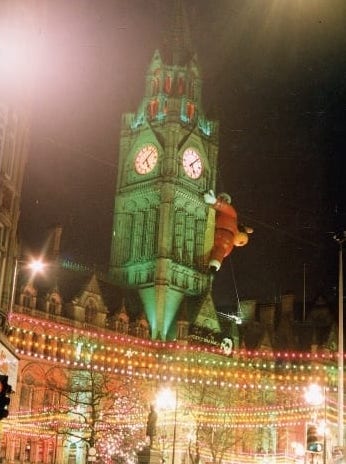 The original giant Santa
Manchester's original giant Santa was a fixture in the city for over thirty years, pictured here in 1986 astride the Town Hall clock tower with a sack of presents for children slung across his back.
Caught in the act of clambering over the roof and down into the tower, this early giant Santa set a long-standing tradition in Manchester.
Standing at eighty feet high and fully exposed to the elements, he would often deflate – and was even punctured twice by gargoyles, requiring numerous surgeries to repair his various holes and tears.
Opposite Santa, on the other side of the town hall's roof, sat his reindeer and sleigh – patiently waiting for him to drop off those presents and return, ready to take flight onto the next house.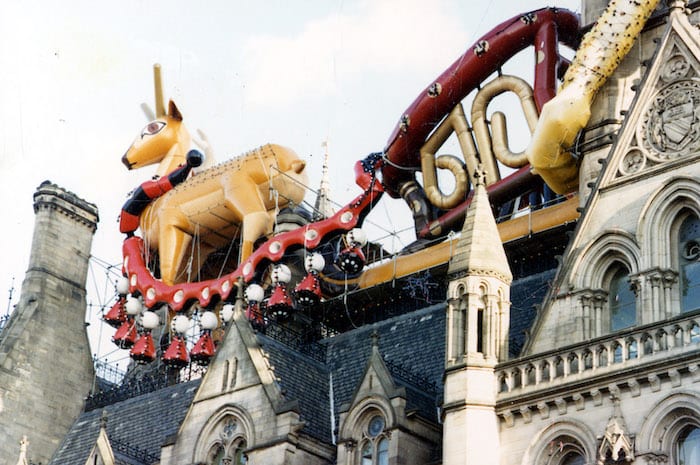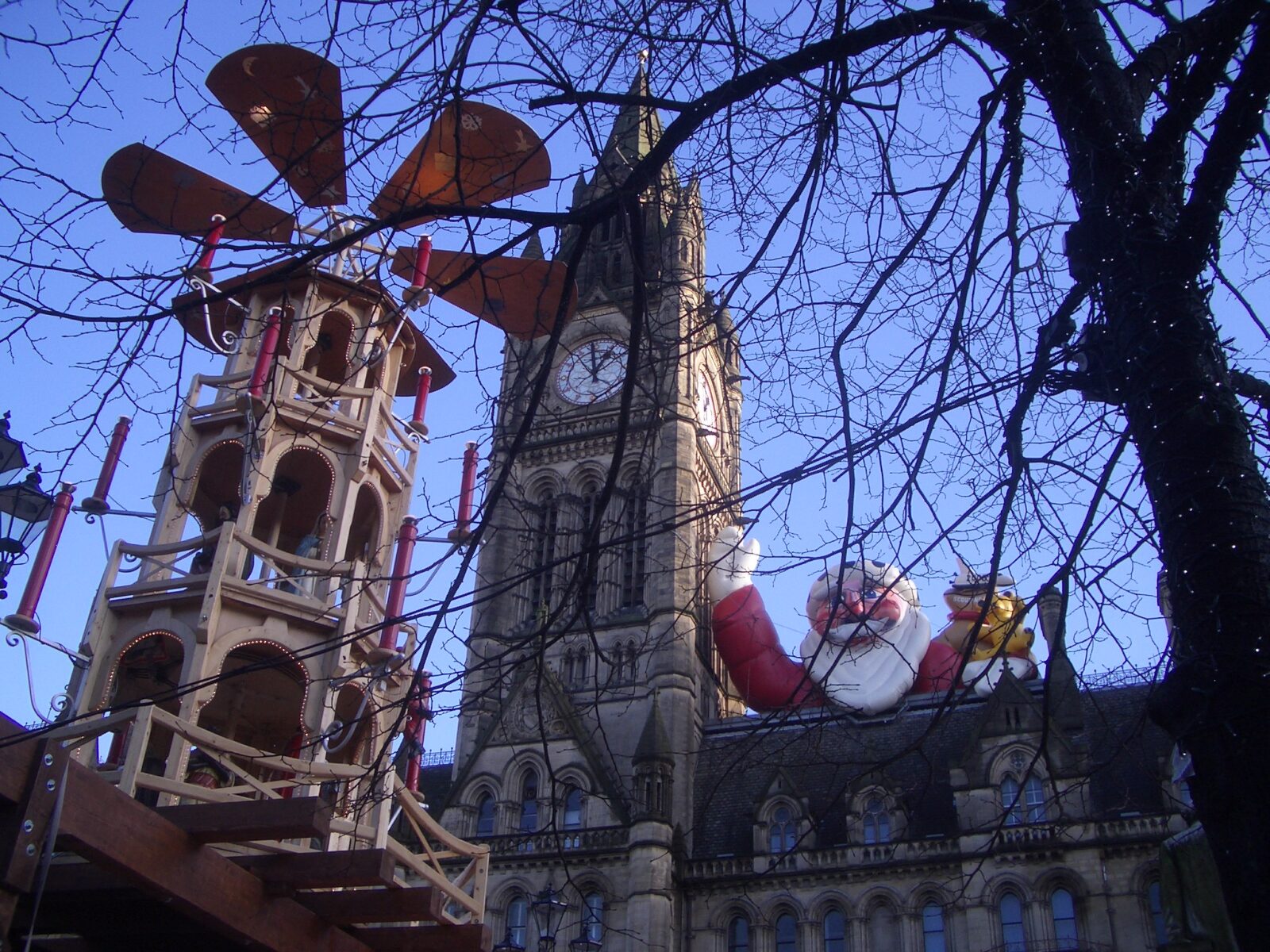 The 90s Santa
In the early 90s, our original giant Santa was considered to be looking a bit sad. He and his reindeers had deflated many times and so the decision was made to replace both him and his trusty steeds with this jolly, rosy-cheeked chap.
A combination of cheerful and marginally terrifying (let's be honest, he does have a little bit of a manic look to him – like he's indulged in too much brandy on his midnight rounds) he held out until the mid-noughties, waving down at festive revellers from the roof until ultimately being retired in 2007.
For some reason we're yet to unravel, not only does he appear to have two moustaches – one black, one white – he's accompanied by a teddy bear (understandable) and an… aeroplane? Not very environmentally friendly that, Santa.
The one and only Zippy
Enter the man, the myth, the legend. Of course, we're talking about the best giant Santa of them all: Zippy – nicknamed as such for his likeness to the classic Rainbow children's TV character.
His weird massive blue eyes, his lack of nose, or mouth, and his cheery white beard made him the most distinct giant Manchester Santa to date. We think actual tears were shed when it was announced he was being retired – and we know there was rejoicing when he reappeared at Kellogg's following his retirement.
The iconic 6-tonne festive mascot was specially made for Manchester by French company Blachere, who also create light installations for the Trafford Centre shopping mall and Harrods in London.
Illuminated by 100,000 different light bulbs and comprised of a total of 89 different pieces, the council ultimately decided he was too expensive to keep on – as it took three days, a lot of money, a crane and a whole host of people to get him up onto his Albert Square perch each year.
As Councillor Pat Karney, the spokesperson for the Christmas markets, said at the time: "Even giant steel Santas need to retire."
Still, he managed to steal the thunder of his replacement by reappearing at Kellogg's before the newcomer could even make his debut.
The giant 'twirly moustache' Manchester Santa
When we first heard about old twirly moustache, Pat Karney said he'd be 'more like Zippy's dad' – and we can kind of see it.
He had some big boots to fill and we think he's pretty much delivered – although honestly, after the Christmas we had last year, worrying about which giant Santa the council erects in town feels like a problem of days gone by.
The huge LED-lit figure sits at 12-foot high and is covered in low-energy lightbulbs, making him cheaper to run than Zippy. Cutting a smart figure in his red, belted suit, he can be found sitting astride a glittering present in St Peter's Square throughout the season.
Next time you're in town pay him a visit, he's a piece of Mancunian history don't you know.

Feature image: Manchester City Council / The Manc Group