City Centre
Manchester's new £210m Factory International venue reveals restaurant and bar plans
Factory International will be the new permanent home for the Manchester International Festival (MIF).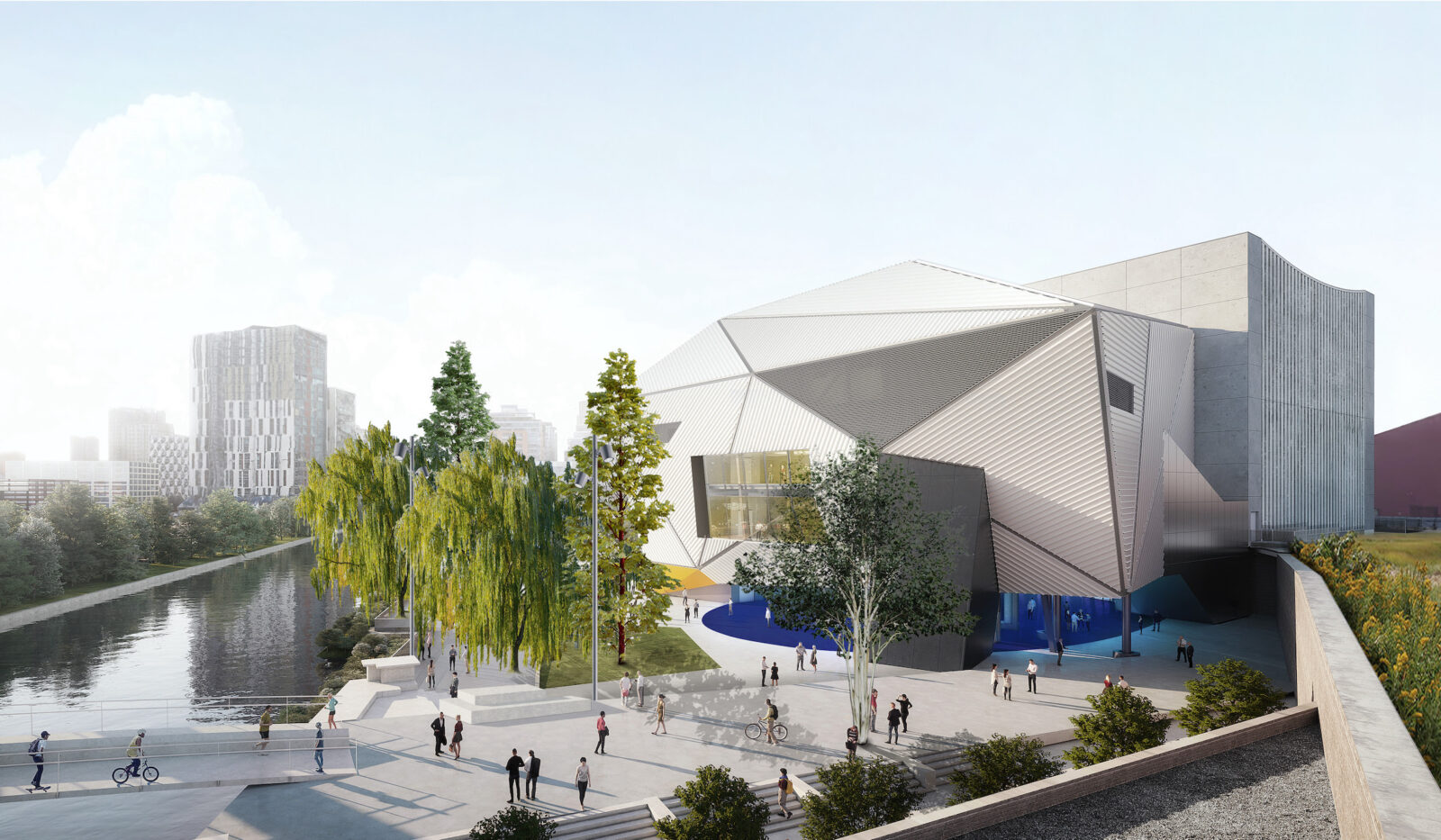 Factory International, the new £210m cultural space tipped by Time Out magazine to be one of the best places to visit in 2023, has revealed details of its upcoming food offering – and there's a lot to get excited about.
With plans to introduce a ground floor foyer café and public bar, as well as two auditorium bars when it opens later this year, the team has been busy looking for hospitality partners to come on board.
Today, bosses have confirmed that two of the north west's best-loved operators – one of which is behind YES in Manchester and Ox Club in Leeds – will come together to service the new multi-million-pound arts venue.
Set to be known as Super Serve Manchester, the new hospitality collaboration will see operators Solitaire Restaurants Ltd and Square One join forces in a new partnership.
Together, they will look after all the permanent food and beverage services on site when it opens at the heart of the city's new St. John's neighbourhood, formerly home to Granada TV and next to the Science and Industry Museum, later this year.
With menus changing seasonally, the inaugural offer at Factory International will include brunch, grab-and-go options and a late-night street-style offering when it launches this summer.
Super Serve, alongside other local traders, will also provide catering for the much-loved Festival Square which this year relocates to the venues' new river-side public spaces for the first time.
Solitaire Restaurants Ltd has a twenty-year proven track record of successful independent food and drink establishments and is well known locally for the busy bar and venue YES, which first burst onto the Manchester scene in 2018.
Solitaire is a well-known operator across the north west, with its team also responsible for favourites such as Ox Club, Belgrave Music Hall and Headrow House (Leeds) and Nightcrawler Pizza (Liverpool).
Square One, meanwhile, is an independent north west operator which provides infrastructure for events of all sizes, specialising in directing large-scale bar operations.
The team brings experience delivering support at scale in the north for the likes of Highest Point Festival, The Depot at Mayfield, Creamfields, Parklife and the Garden Party.
Read more: The UK's largest Italian food festival is coming back to Manchester this summer
Speaking on the new opening, Super Serve Manchester Managing Director Stevie Mulgrave said: "With many of the team starting their hospitality careers right here in Manchester before going on to work with some of the best independent operators throughout the North West, it's an honour now to be chosen as the Food & Beverage partner for Factory International.
"Already billed by Time Out magazine as one of the best things to visit in 2023, we can't wait to be a part of this amazing project in the heart of our city."
Solitaire Director of Operations Gemma Hampton-Stone added: "We'll be taking our inspiration from dining tables across Manchester.
"We're interested in working with the local community to deliver a diverse and accessible offer; working alongside suppliers who have the highest regard for sustainability and animal welfare and engaging in non-intensive and traditional techniques to create some of the best tasting and highest quality products around.
Read more: All the May Manchester restaurant deals, discounts and offers you need in 2023
"We're looking forward to presenting a seasonally changing menu that reflects the vibrancy the area has to offer."
Sheena Wrigley, Venue Director, Factory International, said: "We are thrilled to be working with the newly formed Super Serve as our food and beverage partner.
"That two companies at the top of their game have come together to collaborate and created something new just for Factory International couldn't be more fitting.
"Not only does the team bring a wealth of expertise as Soltaire and Square One and understanding of the Manchester and North West hospitality scene, but they also showed a real commitment to supporting our values including sustainability, community engagement, and accessible pricing.
"We are excited to be working together establishing a creative, eclectic, welcoming new social space and in a unique part of the city."
Programmed and operated by Factory International, the team behind the world-renowned Manchester International Festival, the new venue will host a year-round programme of original creative work, music and special events – from intimate concerts to immersive installations. Outside, pop-up performances, events and markets will create a buzzing riverside destination for all to enjoy.
Audiences will be invited to preview the trailblazing new cultural space during this year's Manchester International Festival which returns across the city from 29 June to 16 July.
The venue's official opening will be in October with the production Free Your Mind, a large-scale immersive performance based on The Matrix films created by Danny Boyle, Es Devlin and the co-founders of Olivier Award-winning Boy Blue.
Featured image – Supplied