Manchester
Dogs Trust Manchester is looking to find a 'forever home' for its longest-term resident hopes as lockdown lifts
Dogs Trust Manchester has made a heartfelt special appeal to find a "forever home" for its longest-term resident as lockdown begins to lift in the UK.
Meet Charlie.
The five-year-old Labrador Collie Cross – nicknamed "cheeky Charlie" – has now been a resident at the Denton-based rehoming centre for over 500 days after being taken into care in October 2019, and since then, has seen more than 1,000 of his canine companions head off to their forever homes.
He has already been adopted himself on two other occasions, but sadly though, it was not meant to be for the lively youngster.
The team are now hoping it'll be third time lucky for the lively youngster.
Although the centre is still currently closed to the public, as lockdown begins to ease even further across the region and throughout the country, the staff at Dogs Trust Manchester are hoping they will soon be waving a fond farewell to Charlie.
"Charlie is an adorable but anxious boy, so we are looking for a very patient and loving home for him," said Dawn Bishop, Manager at Dogs Trust Manchester.
"He is truly part of the Dogs Trust family – but what we really want is for him to have a home and family of his own".
She continued: "Charlie loves fetching a tennis ball and he is really clever, so picks up new things quickly in return for a tasty treat. He thoroughly enjoys travelling in the car so will be an ideal companion for owners who like to get away from it all to the quiet of the countryside for lovely long walks.
"He will take time to build a bond with new owners but once you have that trust he is very affectionate and loves to cuddle up, which is adorable.
"Charlie has come on in leaps and bounds since coming to us and we cannot wait to see what the future holds for him in his forever home.
"He truly is one of a kind and has bags of potential.
"He will make a loving and rewarding pet for owners who are willing to take the time to work with him, and we will be by their side every step of the way".
Charlie will need a home in a quiet, rural area with a predictable routine and few visitors, but for those apprehensive about adoption, Dogs Trust Manchester assured that it will "always be here to help if Charlie or his family need support" as it provides lifelong behavioural support for adopted dogs over the phone or in 1-2-1 sessions to help make sure they can live their best life together with their family.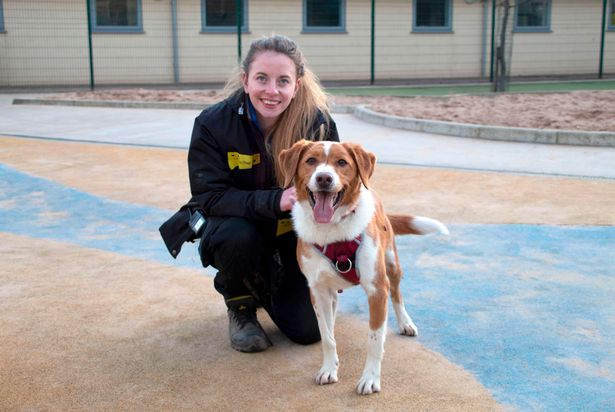 Think you could give Charlie what he is looking for? Keen to help Dogs Trust change the tale for any of the dogs waiting for their forever homes?
You can call Dogs Trust Manchester's rehoming centre on 0161 470 1042.
Featured Image – Dogs Trust Manchester