Music
Open Beat are providing Manchester's rising musicians with a new live platform
They've waited for two years, now they're back and ready to launch.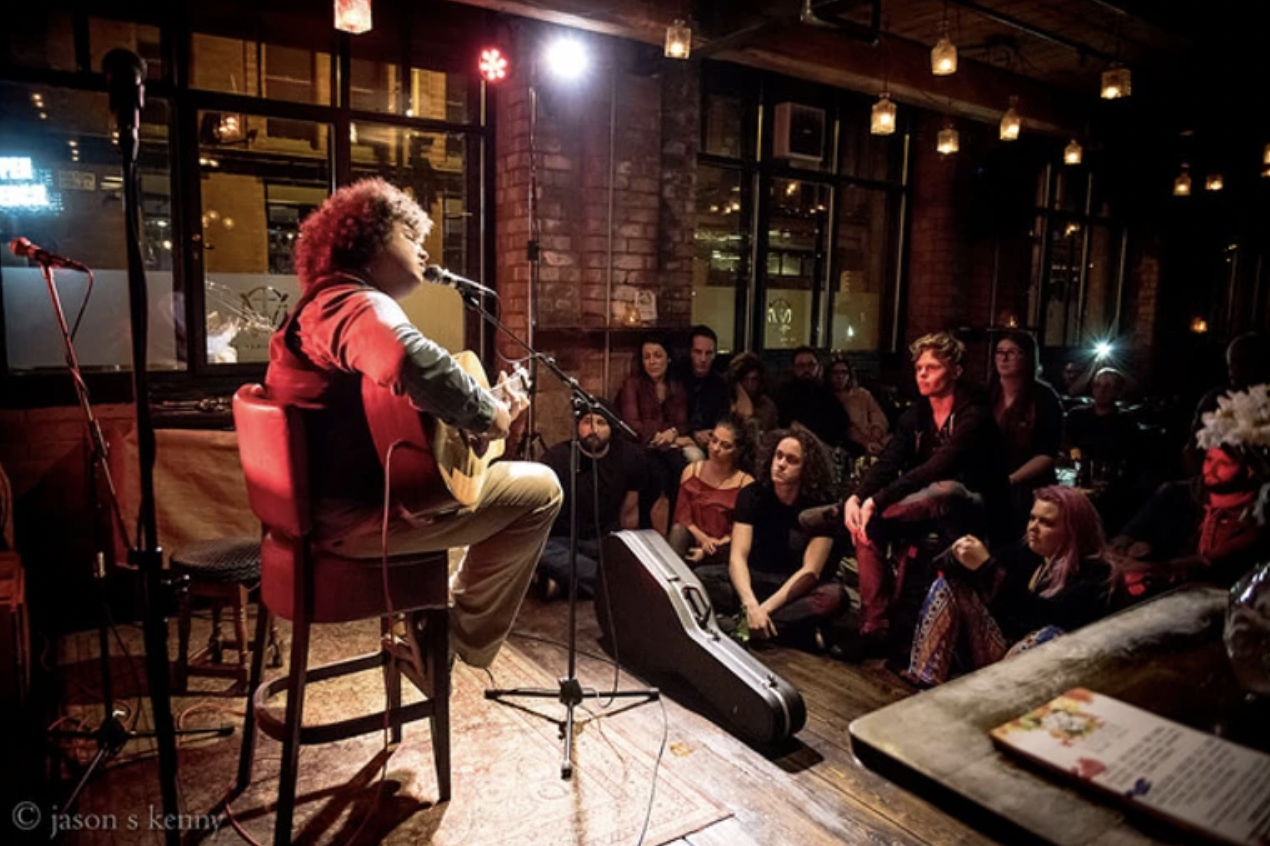 If like me, you had resided in the fact that you'd never see the day that you'd be dancing with your pals and enjoying live music again, then you're probably breathing a sigh of relief seeing the mass of gig and event announcements that are flooding your timelines.
But one person even more excited than us is Tom Kingham, co-founder of Open Beat, whose inaugural music event has been nearly two years in the making now.
Back in April last year, Open Beat were forced to wait it out like the rest of the music industry, after their launch night at Hatch was of course cancelled. Now, they're full steam ahead with organising monthly live showcases of some of Manchester's best unsigned talent.
And we're finally allowing ourselves to get excited over the prospect.
But lockdown wasn't all bad for Open Beat – as Tom recalls it was almost a blessing in disguise. It gave them the unique chance to refine their idea and widen their circle of contacts. "We'd kind of planned [the first event] pretty quick last year and didn't think long term," he said. "But now we've had a good year to plan it, it's kind of worked in our favour because we've managed to get so many more acts on the cards.
"That's how big the expansion has gone now and we're not just looking at the indie bands now, we're also looking at the Manchester grime and hip-hop artists, too."
In the beginning, Tom admits there were worries over the longevity of Open Beat, wondering, "are we going to be able to keep it up? Are we going to be able to find more and more acts to bring through? Or is it just going to be the same people?" In the end, lockdown forced the guys to take it slow and make careful decisions – and the result is more focused and determined.
One thing at the forefront of Open Beat's ethos is promoting the city's up-and-coming musicians. The idea for the event first came about in the summer of 2019, when Tom and fellow co-founder, Miftah Ali, realised there was little in the way of a big platform for up-and-coming artists to play live.
With a history in organising music events, Tom has experience with some of the biggest events in Manchester like Warehouse Project and Parklife. But he shares humble beginnings putting on student nights at the old Tiger Tiger in the Printworks back in the day. So, he understands how these things work on multiple levels.
But even after working with such big events, Tom likes to go back to his roots with intimate open mic nights and showcases every now and again. Simply because of the connection you get with a smaller audience. "It's the intimacy – you get emotionally connected to it because it's just you and them," said Tom.
"Of course, there're other people around you. But it's not another 60,000 people – it's just you, them, their guitar and the same appreciation of that act as you in the same room.
"These [acts] are really, really good – they're good enough to make it and sign a deal. It's just them not being in the right place at the right time – and we want to get them in the right place at the right time."
So this ended up being the driving force behind Open Beat – to give these amazing artists the large platform they deserve, whilst bringing likeminded music lovers together at the same time.
Tom believes these kinds of opportunities are limited for unsigned artists. "[Music] is sort of like a pyramid system, like there would be in football. There's a lot of money at the top but the further and further you go down, there is less and we kind of want to even the odds as much as we can."
Tom and Miftah have already managed to grow the Open Beat team. Joining them are two members of the music scene. The first being DJ and Unity Radio presenter, Jermaine Lee, who has made appearances at Parklife, Warehouse Project and Victoria Warehouse. The second being singer Joe McAdam, who has also ran the legendary open mic night at The Whisky Jar for seven years. Together, they make up a solid team with tons of industry knowledge.
With this growing team, expansion is more likely. So, aside from soon becoming a recognised and well-respected Manchester promoter, naturally there are plans take the concept to other cities. In doing this, the guys hope to jump into the festival scene and host their own small stage as a platform to do what they do on an even bigger scale. Still using the same local and unsigned talent, but giving them opportunities that really don't come along all too often.
Now that we're allowed to play out again soon, the thought of hearing live music again makes us want to burst. To get ourselves prepared, The Manc Audio will be partnering with Open Beat over the next few months to bring you even more of Manchester's unsigned music. So, you'll be hearing plenty from them in the near future as they finally get to live out their summer 2019 masterplan.
Stay up to date with Openbeat here and via us at The Manc Audio.