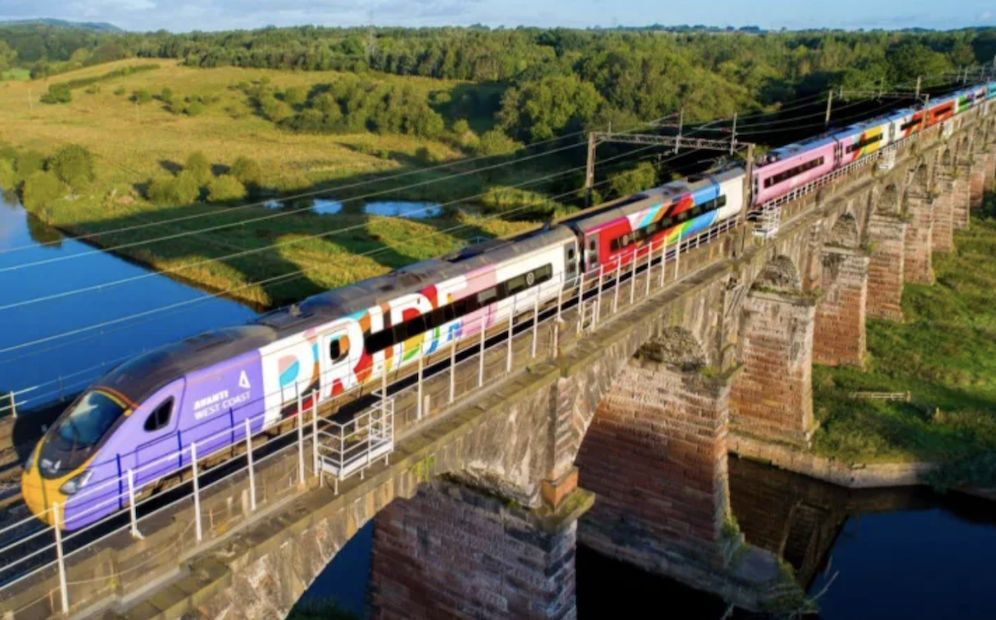 An incredible multicoloured train pulled into Manchester on Tuesday (25 August) – signalling the arrival of the first ever Pride Train staffed entirely by an LGBTQ+ crew. 
Public transport operator Avanti West Coast launched the service in a bid to support LGBTQ+ groups following the cancellation of many key events in the community – including Pride Festival in Manchester.
Wrapped in the multicoloured Pride flag, the train made history when it departed London Euston just after 9:25am – becoming the first Avanti Pendolino to sport the famous rainbow colours.
The 11-carriage, 265 metre-long train – which was designed to promote diversity and create a 'Pride experience' – completed its journey at Manchester Piccadilly just after 11am.
Avanti West Coast Executive Director of Commercial, Sarah Copley, said: "I'm delighted to be launching our new Avanti West Coast Pride Train which represents everyone in the LGBTQ+ community.
"It is a symbol of our commitment to diversity and inclusion as it travels up and down the West Coast Main Line. We Live Proud 365 days a year, not just today.
"I am so proud to be a part of a business where our people represent the communities we serve. We are always listening to our people and customers to ensure our diversity and inclusion strategy is relevant.
"Our new train livery is a powerful example of keeping the conversation going".
Watch the full video of the Pride Train arriving at Piccadilly online.