News
Cristiano Ronaldo shares first picture with newborn daughter after loss of her twin
"Now it's time to be grateful for the life that we've just welcomed into this world."
Cristiano Ronaldo has publicly shared the first family picture with his newborn daughter following the tragic loss of her twin.
The Manchester United star and his long-term girlfriend Georgina Rodríguez announced back in October 2021 that they were expecting a second set of twins, but issued a joint statement on social media on Monday evening to reveal with the "deepest sadness" that their newborn son had passed away.
The couple confirmed the birth of their baby girl, and said the arrival of their daughter gave them "the strength to live this moment with some hope and happiness".
They said it was "the greatest pain any parents could feel".
Now, for the first time since announcing the heartbreaking loss, the Portuguese striker and his partner have taken to Instagram to share a family photo of them together with Cristiano's eldest son, Cristiano Jr, twins Eva and Mateo, the couple's shared daughter Alana, and of course, their newborn baby girl – whose name has not yet been revealed.
Read more: Cristiano Ronaldo announces tragic death of newborn baby boy
The couple have also spoken out for the first time since their statement confirming the loss, and have thanked the public for all their messages of love and support.
Cristiano said on Instagram: "Home sweet home. Gio and our baby girl are finally together with us. We want to thank everyone for all the kind words and gestures. Your support is very important and we all felt the love and respect that you have for our family.
"Now it's time to be grateful for the life that we've just welcomed into this world."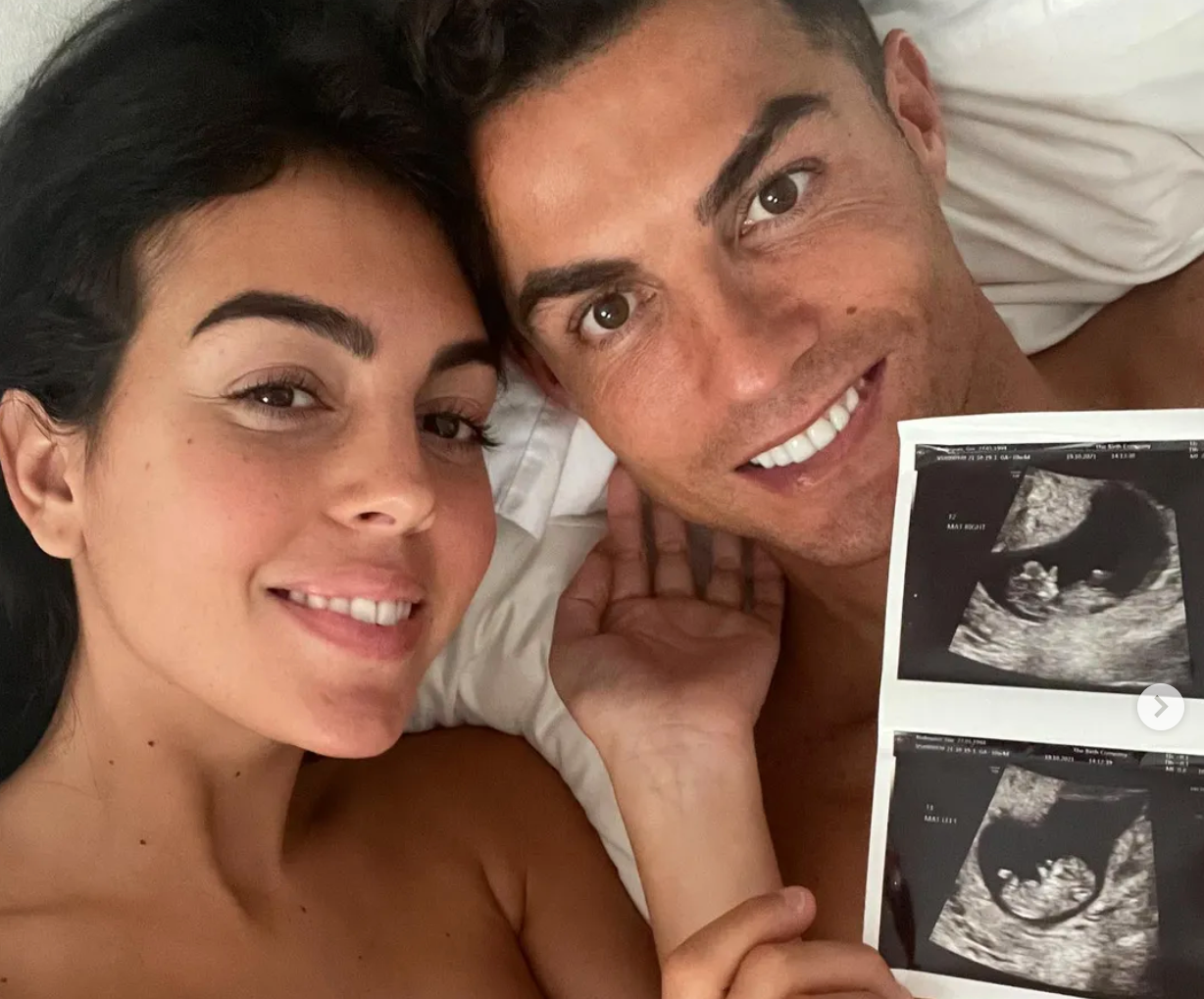 The family photo was shared shortly after Cristiano had also taken to Instagram to personally thank the Manchester United and Liverpool fans who put a decades-long rivalry aside and came together to pay an emotional tribute to his son.
The two North West clubs with a historic and bitter rivalry faced each other in a Premier League clash at Liverpool's home ground Anfield on Tuesday evening, but ahead of the match, both teams observed a moment of silence and wore black arm bands in tribute, before the stadium erupted in thunderous applause on the seventh minute – a reference to the shirt number Cristiano has notably worn throughout his career.
Read more: Manchester United and Liverpool fans come together for emotional tribute to Cristiano Ronaldo's son
Liverpool fans not only joined Manchester United fans in the applause, but some were also heard chanting a rendition of their adopted anthem, You'll Never Walk Alone.
The tribute was described by many as the "moment of the game".
Sharing a now-viral video of the tribute and thanking fans for their support on Instagram, Cristiano said: "One world… One sport… One global family… Thanks, Anfield. Me and my family will never forget this moment of respect and compassion."
The couple's statement released on Monday confirming their tragic loss read in full: "It is with our deepest sadness we have to announce that our baby boy has passed away.
"It is the greatest pain that any parents can feel and only the birth of our baby girl gives us the strength to live this moment with some hope and happiness. We would like to thank the doctors and nurses for all their expert care and support.
"We are all devastated at this loss and we kindly ask for privacy at this very difficult time.
"Our baby boy, you are our angel. We will always love you."
Featured Image – Cristiano Ronaldo (via Instagram)