News
Hatch street food village underneath the Mancunian Way is closing for good
The site will close on 30 September.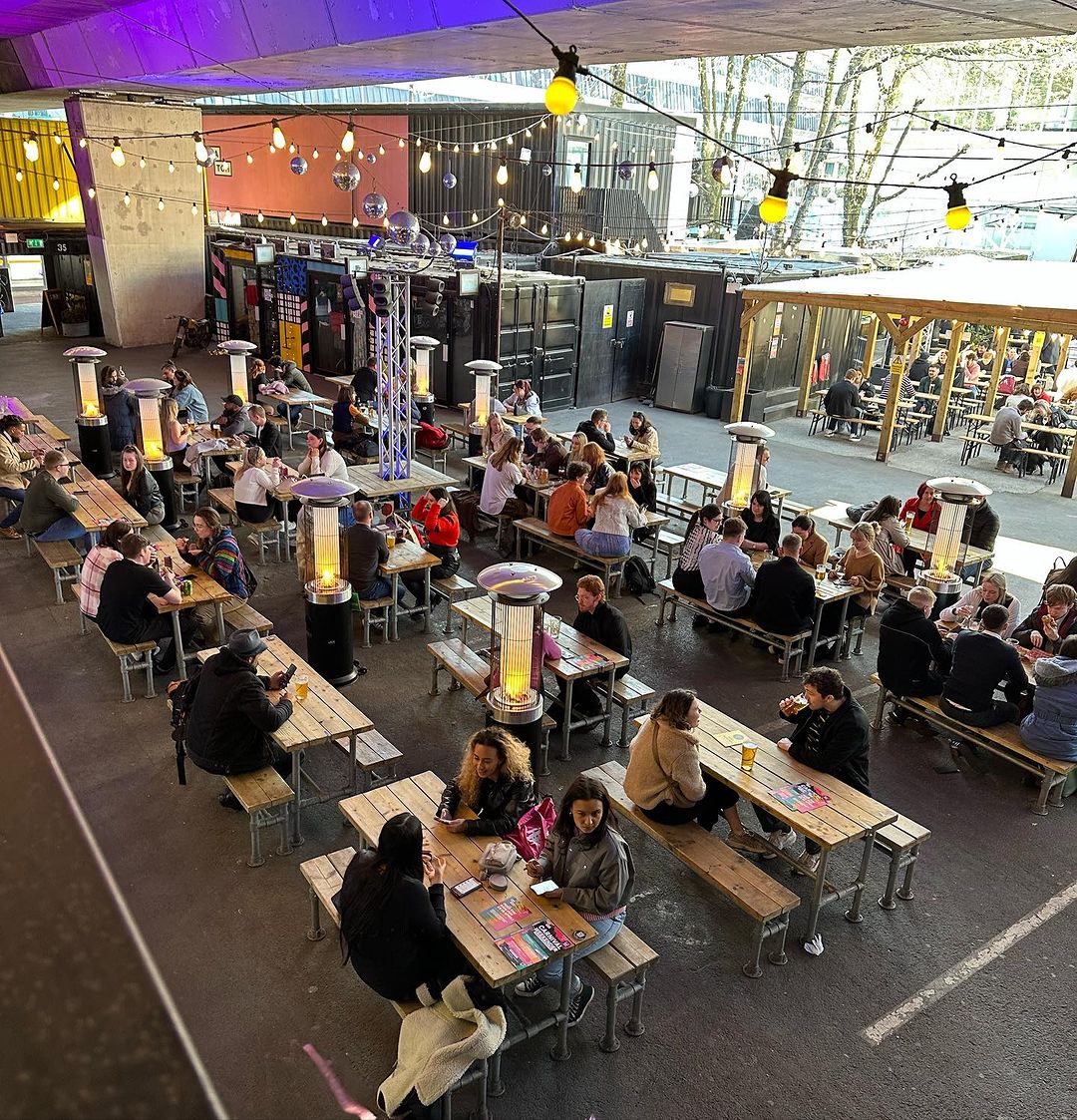 Hatch, the independent street food village housed underneath the Mancunian Way, has announced it will close for good as the property company behind it seeks to redevelop the site.
Bruntwood has today (1 September) announced plans to close the award-winning retail, street food, and leisure space on 30 September.
The shipping container village is currently home to a host of different independent businesses, many of which will shut at the end of the month with the exception of ÖL Brewery – the only venue that will remain open throughout the redevelopment process.
One trader, who asked not to be named, told The Manc that the news had hit them especially hard and had come as a 'huge shock'.
They said that all of the traders they had spoken to were 'surprised' at the 'short notice' given by Bruntwood and that many were also feeling 'hurt' by the post on the Hatch social media which they say gave them 'no right of reply' with the comments switched off.
They also said that the communication issues have made it difficult to speak with customers about what is going on, as there is 'no opportunity to explain to customers that we are still trading for the next month.'
The trader continued: "As for my own business, I'm not currently sure how to make it survive.
"We've been given a month's notice to wind down, find alternative premises which is nigh on impossible.
"We need to find a place to store our equipment which costs money that we don't have, our staff will find jobs elsewhere in the meantime and we'll encourage them to do so, but it will mean our businesses basically no longer exist.
"We have been put in an entirely impossible position."
Speaking on the situation with the staff at Hatch, whose roles Bruntwood has said are now under consultation, the trader added: "I have every sympathy for the staff at Hatch who have had to deliver this awful news and whose jobs are presumably also at risk.
"The responsibility lies squarely with Bruntwood and the new owners Stack who have left small businesses in the worst situation possible as we head into winter."
A joint planning application for the redevelopment of the site is currently in progress, having been submitted by Bruntwood and leading leisure developer STACK.
Plans to reopen in 2024 will see Hatch become STACK, creating a similar – albeit larger – permanent offering that Bruntwood says will provide 'more opportunities for traders in the city.'
The new format will see a mix of street food and bars brought together around a central plaza, with a stage and giant screen providing live entertainment.
STACK's owners have confirmed that all food and beverage traders at Hatch will be given priority during the selection process if they choose to apply for a unit within the newly created STACK when it reopens.
Permanent site staff, meanwhile, are currently undergoing a period of consultation.
Speaking on the change Peter Bearpark, Asset Management Director at Bruntwood, said: "We are incredibly proud of what we accomplished at Hatch.
"Originally conceived as an idea for how to utilise unused space while Circle Square was in development, it has been a success in terms of the vision we set out for it – supporting start-up businesses, allowing brands to experiment, grow and thrive, and creating a place for people to enjoy excellent food, drink and shopping.
"It's always hard to say goodbye to a site that we are proud of, but now is the right time for Stack to take it to the next stage in its development."
Neill Winch, CEO of STACK, added: "STACK is delighted to bring its successful leisure brand to Manchester and continue the fantastic work that Bruntwood has started at Hatch in creating a place for businesses to grow and thrive – something that we are also very passionate about.
"We have a proven track record in providing venues which bring together the very best in street food, bars and we are also renowned for delivering a full programme of live entertainment for people of all ages, which has been a huge part of our success and an element we are looking forward to elevating in Manchester.
"This location is the perfect fit for us, and we look forward to building on the great work Hatch has already done and taking it to the next level under the STACK brand.
Read more: GMP officer jailed for trying to lie his way out of a speeding offence
"STACK is already a proven concept which has had huge success in its native North East, in both Sunderland and Newcastle and is currently developing a whole host of new sites across the country. It operates as both a visitor attraction and a much-loved facility for local residents and we look forward to showing Manchester what we have to offer."
Since opening in December 2017, Hatch has created a space for independent businesses to innovate and grow, connecting to the local Manchester community, providing a place to meet, socialise and shop.
STACK is already well-established in Newcastle and has a successful site at Seaburn, Sunderland, and is now developing STACKs in Durham, Manchester Whitley Bay, Bishop Auckland, Middlesbrough, Lincoln, Northampton, and Carlisle, along with a new Tyneside home.
Featured image – Hatch