News
Inside Homeground: the huge new festival-style venue opening on First Street
Three times the size of Albert Square, Homeground is bringing festival vibes to First Street all summer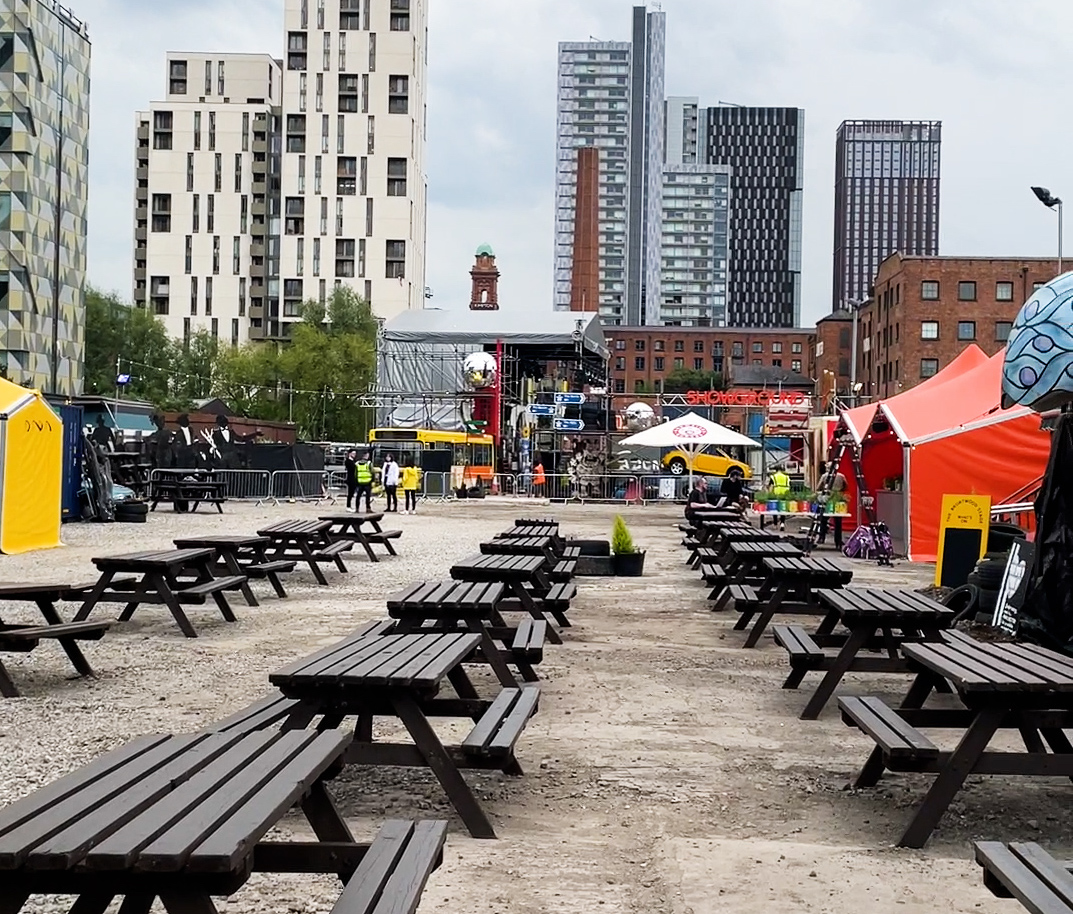 An enormous new festival-style outdoor venue opens its doors on First Street in Manchester today, Friday 28th May.
Bringing the likes of Russell Howard down to perform live at its open-air theatre, as well as running a special 'Manchester' stage showcasing live performances from some of the city's finest musical and comedy talents, this is definitely one to put on your list.
Curated by local theatre, film and arts centre HOME, Homeground has taken over a previously disused patch of land that's three times the size of Albert Square.
Empty no more, it's now home to three huge arenas: a 400-seat Cabinet of Curiosities-themed theatre space called Showground, a 1,100 capacity food and drink terrace, and a Bruntwood Stage hosting live performances from some of Manchester's hottest local talents.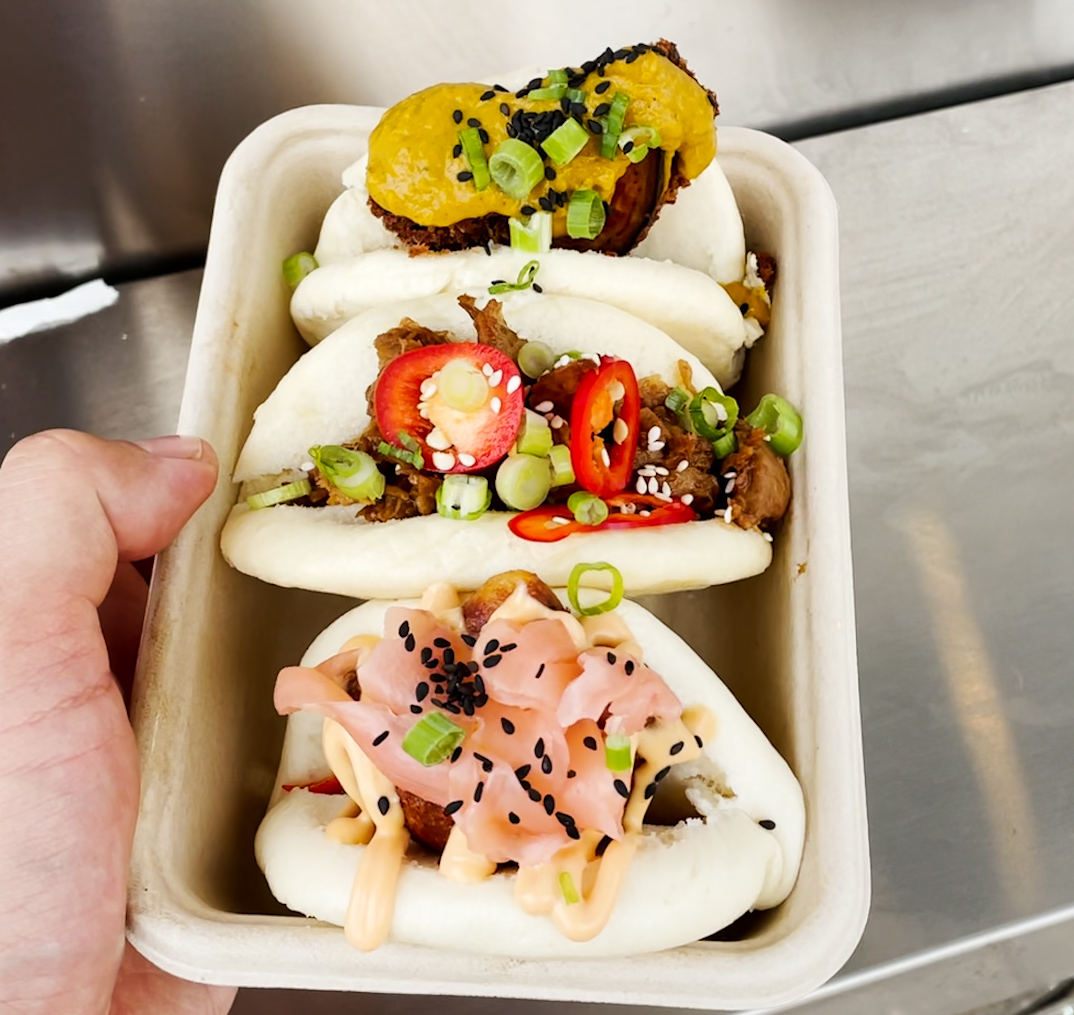 Entry Is free and you won't need a ticket – with the exception of the theatre shows at Showground, which people are being encouraged to book in advance for.
Dotted around the site are 11 classic Manchester signs riffing off iconic places in the city, from the Arndale and Dutch Pancake House to Withy Grove Stores and Hulme Hippodrome.
Elsewhere, old Metrolink bus stop signs demarcate the outdoor picnic tables – so if you're meeting your friends and need a landmark, you can say "meet me at the 192."
The Food & Drink Terrace
Street food and drink vendors setting up shop at the site for the summer include vegan eatery Vertigo, wine connoisseurs Cork of the North, Wolf at the Door, Tampopo, Bean and Bubble, Triple B Bagels, and HOME's own chefs cooking up a selection of pizzas and fried chicken.
On top of all this, there's. a fun cocktail bar and a Budvar truck selling super-fresh czech beers on tap.
The Bruntwood Stage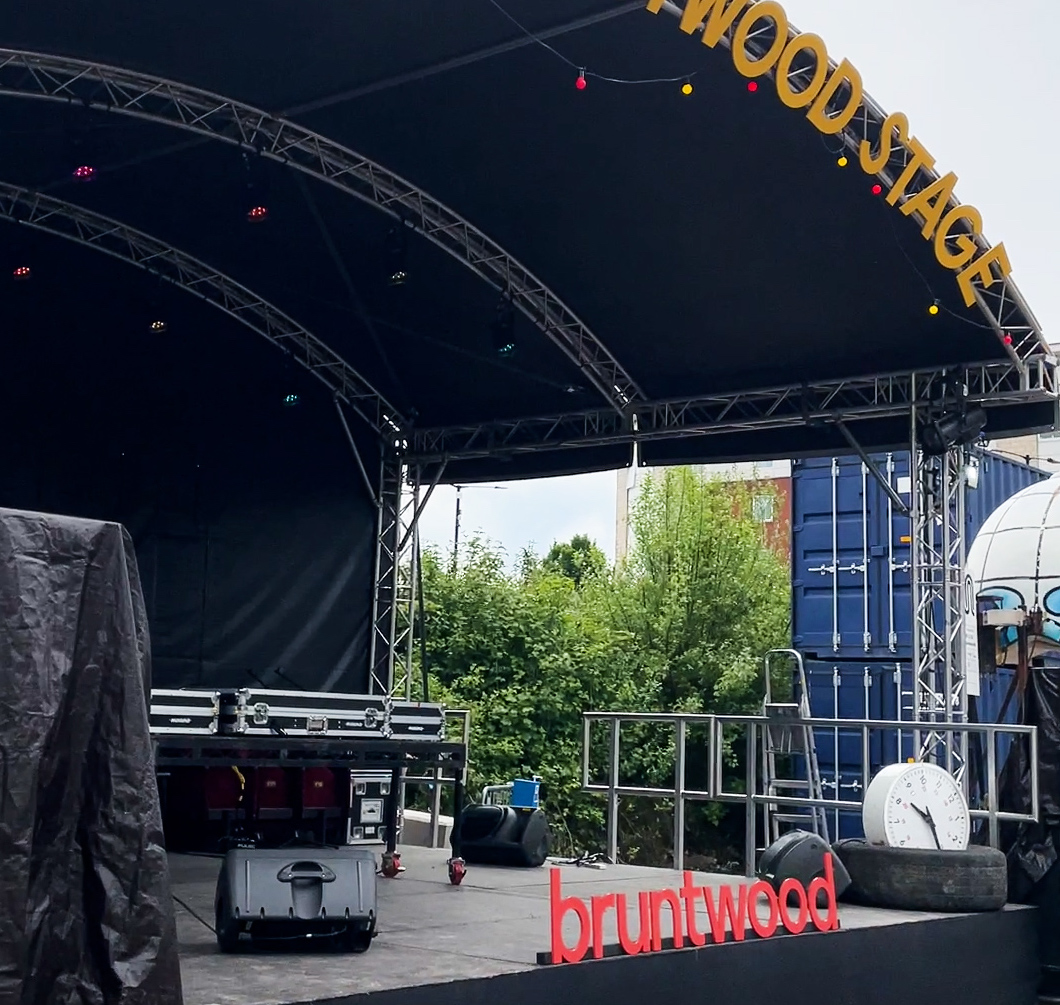 The Bruntwood stage, which will host music and other live performances throughout the summer, is flanked with two giant tiffany lamps borrowed from Blackpool Illuminations.
And more retro pieces from the Blackpool Illuminations collection are spread around the site – as are pieces of work from local artist David Bailey.
All entertainment here is completely free, with a programme spanning comedy, live music, DJ sets and more over the next four months.
Original Hacienda resident DJ Paulette has curated a 'tea party' of 50 different DJ's to carry sets across the summer, including the likes of Clint Boon, Katbrownsugar, Hattie Pearson, Jamie Groovement and Werkha.
There are also some takeovers on the cards here from the likes of Manchester Camerata, RNCM, and Manchester Jazz Festival, plus appearances from Mr Wilson's Second Liners, New Order's Stephen Morris, Contact Theatre, and Bourgeois and Morris.
Showground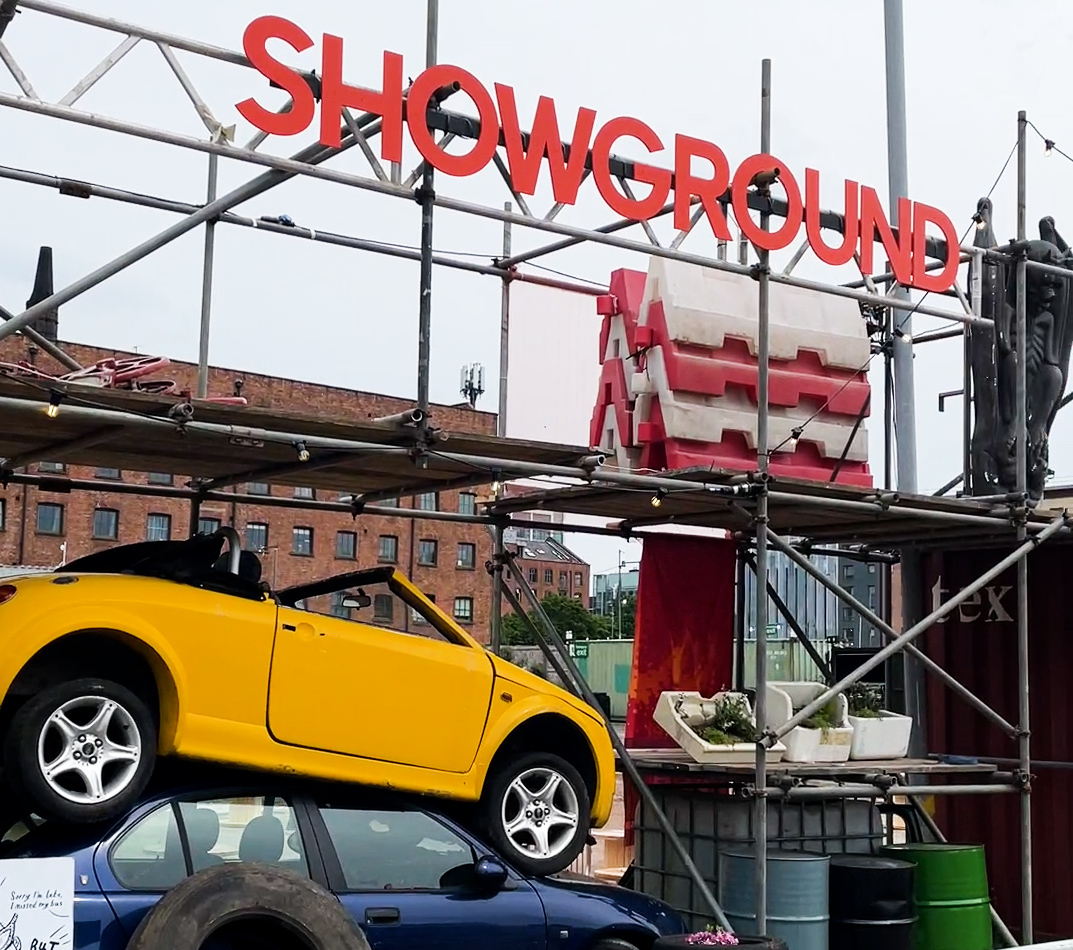 HOME has also collaborated with local favourites like Frog & Bucket, Contact theatre, and Trans Creative to contribute to their theatre programme at Showground. These will complement bigger performances of A Midsummer Night's Dream and Alice In Wonderland, with a special vogueing performance expected from Manchester's own Contact theatre.
All events at the venue's huge socially distanced theatre Showground will be ticketed. These can be bought in advance or at the door, with tables seating up to six people together in line with government guidance.
If that wasn't enough, Homeground's also got a few surprises up their sleeves for later this year – including a fourth arena space in which they hope to host some q&as and family events.
To find out more information and purchase tickets, head over to the Homeground website.
FAQ's
Homeground on First Street is a socially distanced space a five minute walk away from HOME and is suitable for all ages
All spaces on-site at Homeground will be fully accessible. The site has been working with consultants Attitude is Everything to ensure facilities are suitable for all audiences.
Please be aware that it is an outdoor site, so there may be some uneven ground, however the full space is on one level with no steps.
Plenty of seating is provided and staff will allocate seating in the Food & Drink Terrace on arrival.
There is a drop-off point for those arriving by car on James Grigor Square off Medlock Street.
There are plenty of toilets available on the site including four accessible cubicles.
Homeground will be adhering to all government guidelines in relation to COVID-19.