News
NEW MANC EATS: feat. candy floss ice cream rolls and garlic bread burritos
Plus the 'best smash burgers in Manchester' and some gorgeous new tapas dishes from Tast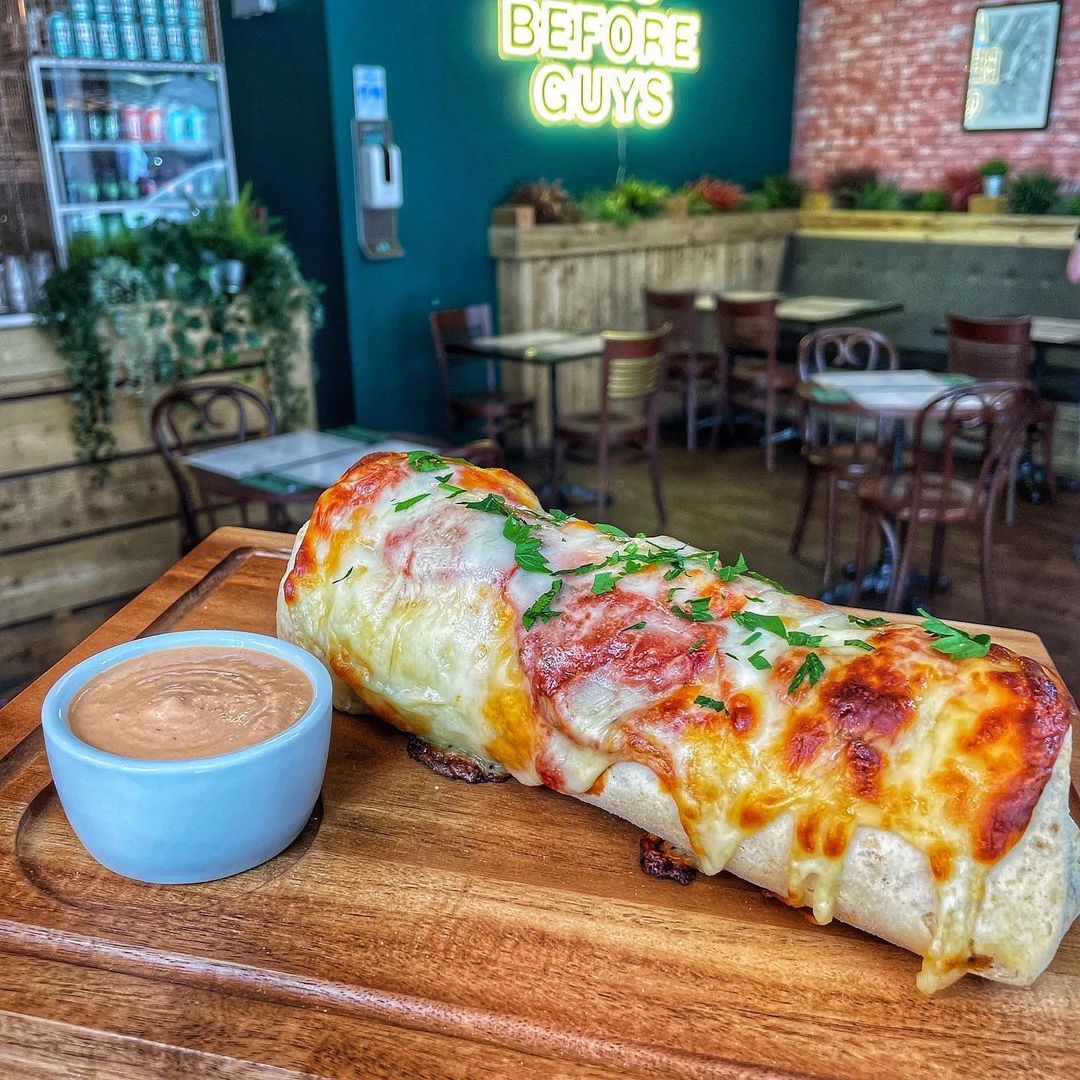 I don't know if it's the change in the seasons that's got us craving a little bit of comfort food, but this week's list is especially indulgent.
From the naughty smash burgers that were one of Manchester's most ordered takeaway items during lockdown (over 1,000 a day, thank you very much) to garlic bread burritos, candy floss ice rolls and the most beautiful hand-rolled Iberico croquettes, you might want to have a cheat week after reading this.
Keep scrolling to discover some of our top picks in the city this week.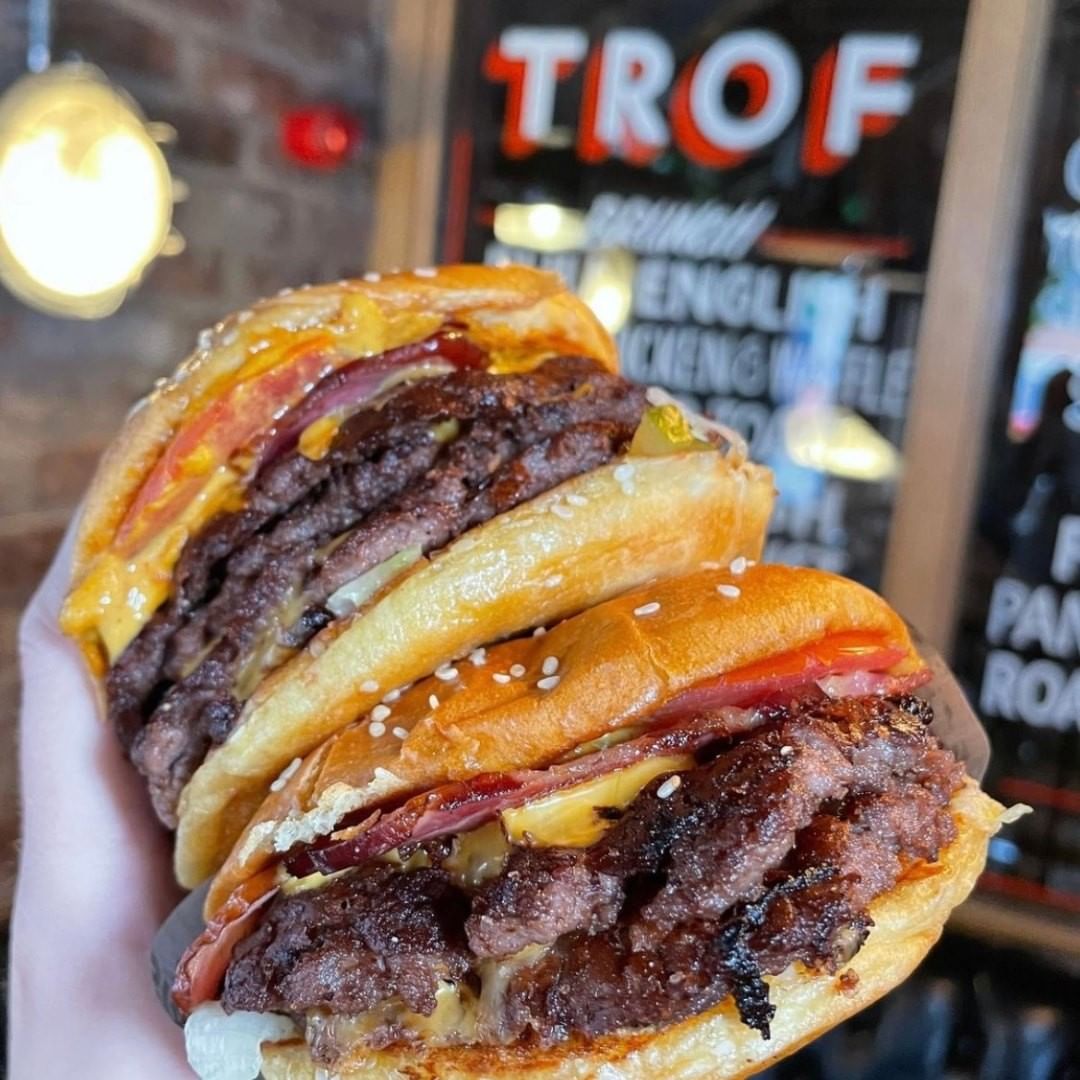 The 'best smash burgers in Manchester' pop-up at Trof
Manchester burger institution Burgerism is popping up at Trof, serving up their famously good smash patties from the NQ kitchen for the next ten weeks every Monday and Tuesday from 4 to 10 pm.
There'll be four of the brand's signature burgers on the menu: 'beefed,' 'cheesed,' 'veggied,' and 'baconed', served with optional cajun fries on the side and a choice of dips like ranch, blue cheese and buffalo alongside BBQ ranch, BBQ and ketchup.
Make sure to get down for one – 1,000 orders a day during lockdown don't lie.
Find them at 8 Thomas St, Greater, Manchester M4 1EU.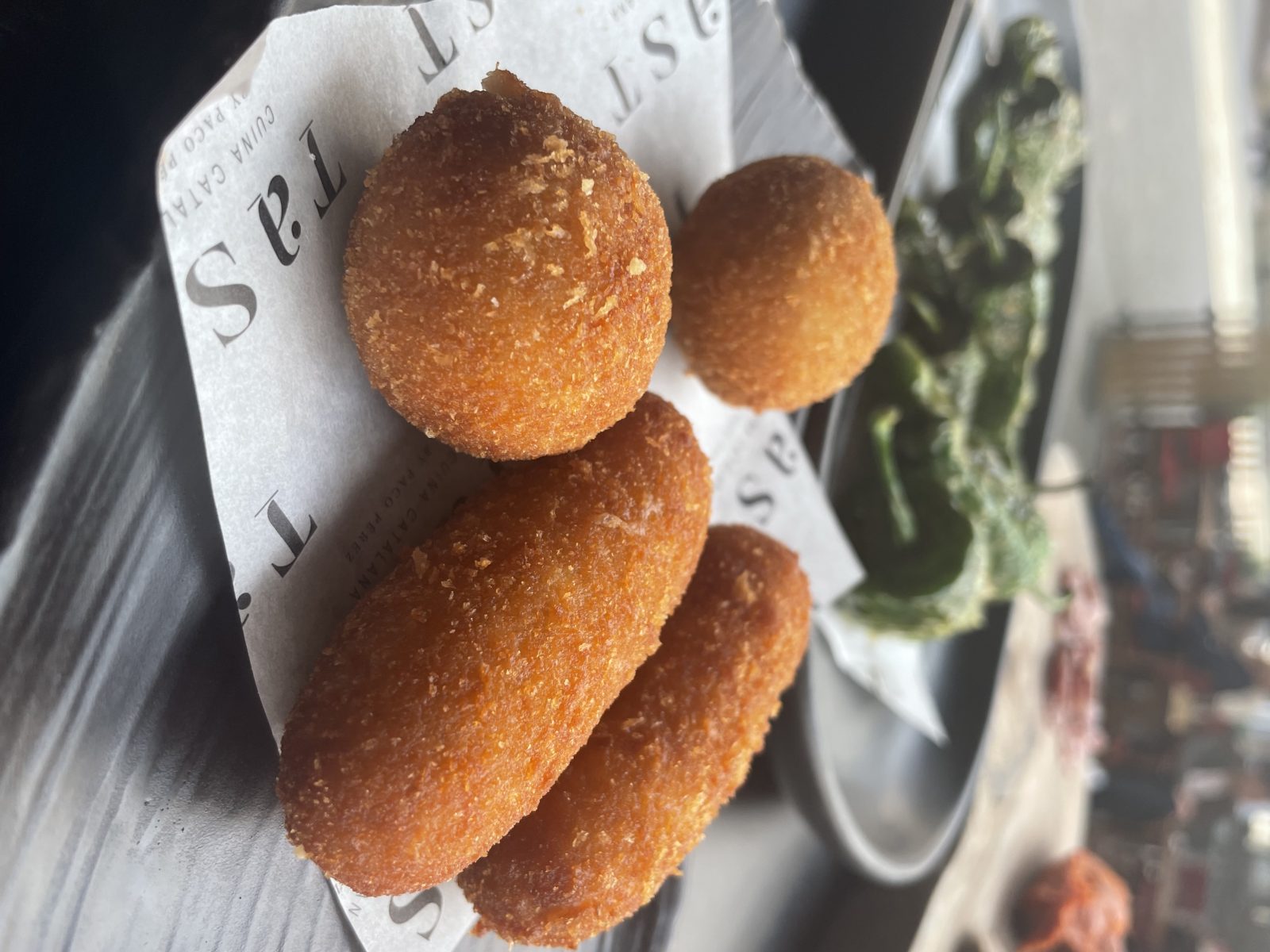 Bocadillos and top-tier croquettes on King Street
Whilst the September sun still lasts, now is the perfect time to bob on over to King Street to sample the tapas at Tast.
The swanky Catalonian eatery is split across three floors, each offering a distinctly unique experience. Down in the bar though, it's all about big jugs of sangria and classic tapas dishes done very well – plus a few surprises, like their dunkin' donuts (a mixture of white chocolate, foie gras and raspberry).
Think bocadillos, patatas bravas, blistered padron peppers, and hand-rolled ham croquettes (apparently they sell around 2,000 croquettes a month here), plus big boards of cheese, charcuterie – and an amazing dish of duck egg, crispy squid and potato that blew our minds.
Pull up, order a drink or two. and try and wangle a seat with a view of the passers-by for a perfect afternoon of people watching. Perfection.
Find them at 20-22 King St, Manchester M2 6AG.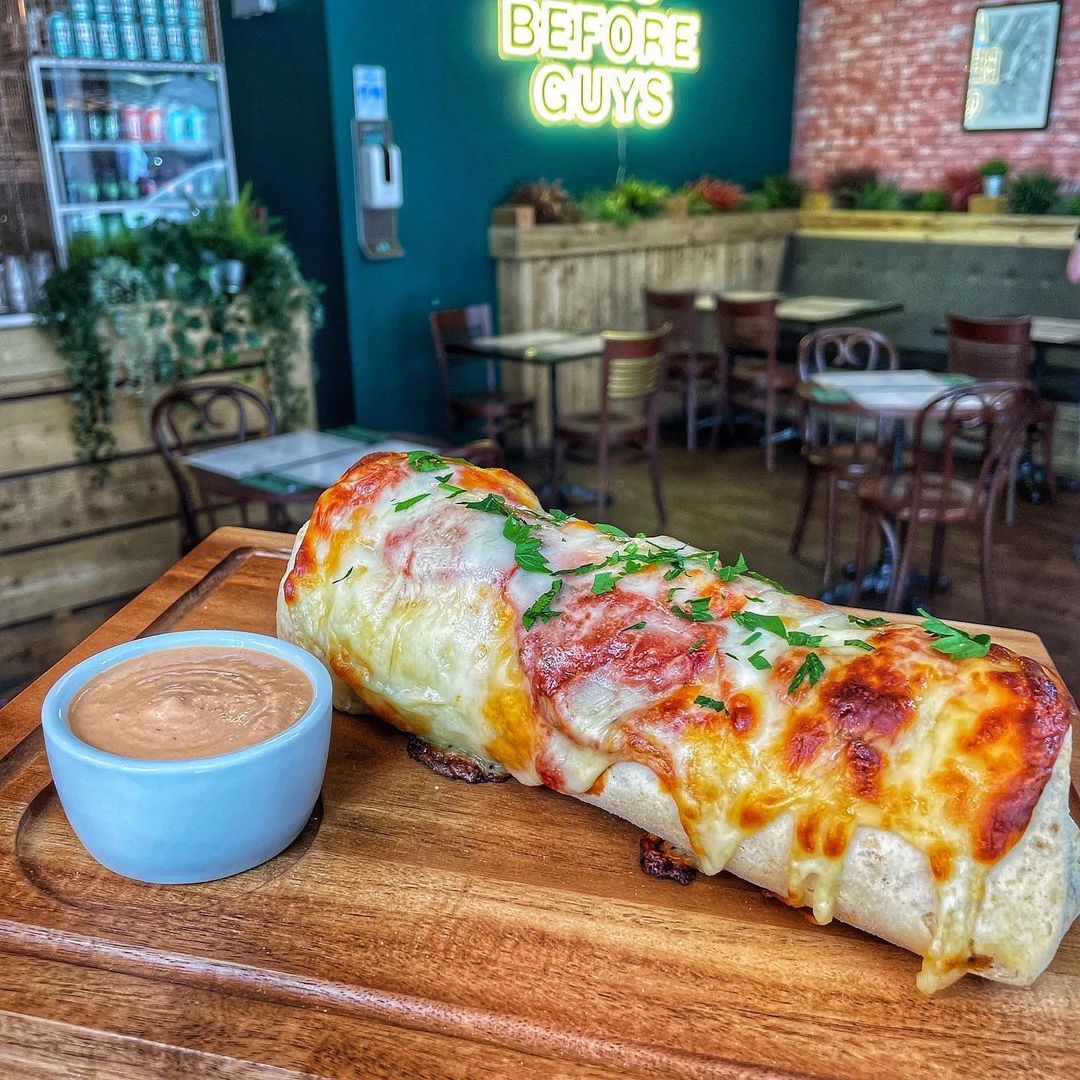 Garlic bread and pizza burritos at American Pies
If it's a carb-fest you're after, look no further than American Pies. We didn't think that the deep-dish pizza brand could be any more of a guilty pleasure, but they've really gone and done it this time.
Serving up their own take on garlic bread and pizza burritos, this is the ultimate cheat day scran if ever we saw it.
Find it at unit 1, 58 W Mosley St, Manchester M2 3HZ.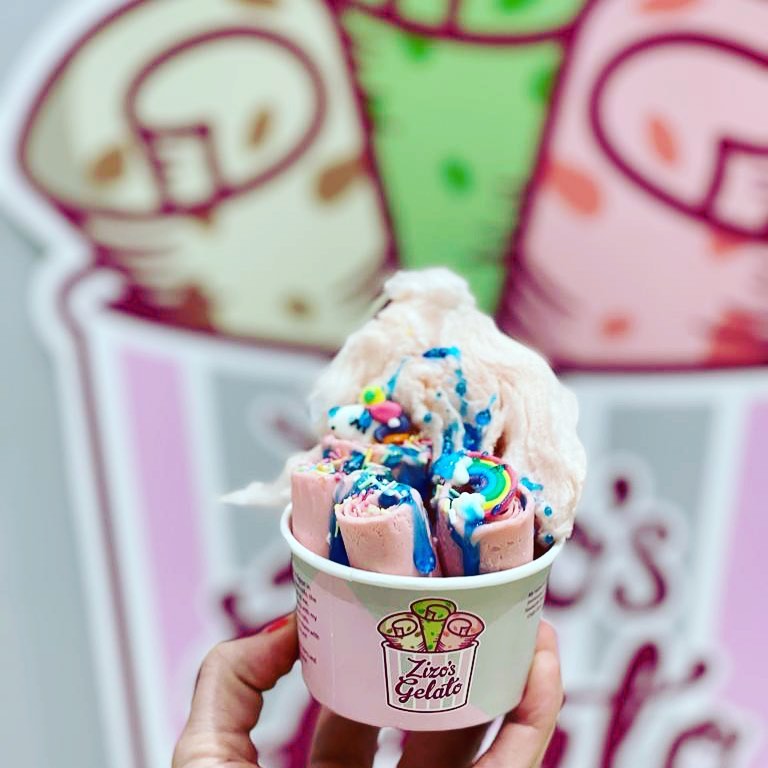 Candy floss ice rolls at Zizos Gelato
If you're looking for a sweet fix this week, there's a trader on the square at the Great Northern Warehouse selling delicious pots of ice rolls loaded with sweeties, chocolates and sauce that will have you covered.
Think big candy balls of floss, bright pink flying saucers filled with tangy sherbert and multi-coloured sweet and sticky sauces – all served in neat little pots to make your treat easy to enjoy on the move.
It's not just ice rolls, either. You'll also find some seriously indulgent bubble waffles and 'thick' ice cream shakes here. Be advised, the winter menu is also on its way too – and we see that Biscoff bubble waffles are likely to be on it.
Find it at 223 Deansgate, Manchester, M3 4QB.