News
This is why Co-ops in Manchester and across the UK have been rebranded this week
It's all part of Co-op's bid to "engage customers" throughout the COP26 conference and beyond.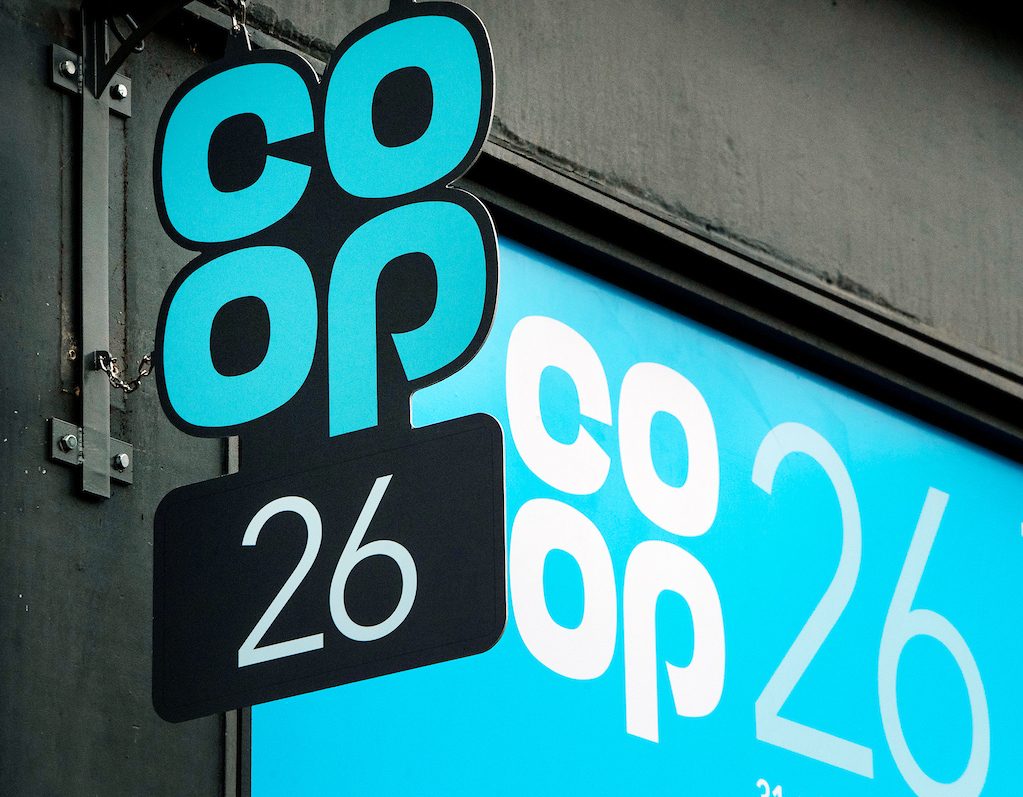 Those with keen eyes walking through the city centre in recent days may have noticed that some Co-op stores have gone through a clever rebrand.
It may not have caught the eyes straight away, but after a closer look, shoppers will have noticed that branches of the supermarket retailer in major UK cities are now going by the alternative name of Co-op26 – and it's all part of Co-op's bid to "engage customers" throughout the COP26 conference and beyond.
The United Nations' climate change conference COP26 is taking place in Glasgow from Sunday 31 October – Friday 12 November.
The retailer says the Co-op26 campaign is aiming to get people right across the country asking questions about how they can impact climate change at a community level.
Six flagship Co-op stores across the UK – including the branch on High Street in Manchester city centre – have fully been rebranded to Co-op26, with bright blue exterior signage and window vinyl takeovers attempting to capture the attention of passers' by, while the rest of the retailer's 2,600 food stores and 830 funeral care homes also have everything from hanging boards, shelf edge labels, and bunting, to exterior bollard covers, and in-store radio takeovers to communicate the message and encourage customers to get involved.
People across the UK having been taking to social media in recent days to share their reactions and thoughts on the rebranding, as well as posting photos of their local Co-op branches looking a little different to usual.
The rebranding appears to have been widely praised by many, with one shopper on Twitter simply telling Co-op "well played".
Jackson Mills – Area Manager at Manchester's Co-op stores – also shared a video of the High Street store's rebranding on Twitter, adding in the caption: So proud that Co-op is supporting #COP26. I'm outside High Street Co-op today looking at our new display, asking people to co-operate together and make a difference.
"Now is the time to act."
It's not only the stores that'll be taking part either.
Continuing with the play on words, Co-op has also rebranded all its social media channels to Co-op26 for the duration of the conference too.
"Climate action needs to be truly accessible and inclusive in order to make the difference that's so urgently needed," explained Steve Murrells – CEO of The Co-op Group.
"While the world looks to the COP26 conference to guide global leaders on how countries can accelerate change, we are shining a spotlight on how Co-op, our customers, members and colleagues can all play their part in the fight against climate change on a community level.
"Through the launch of the Co-op26 campaign, we want to grab the attention of communities all across the UK to get them thinking, asking questions and taking action, as well as equip them to use their voice and successfully activate the 'tell your politician' pledge."
Featured Image – The Co-Op Group