News
Travel disruption across Manchester as hundreds of First bus drivers go on strike
School services and the Yellow School Bus are amongst those affected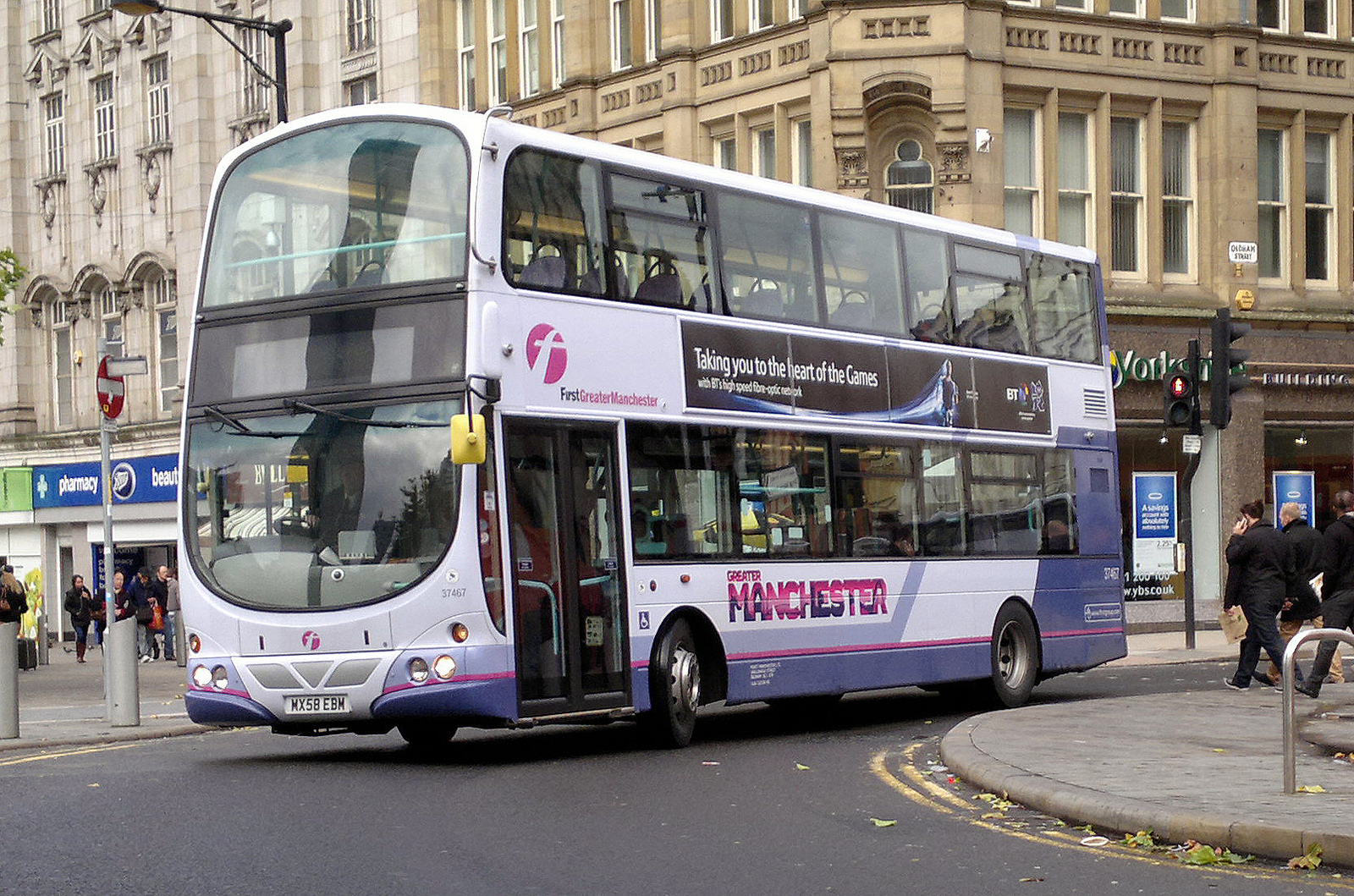 Travel disruption is likely for many who travel by bus in Manchester on Monday and Tuesday as hundreds of drivers go on strike in a dispute over pay and conditions.
Roughly 300 drivers for First buses walked out this morning and will remain on strike on Tuesday, as part of a union dispute taking place at First's Oldham depot.
As a result, 28 school services across Manchester, Rochdale, Oldham and Tameside have been cancelled over the next two days. A further 18. commercial services have also been cancelled due to the strike action.
The drivers' union, Unite, says that the bus company has not been 'reasonable' in responding to requests around improving pay. According to reports by ITV, the company's refusal to backdate a pay rise to August has been a key sticking point.
"Our members have been hailed as heroes for working throughout pandemic but that praise feels decidedly hollow when First Manchester is refusing to make our members a reasonable pay offer," said Sharon Graham, General Secretary of Unite.
According to the union, 300 drivers recorded a 99 per cent vote in favour of striking after last-minute talks on January 7 failed to make any headway.
Transport for Greater Manchester (TFGM) is attempting to cover some services, but staff shortages due to Covid mean that a number of services will not run on Monday or Tuesday.
First Manchester commercial services not operating
6 – Rochdale – Kirkholt
57 – Oldham – Rushcroft via Shaw
59 – Manchester – Oldham
81 – Manchester – Derker
82 – Oldham – Sholver
83 – Manchester – Sholver
84 – Manchester – Uppermill
X84 – Manchester – Carrcote
180 – Oldham – Greenfield
181 – Rochdale – Manchester
182 – Rochdale – Manchester
184 – Oldham – Huddersfield
348 – Ashton – Carrbrook
350 – Oldham – Ashton
408 – Oldham – Rochdale
409 – Rochdale – Ashton
425 – Oldham – Holts
426 – Oldham – Fitton Hill
First school bus routes not operating
708 morning service from New Moston (7.41am) to Co-op Academy Manchester
775 morning service from Fitton Hill (8am) to St Damian's
793 morning service from Littlemoss (7.20am) to Audenshaw
793 afternoon service from Audenshaw (2.50pm) to Littlemoss
803 afternoon service from Mossley Hollins (3.10pm) to Oldham
820 morning service from Darnton Rd (8.05am) to Copley Academy
823 afternoon service from Bluecoat (3.35pm) to Dobcross
825 morning service from Waterhead (8.09am) to Saddleworth
829 morning service from Werneth (7am) to Oasis Leesbrook
829 morning service from Werneth (7.30am) to Oasis Leesbrook and Saddleworth
829 afternoon service from Oasis Leesbrook (3.50pm) to Werneth
835 morning service from Sholver (7.50am) to Newman College
835 afternoon service from Newman College (3.30pm) to Sholver
836 morning service from Derker (7.58am) to Newman College
837 morning service from Hyde (7.40am) to Longdendale High School
837 afternoon service from Longdendale High School (3pm) to Hyde
849 afternoon service from Oasis Academy (2.50pm) to Higher Blackley
851 morning service from Guide Bridge (7.40am) to Gt. Academy Ashton
865 morning service from Glodwick (7.38am) to Waterhead Academy
865 afternoon service from Waterhead Academy (3.05pm) to Glodwick
870 afternoon service from Mossley Hollins (3.09pm) to Carrbrook
875 afternoon service from Radclyffe School (3.10pm) to Moston
879 afternoon service from Royton & Crompton (3.20pm) to Sholver
879 morning service from Moston (7.35am) to Radclyffe School
879 morning service from Sholver (7.30am) to Royton & Crompton
882 morning service from Shaw (8.13am) to Newman College
884 morning service from Calderbrook (7.28am) to Kingsway Park
884 afternoon service from Kingsway Park (2.50pm) to Calderbrook
First has apologised to customers for the disruption to services being caused by the strike action.
Ian Humphreys, Managing Director, First Manchester told the Manchester Evening News:" "We have been holding extensive talks with union representatives over the last few days and made every attempt to avoid industrial action, especially given the short notice this creates for our customers to make alternative travel arrangements."
Unite has further strike action planned for January 18, 20, 24 and 26.
Feature image – Wikimedia Commons