News
Why can't my dog travel on the Manchester Metrolink?
At the last public consultation, 72% were in favour of dropping the ban - so why are Metrolink bosses being so stubborn?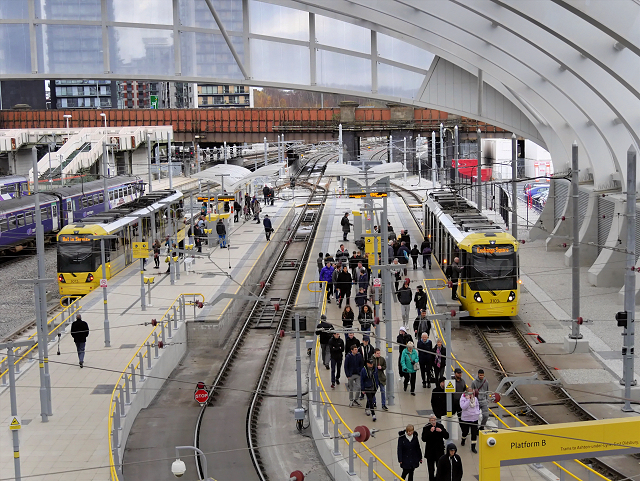 When traveling on the tram in Manchester, the rules are clear.
Dogs are banned and have been since the Metrolink's inception in 1992, with the exception of assistance dogs and pets being taken to/fromx the PDSA charity in Old Trafford.
Justifications for retaining the ban today include concerns regarding passenger safety, fouling, damage to trams, animals' behaviour, delays and people with allergies. But for the majority of Manchester's dog owners (and dog lovers), the whole thing seems rather ridiculous.
After all, if you can get the train (or bus) in with them – why can't you then get on the tram? Those living in an outer borough (or even further afield) might not even realise this isn't allowed until after they've already got into Manchester. It's definitely been my experience, and it's maddening.
There's been a number of campaigns over the years to lift the ban, but we think that now – following a series of lockdowns where more people than ever have gone and got themselves a furry friend – is the time to make it happen.
The first campaign to nudge against the reinforced door of Metrolink's stubbornness came in 2014. A local change.org petition was created and amassed over 1,000 signatures, forcing Metrolink to agree to a review in 2013 – the first time such a thing had even been considered in the tram's history.
That consultation involved 2,400 participants, surveying them through a mix of online and passenger surveys.
The results? After a delay of four months in releasing its findings, TfGM Committee Report for Resolution in November 2015 revealed only 28% of Mancunians actually supported the current ban, with 43% in favour of allowing dogs to travel – if certain rules were met.
At the time, these included being on a lead, paying a child fare, traveling off-peak, and keeping off seats.
The remaining 29% supported dogs travelling at any time without restrictions – meaning that 72% were in favour. Begging the question, if most people are supportive of the move then why are dogs still banned today?
Fast forward to 2015, and we find Lib Dem Councillor Iain Roberts fighting in our dogs' corner.
Six years ago, the Stockport lead for TGfM campaigned hard for a trial run that would allow caged dogs to ride in carriages – overkill in our opinion. (In fact, we'd argue perhaps a few of the people traveling on the tram might benefit from the occasional cage, too).
In Roberts' defense, though, at least he was trying. At the time, he told The MEN: "Until now, TfGM has always refused even to conduct a trial. I am very pleased the Lib Dem campaign is making progress."
It's not clear if those cages would have been supplied by dog owners or by Metrolink themselves, but it does seem that there was a proposed limit of one container per passenger.
This sort of proposal kind of reminds us of the NYC 'dogs in bags' debacle, in that it doesn't really make much practical sense – and it's the sort of thing us Mancs would love to defy.
Here's why. The idea of caging a dog might alleviate the fears of some passengers, but inevitably in practice all this serves to do is stress dogs out – making the whole thing a lot worse for all passengers, dog lovers or not, in the long term.
Just like we saw Dobermans wearing IKEA bags in New York, we expect it wouldn't have been long until Mancs started getting equally creative with these cages.
In fact, we know for a fact many owners already do twist the existing rules – often putting assistance dog harnesses on their pups to get around the tram's accessibility exemption for guide and hearing dogs.
Good intentions or not, Roberts' careful plans were also rejected by Metrolink at a second bylaw review – despite support from RSPCA bosses at the time who said it would be beneficial for the animals if fewer pets were left at home all day.
2018 saw another failed attempt at overturning the ban, this time by local dog owners Adam Wilcox and Sam Elphick with a petition that gained nearly 7,000 signatures. The pair accused Transport for Greater Manchester of discriminating against dog owners, given that services elsewhere in the country don't bother imposing such restrictions.
The Met's justification for upholding the ban today seems to be centered around a risk assessment from 2015, which relies heavily on the excuse that "Metrolink operates as a high-frequency, high-volume, unstaffed system and there is no representative on board to assess the potential risk posed by animals."
This is what Councillor Andrew Fender, then-chair of the TfGM Committee, argued at the last review. But we'd dare to venture that things have moved on quite significantly since then.
New measures introduced due to Covid make this argument much less compelling today, given that Manchester Metrolink has now significantly upped the number of staff on the services it runs across the city.
The tram is also now running "double units" at ten-minute intervals to ensure social distancing on trams – proving that when there's a will for change, there's a way.
Perhaps someone at the met just really doesn't like dogs? At this point, we really don't understand why else this outdated bylaw is still in play.
Come on, Metrolink – now's the time to turn it around and make yourselves popular with Manchester's dog owners again. We're slowly becoming the majority, after all.