Sport
Atherton Charity Shield: Greater Manchester's most important football tournament
Two men from Wigan have set up a sports event that could change lives forever.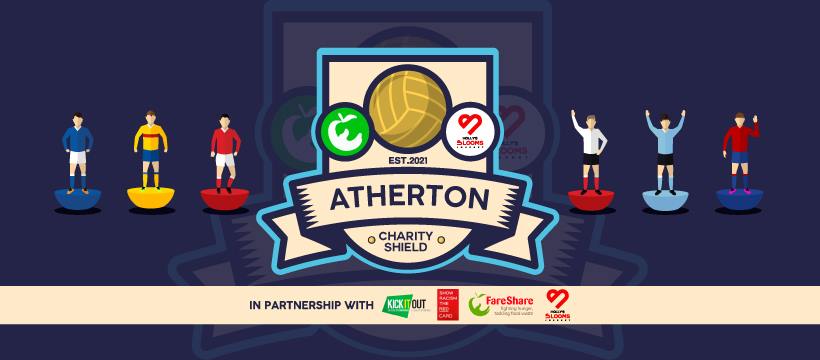 A football tournament unlike any other will kick off in Wigan this summer.
It might be made up of amateur players and little-known teams, but the Atherton Charity Shield is arguably the most important football tournament to take place all year.
In June, three days' worth of fixtures will go towards raising crucial funds and food donations that could change lives for the better.
Atherton-born sports student Chris Colgan developed the idea after watching England star Marcus Rashford battle child poverty in Manchester and beyond – realising he could use his love of football to help deprived families in his own local community.
Chris worked with Manchester Creative Collective Marketing (MCCM) owner Richard Renda to set up a sports tournament that would raise money for those who needed it – earning the backing of FareShare, Sky Sports, Andy Burnham, Mitre Sports, SikSilk Clothing, and the Rio Ferdinand Foundation in the process.
As plans for the tournament were put in place, an opportunity arose to support another cause: Raising awareness of the journey of a young girl called Holly.
The daughter of Chris and Richard's mutual friend, Holly was diagnosed with a very rare genetic condition called Bloom Syndrome in 2020 – causing immune deficiency, growth impairment and sensitivity to sunlight. Not long after Holly's diagnosis, she was sadly diagnosed with a Wilm's Tumour (kidney cancer).
Holly's parents Mark and Jenny have since begun a research campaign to find information about the impact this will have on Holly throughout her life – and what can be done to help.
Now, as well as battling food poverty, the Atherton Charity Shield will generate money for Holly and her family to attend the vital Bloom Syndrome conference in Chicago.
Chris said: "'It's been crazy the amount of kind comments and support we've been shown by everyone.
"We still have more really exciting news to announce and some great guests for the event. We are pushing out information daily via Facebook, Insta and Twitter so that's where people can find out more."
Miranda Kaunang, head of development at FareShare Greater Manchester, said the organisation "couldn't be more proud to be involved with the Atherton Charity Shield tournament."
"The impact of COVID has meant that the need for our service has never been higher, and we've doubled the amount of food we distribute in response to the crisis," she stated.
"Unfortunately, the reality is the hard work is far from over with demand unlikely to relent within the coming months.
"That's why it's more important than ever that charities and communities work together to support the most vulnerable.
"Chris' efforts are a shining example of what can be achieved when we come together with a common aim."
The Atherton Charity Shield will take place from June 25-27 at Atherton LR's Crilly Park and tickets go on sale soon.
Teams, event information and ticket updates will all be announced via the Atherton Charity Shield social channels:

Facebook: @AthertonCharityShield
Instagram: @athertonshield
Twitter: @AthertonShield