Sport
The comparison between Carlos Alcaraz's 2023 Wimbledon win and Rafael Nadal's in 2008 is strikingly similar
Following in his countryman's footstep — almost down to the tee.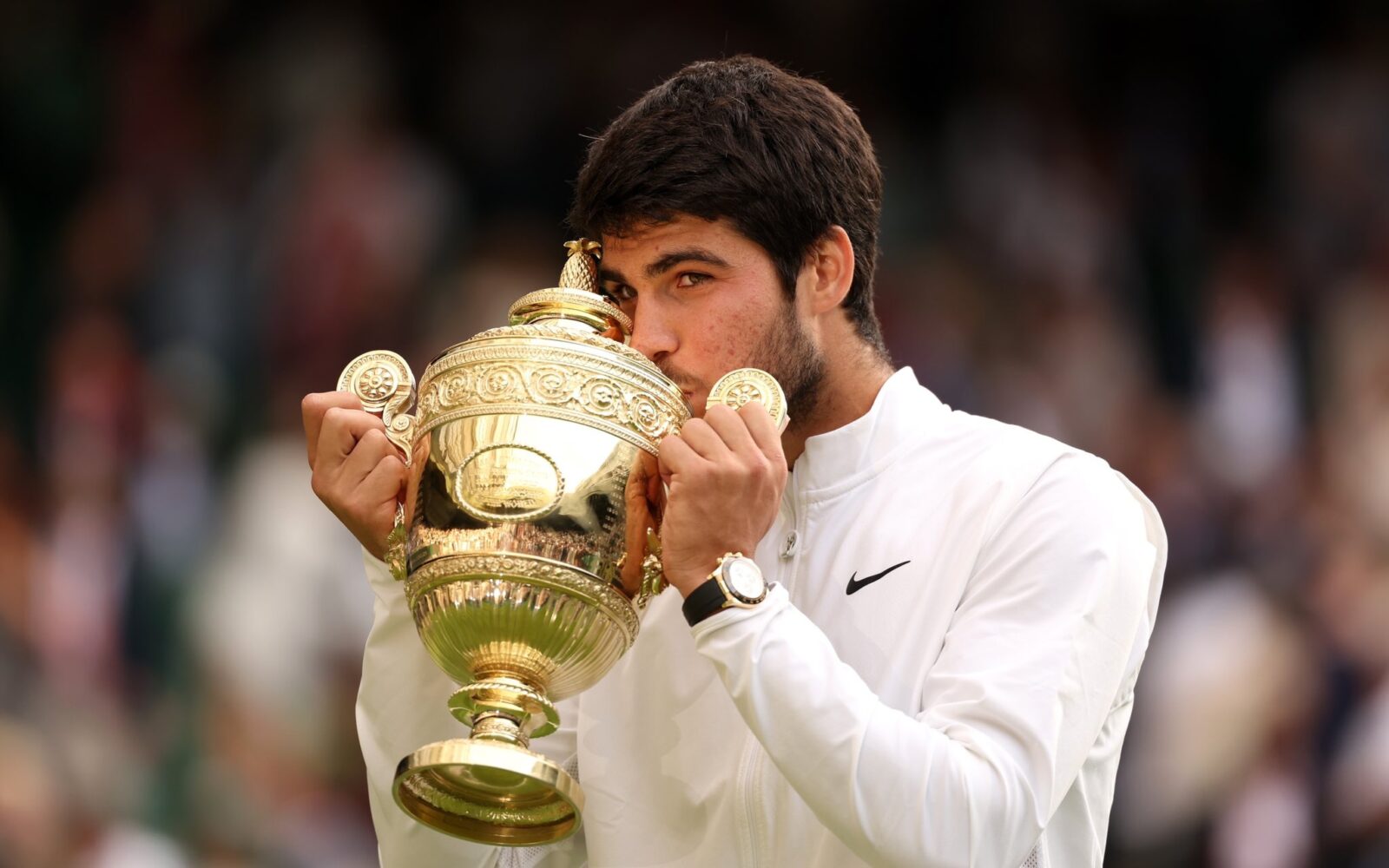 Following Carloz Alcaraz's incredible maiden victory at Wimbledon this year, people have been drawing comparisons between his match-winning point and Rafael Nadal's back in 2008 and, it has to be said, the similarities are pretty striking.
15 years after his Spanish predecessor won his first Wimbledon title, Alcaraz became the only other person besides Roger Federer, Novak Djokovic, Andy Murray or Nadal himself to win the premier tennis tournament since 2002. Massive.
Aged just 20 — yes, he was born in 2003, the same year Federer also won his first-ever Wimbledon Championship (god we feel old) — Alcaraz became the third-youngest player to ever win at the All England Lawn Tennis Club behind Bjorn Borg and Boris Becker, and just third Spaniard ever to win it.
However, as if these stats weren't staggering enough, people have been replaying the final point that won the youngster the match and the tournament and have noticed it bears a pretty strong resemblance to how Nadal won his over a decade and a half ago. We can't lie, it's pretty cool.
Read more:
It's almost eery, right? Obviously, it's not the first time we've seen someone close out a match with a fault, but it's the fact that the rally moves almost identically, Djokovic hits the net in almost the exact same place Federer did and Alcaraz drops to the floor in unison with Nadal that makes this so creepy.
While Alcaraz made an easier go of it against his 36-year-old opponent on Sunday, both games were also won in five sets and lasted roughly the same amount of time, with just five minutes of total match between them.
You have to admit, that's a lot of parallels to draw; even Djokovic and Federer's supremacy during their respective eras make this feel so special.
You can watch Carlos Alcaraz's impressive Wimbledon 2023 win down below and Nadal's victory over Federer in 2008 for comparison HERE.
For all the latest news, events and goings on in Greater Manchester, subscribe to The Manc newsletter HERE.
Featured Image — BBC Sport (via Twitter)