Sport
Matchday at… Bury AFC: The Impossible Football Club
In the first instalment of our Matchday series, we head down to Bury AFC: The extraordinary football club built from scratch during a pandemic.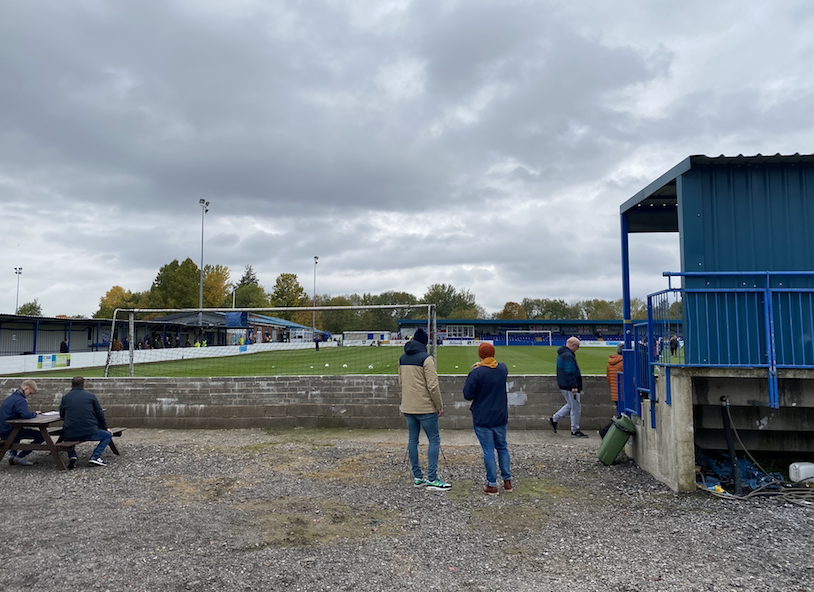 "If you go on Bury market, buy a suit off a stall, go home and sew an ARMANI label in it, does it make it an Armani suit? WELL THEIRS [sic] YOUR ANSWER. A FAKE IS A FAKE HOWEVER YOU PACKAGE IT."
Steve Dale isn't happy.
The owner of Bury Football Club is roaring loudly from the deserted island of Gigg Lane, sending a defiant message to his former neighbours building a new community three miles away in Radcliffe.
The Bury FC website has become Dale's own personal blog, which he updates intermittently to hit back at the people blaming him for getting the club expelled from the Football League.
Most of the rants sound like they're conjured up from the corner of a darkened room scattered with empty wine bottles, illuminated solely by the cold blue light of a laptop monitor.
But this particular post – dated 4 September 2020 – touches a sore subject.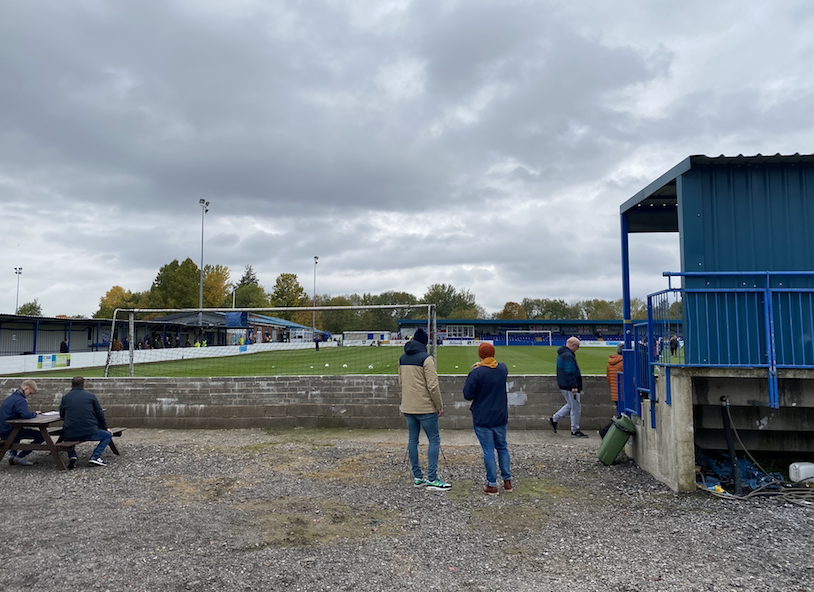 When Bury were removed from League One in August 2019, a splinter group of supporters determined they were never going to get their club back and chose to set up phoenix club Bury AFC.
Within the space of a year, they assembled a squad, struck a deal to groundshare with Radcliffe Borough and were accepted into the North-West Counties league – the first rung of the non-league pyramid.
Bury AFC's prologue has been an incredible David v Goliath-like tale of blood, sweat, tears and coronavirus. But not everyone wants to read it.
The town's flagship team – Bury FC – has no players or league. But it still technically exists. For as long as there's a sniff of hope that club might return, some fans simply haven't been able to bring themselves to back a different Bury.
But Dale has been particularly vocal in his opposition to the phoenix side.
To him, the people behind the new Bury AFC are nothing but charlatans who are trying to "pass off fakes as the real thing."
"THERE IS ONLY ONE BURY FOOTBALL CLUB" he bellows, ending his blog post with an emphatic all-caps conclusion.
Well, that's as may be.
But a visit to the Neuven Stadium revealed that this 'fake' club had a very real fanbase, with very real ambition, cheering a very real team onto a very real victory.
***
Building an impossible football club
On 3 October 2020, Bury fans tasted victory for the first time in more than 17 months.
It was the kind of win that was almost worth the wait; a last-gasp turnaround on season opening day with two 90th minute goals that treated fans to some overdue joy.
But this 3-2 victory was about so much more than the result.
The fact that the game was even being played at all was a small miracle.
When Bury FC had their 125-year tenancy in the English Football League (EFL) terminated, matchdays in the north Greater Manchester town – ordinarily fizzing with anticipation – were suddenly filled with deafening silence.
For the first time in more than a century, Shakers fans had nowhere to go on Saturdays.
Gigg Lane was left empty after all the players and staff left for fresh pastures, and some supporters even followed suit.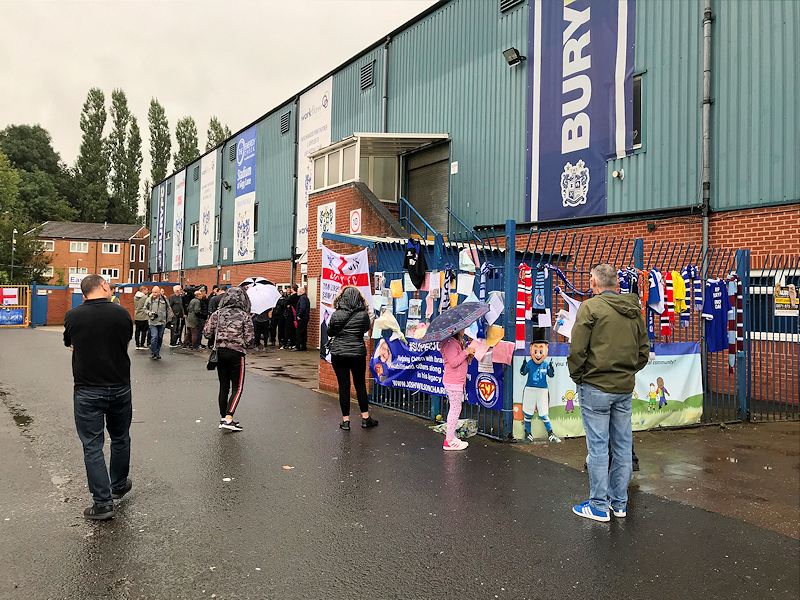 "A lot of fans have stated they now have little interest," one fan, Graham Partington, told The Manc shortly after the club's demise.
"Some have gone to watch local non-league teams and a few have watched Plymouth due to a number of our previous team/management having gone there."
Bury's tragic tumble into oblivion was widely covered in the football world, perhaps most effectively by Nick Manser and Copa 90's documentary Buried Alive – where the football club's pivotal role in the community was made clear.
Director Manser said: "After speaking with the fans, we genuinely got the sense that Bury football club was one of the main pillars of their lives, quite literally a living breathing entity that the fans held so dear to their daily functioning and being.
"We couldn't believe how embedded this belief was until you see the fans turning up at Gigg Lane, the local pubs etc even when they know match day is a distant memory.
"We wanted to show the intensity of this loss and how fans were going through this grieving process."
Buried Alive laid bare the emotional and economical damage caused when football ceases to exist in a football town.
But within a matter of weeks after the Shakers' expulsion, a small cadre of long-time supporters began to build out some rough blueprints for Bury Mk2.
Creating a phoenix club is no picnic in any circumstances, but getting the foundations in place for Bury AFC appeared impossible.
They needed money. They needed backing. They needed support. And they needed to find a way to get it all whilst a deadly virus ravaged the town.
All the odds – and some old friends – were against them.
Yet, here they were, in October 2020, playing a competitive fixture on a crisp autumn afternoon just like old times.
Sure, it was in a stadium four times smaller than their old home, in front of a capped-by-coronavirus capacity crowd, against a team few fans had heard of before.
But they'd done it.
The moment Bury AFC walked out onto the pitch against Steeton for the North West Counties League First Division North fixture, they'd already won.
That eleventh-hour exaltation – courtesy of striker Tom Greaves finding the net twice in the four minutes – was just a bonus.
Now, they're settling into their new life as a club in English football's 10th tier, and the club motto, #OnOurWay, shows there's ambition to go higher.
The Cinderella Story is only getting started.
***
"Ladies and gentlemen, please welcome The New Shakers…"
There's a moment during Bury's second league game of 2020/21 – a 6-2 drubbing of AFC Darwen – that epitomises the spirit of non-league football.
'The New Shakers' have started well, and at the midway point of the first-half, a stray ball is walloped out for a throw-in.
It's spinning right towards the wall behind the dugout – where a fan has rested his pint of lager.
Just as the ball is about to send a gold waterfall crashing down the stone steps, Bury AFC manager Andy Welsh steps in and saves the day – pulling off an acrobatic stop that even his goalkeeper Ed Wilczynski can be proud of.
The fan quickly scoops up his pint whilst roars of laughter and appreciation fill the terrace. Welsh gives them a cheeky smirk.
No Bury fan would have wanted to begin again from the bottom. But being at the basement of the football pyramid does have its charms.
For starters, small crowds have been permitted to enter grounds at this low level – and with no hooligans to keep in check or colossal queues to herd, stewards can spend their time on instilling the new COVID-secure regulations that are part of football in 'the new normal'.
Attending a game at the Neuven Stadium right now means staying 2m apart, sharing the steps with bottles of hand sanitiser, and occasionally stepping back from the railings so they can be wiped down by a passing member of staff.
It's different. But there are no complaints. Everyone here is just happy to be back doing what they love most on a weekend: Watching football.
This is only Bury AFC's second home fixture since they joined the football pyramid. But already, there's a rhythm about the place.
The singing section have chosen a smart spot behind the goal under the tinny roof (taking advantage of the acoustics to make a din) and some old regulars have selected their new 'favourite' seat in the ground.
Matchday here is not a scene arranged by individuals with deep pockets or big cheque books, but rather by people who actually know what football is all about.
The string-pullers are simply a group of hard-working fans who created a team because they wanted to watch football again on Saturdays.
The Chairman, Chris Murray, is the perfect case in point.
He's still the same Bury fan he has been for 21 years. Only nowadays, he puts on a shirt and tie, and takes responsibility for making sure there's a team on the pitch for every fixture.
He transports the kits to the game himself, and time permitting, he'll take his place on the terraces alongside fans to catch some action.
"It's been a bit weird," Murray smiles, reflecting on his transition from fan to head honcho.
"I'm always a bit nervous turning up to a game thinking I've forgot something.
"You go from a person in the stands commenting on how to run a football club, to being the person [solving the] problems and having a lot of responsibility."
He hasn't been able to talk all Bury fans into joining AFC since taking the helm, but Murray has managed to lay down the kind of infrastructure that's built to last.
"There's been a bit of a divide because of the original club not being dead… not being liquidated," he says.
"But over time, support behind us has started to grow.
"We've got great sponsors on board and commercially-minded people to keep the club running.
"And for me, personally, it's about creating a brand of football the community can get on board with."
The 'By The Fans, For The Fans' slogan at Bury AFC is just as much of a mission statement as it is a mantra.
Volunteer-led, this is a club where the top brass muck in with riff-raff.
Or more accurately, a club where the top brass are the riff-raff.
One such member is Marcel De Matas, who spent three decades watching football at Gigg Lane before taking charge of Matchday Operations at Bury AFC.
"[It's been] a little bit difficult," De Matas admits.
"In the past, you'd turn up on a matchday and enjoy the game with your family and your friends and just enjoy the experience.
"But it's gone from that to having accountability and responsibility."
Nonetheless, he's said the experience overall has been "absolutely fantastic" – and wants to see Bury keep building on their high-speed start.
"It wasn't until August we were given our place in the league," he reminds us.
"We've had to go from not having a league place, to building a squad, to getting all the volunteers in place, to the mechanisms on a matchday."
"We've got to be a little bit ambitious and draw on the experience of other phoenix clubs who've had to start from scratch.
"Clubs like AFC Wimbledon show what can be done in a relatively short period of time with the support and backing of the fanbase."
It's no Gigg Lane, but the Neuven Stadium has been a happy lodgings for Bury AFC so far.
The clannish surroundings of Radcliffe FC's ground complement the tight-knit, community feel the club is striving for; bringing fans back together under a single roof for the first time in over a year.
It's the sort of stadium where supporters sip beer mere millimeters from the action, where neighbours in nearby terrace houses steal a glance at the pitch from second-floor windows, and where young kids kick their own ball around the food vans and wooden benches.
During the stoppage time win over Steeton in Game One, some volunteers in hi-vis were even spotted leaping up and down celebrating alongside the rest of the supporters.
"It's home for now," the Chairman tells us, carefully examining the roof of the stand above him.
"We're trying our best to make it feel like home with flags and all that stuff.
"Me and the [Radcliffe FC] chairman Paul have a very good relationship.
"But he knows that one day we want to play at Gigg Lane."
***
"Join us on the journey when you're ready"
"There'll be plenty more excitement to come, I think."
Bury AFC manager Andy Welsh has just watched his side race into a three-goal lead, get pegged back to 3-2, survive a huge scare, and eventually run out 6-2 winners.
But he doesn't think this kind of thrilling matchday will be an irregularity.
Welsh admits part of the attraction of Bury AFC's vacant manager position was the prospect of playing a lead character in such a compelling story.
This was a chance to be part of something special – and there was always guaranteed to be some thrills and spills along the way.
Welsh is up for the fight and down for the cause at Bury AFC. And he's tried to build a squad with that same mentality.
"If you haven't got tears bubbling in your eyes watching [the documentaries about Bury], then you're not right for the club," he says.
"The biggest thing in football is working hard. To play here, you've gotta be the fittest you've ever been.
"It's a real friendly atmosphere around the club, but when the whistle goes we're quite nasty – which is a good thing."
Welsh confesses he "won't get everything right" during his tenure, but he has a vision, a gameplan and a steeliness about him that's already proving popular with supporters.
Appointing a manager like this suggests that Bury AFC have learned lessons from the past. They're acutely aware of what brought down their predecessors: Bringing bad apples into the fold.
In the months after Chairman Steve Dale took the reins at Bury FC in 2018 – purchasing the club for £1 – it was clear to see he was the wrong man for the job.
He was detached (admitting later that "he didn't even know there was a team called Bury") and uninvested ("I'm not an ATM"), and his online diatribes during 2020 have made him an obvious choice as public enemy number one.
But he wasn't the sole culprit for bringing Bury down.
When the club's perils were first revealed, fingers were rightly pointed at others who'd played their parts.
One such figure was former owner Stewart Day – who racked up enormous debt and ran finances into the ground before selling up to Dale.
Another was the Football League – which emerged as something of a faceless foe after failing to provide the club with protection or support during their darkest days.
"The EFL must also be held responsible for allowing the club to spiral into so much debt," says supporter Craig Holt.
"Day ran the club completely outside its means – it was run like a Championship club.
"We acquired Man City's old training and had one of the biggest player wage bills in the division – all on crowds of circa 3,500 – it was never sustainable."
Day has ducked out of the sports headlines after suffering more financial woes post-Bury, whilst the EFL have had bigger fish to fry since the pandemic threatened to dismantle all three divisions.
But Dale is still out there, lambasting the New Shakers taking shape a few miles south.
"They say imitation is the sincerest form of flattery," wrote Dale in his post on September 4.
"In my book it's not, it's being a fake to fool others."
324 fans turned up for Bury AFC's game against Darwen. 500 interacted with the club's full-time victory tweet. Over 20,000 follow the club's social media account. And the first six home games sold out before a ball had even been kicked.
Not bad for a knock-off club…
"It may take a few years to build up the support of the 3,000 – 4,000 hardcore fans we did have," admits long-time fan Graham Partington.
"[But] hopefully people will see it as the start of a new adventure."
Slowly but surely, more fans are coming round to recognising Bury AFC for being what it is: Its own legitimate entity.
But Matchday Director Gareth Castick – who started out as a Bury AFC volunteer before suddenly "finding himself on the board" – says the club is refusing to collar old Shakers fans.
Instead, they're just leaving the door open for them.
"There are some fans who are finding it very difficult to let go of Bury FC," Gareth tells us.
"We totally understand. It can have a really big impact on people's lives. [Watching Bury] is something they've done from being very young, and it's something you always expect to be there.
"When it's taken away, it's heart-wrenching; it's really upsetting.
"For those that are not on board yet… we're very open to saying: We're here for as long as it takes.
"Just join us on the journey when you're ready."