Trending
5 rescue dogs in Manchester looking for their 'forever home' | 4 – 10 October 2021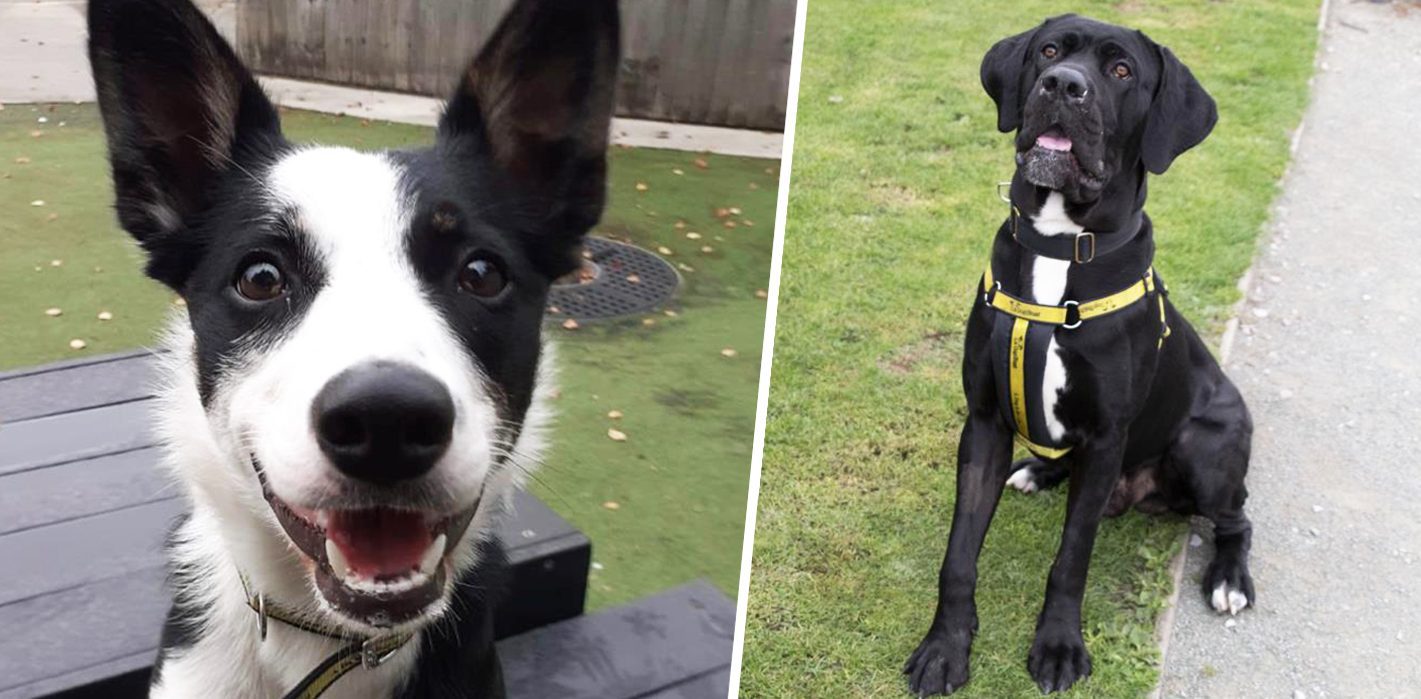 Every dog deserves a second chance, and there's plenty of pups in Manchester currently looking for their "forever homes".
Dogs Trust Manchester's rescue centre in Denton has been responsible for the rehoming of countless four-legged friends since it opened in 2014, and since lockdown alone, more than 350 dogs have found love with new owners – which staff say is "a real testament to how effective our virtual rehoming has been".
But there's always more dogs with love to give to those ready to receive it.
Last week, we shared the details of five dogs in our city who are ready for rehoming – and you all seemed to love them, so we've chosen to shine a worthy spotlight and share the stories of another five this week.
Reckon you're a good fit and can provide a suitable home for these five dogs in Manchester currently searching for a place to call their own?
___
Tilly
Border Collie | Female | 1 Year Old
Manchester
Tilly is a fun-loving and very smart one-year-old Border Collie who loves learning new things and playing with toys, and is looking for a quiet but active home of adopters who can keep up with her energy levels, and are committed to only using positive training methods to get the best out of her.
She is known to get very excited when she meets other dogs and loves to walk and play with them, so although Tilly cannot live with any other pets, she would love to have some regular doggy friends.
Tilly will need her own secure garden with 6ft solid fencing, and due to her shy nature, she will need a home where visitors are kept to a minimum.
You can find out more about giving Tilly a home here.
___
Kyza
Staffordshire Bull Terrier | Female | 9 Years Old
Manchester
Kyza is a lovely nine-year-old Staffie who is looking for her forever home to settle her paws into.
Despite her age, Dogs Trust Manchester says she does love going on small adventures and loves nothing more than curling up on the sofa with her favourite people or relaxing on her own comfy bed.
Kyza can be a little nervous at first and is worried by loud noises, but she enjoys a gentle fuss and is therefore looking for a calm, patient home with children over the age of 16 only and her own private garden with minimal interaction with other dogs.
You can find out more about giving Kyza a home here.
___
Ringo
Crossbreed | Male | 10 Months Old
Manchester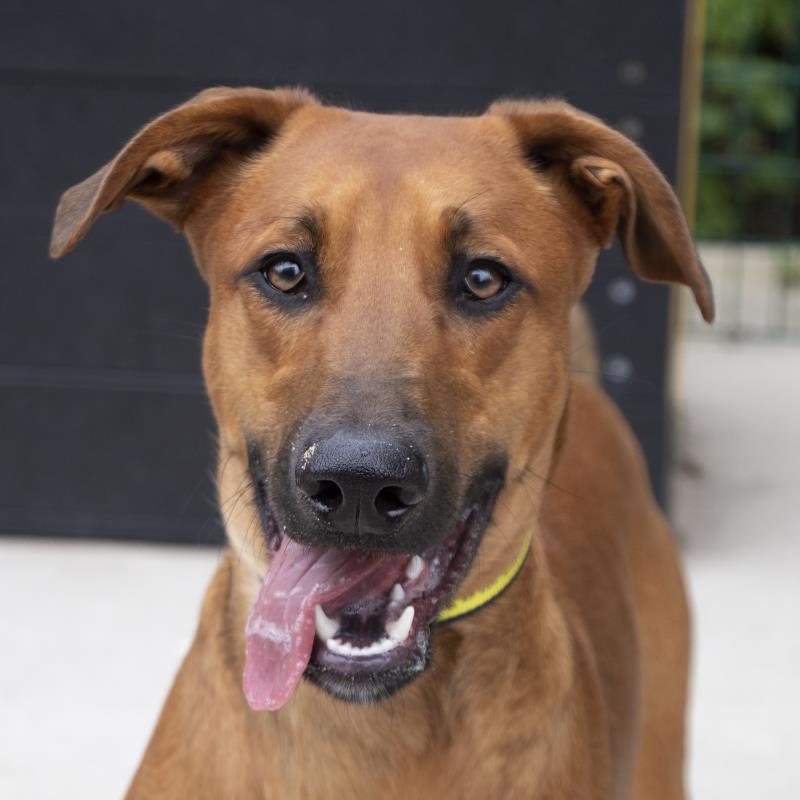 Ringo is a lively 10-month-old Dobermann x Lurcher who will thrive in an active home prepared to give him plenty of time to settle and be able to keep him busy with different forms of entertainment and accompanying him on lots of adventures.
Dogs Trust Manchester say Ringo has shown to be a little anxious of new environments and people at first, but will grow in confidence with a bit of time and patience.
Due to being a little shy around new people, Ringo will need to be the only pet in the home, have a secure garden to play in, and will need a quiet home that initially has minimal visitors and no young visiting children – although he could live with children aged 14 and over who are confident around big and bouncy dogs.
You can find out more about giving Ringo a home here.
___
Teddy
Crossbreed | Male | 2 Years Old
Manchester
Teddy is a goofy and cuddly two-year-old St Bernard x Newfoundland mix who likes playing with his toys – particularly chasing a ball – loves going out on adventures, and being by your side wherever you go, and although Teddy's a big chap, Dogs Trust Manchester says he walks calmly and nicely on the lead.
He will need to be the only dog in the home, have private secure garden away from loud road traffic, and while he is comfortable meeting dogs, he will pull towards them so adopters will need to be comfortable with his strength
Teddy also struggles to be left on his own, so will need minimal leaving hours that can be built up at his pace over time.
You can find out more about giving Teddy a home here.
___
Humphrey
Great Dane | Male | 18 Months Old
Manchester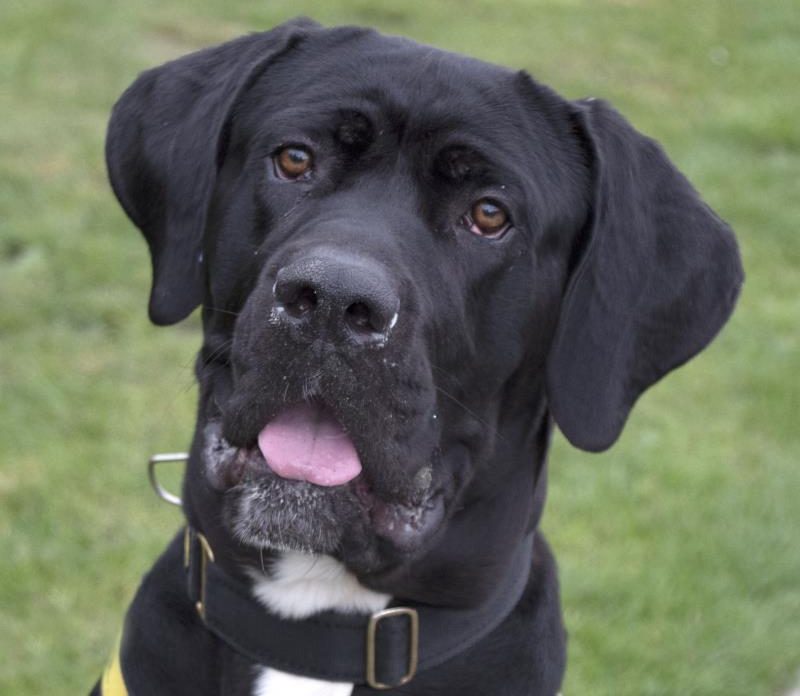 18-month-old Great Dane Humphrey loves his food, playing sit and paw for some tasty treats, a good fuss, and is at his happiest when he's wrestling with his doggy pals.
Dogs Trust Manchester has recommended for Humphrey's life to be as stress free as possible that his forever home have access to quiet walks where he can enjoy exploring on lead without the stress of lots of distractions, and have minimal visitors with adults only and no visiting children, with any visitors introduced outside of the home.
Due to his size and breed, Humphrey's adopters should have experience of living with a large breed, and have a private and secure garden where he can blow off some steam and use it as an area for some of his training.
Humphrey is friendly and enjoys playing with other dogs, so would love to have regular doggy friends, but he sadly can't live with cats.
You can find out more about giving Humphrey a home here.
___
Featured Image – Dogs Trust Manchester