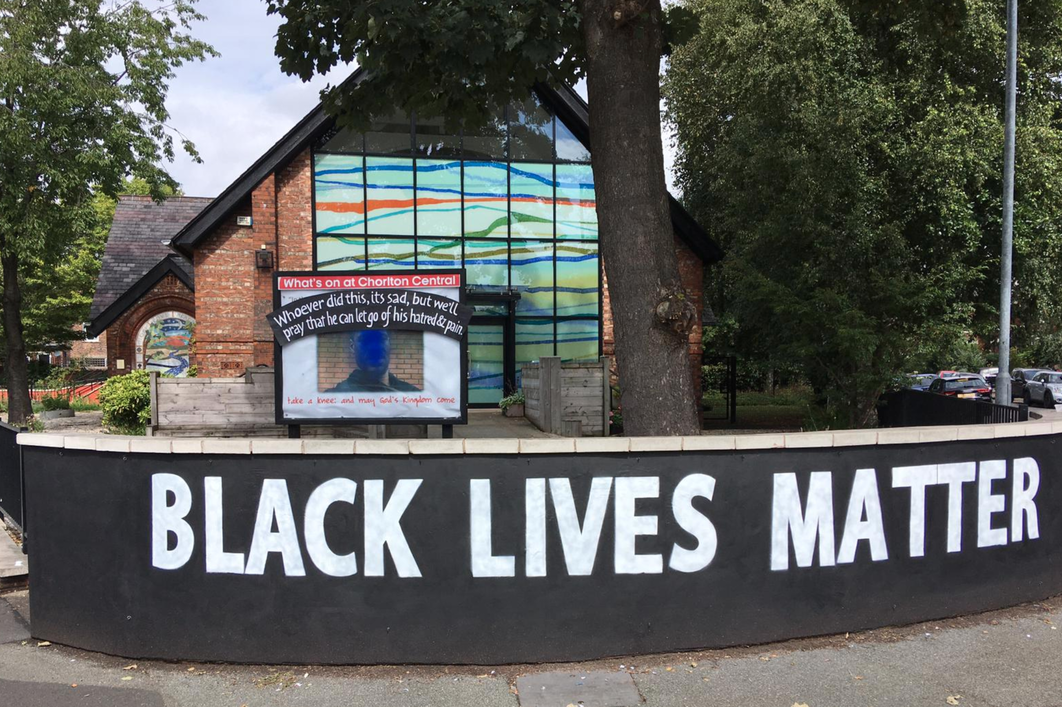 Chorlton Central Church has decided to take a "bolder response" after a George Floyd memorial was anonymously defaced last week.
The church in the south west Manchester suburb has revealed the repainting of its boundary wall yesterday evening with the words 'Black Lives Matter' and it comes following the anonymous defacing of a George Floyd memorial displayed outside the front of the building.
The poster, which depicted George Floyd's face, was defaced with blue spray paint last Friday.
As well as the picture of George Floyd, the poster also read the words: "In the end, we will remember not the words of our enemies, but the silence of our friends", which is a quote by Martin Luther King Jr, and underneath it said: "take a knee: and may God's kingdom come".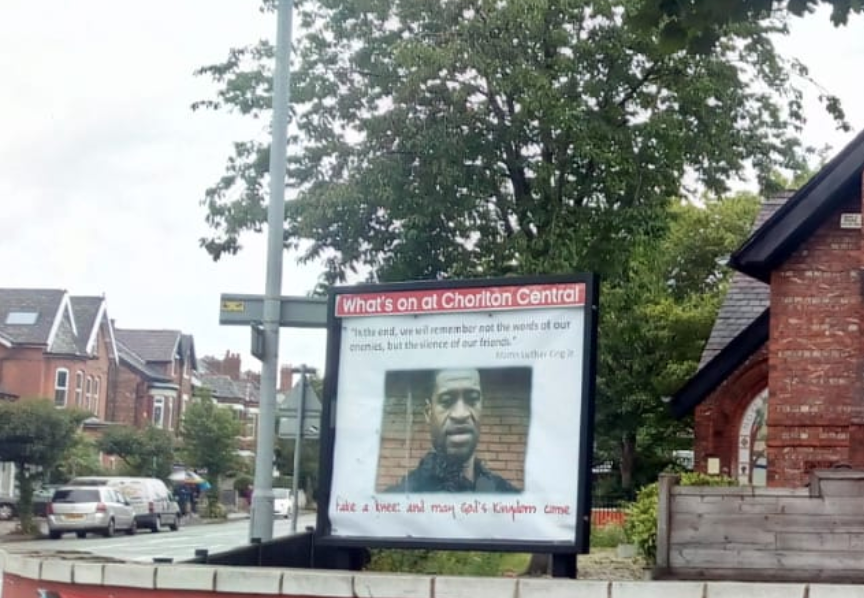 The church then initially responded to the act of defacing by placing the condemning words – "Whoever did this, it's sad, but we'll pray that he can let go of his hatred and pain" – over the top of the poster, but has since decided that a "bolder response" was necessary in this situation.
This lead to the transformation of the boundary wall outside the front of the church to be painted with the words 'Black Lives Matter'.
Sharing pictures of the boundary wall in a post to Facebook yesterday evening, Mike Walsh – Minister at Chorlton Central Church – said: "On Friday evening, a poster with an image of George Floyd outside our church was defaced with blue spray paint [and] on Saturday morning we added the caption, 'Whoever did this, it's sad, but we'll pray that they can let go of their hatred & pain'.
"After a short meeting of church members on Sunday morning, we decided a bolder response was appropriate, so repainted our boundary wall #BlackLivesMatter"
The repainting of the boundary wall has since gone on to receive widespread support, both on the Chorlton Central Church Facebook page and in the Chorlton community Facebook group, with thousands of interactions, shares and comments by members of the local and wider Greater Manchester public condemning the act of defacing the poster and praising the church for their response to the situation.
There is no place for racism in Manchester.