Trending
Harry Styles has finally addressed the claims he spit on Chris Pine
"I just popped very quickly to Venice to spit on Chris Pine - but fear not, we're back."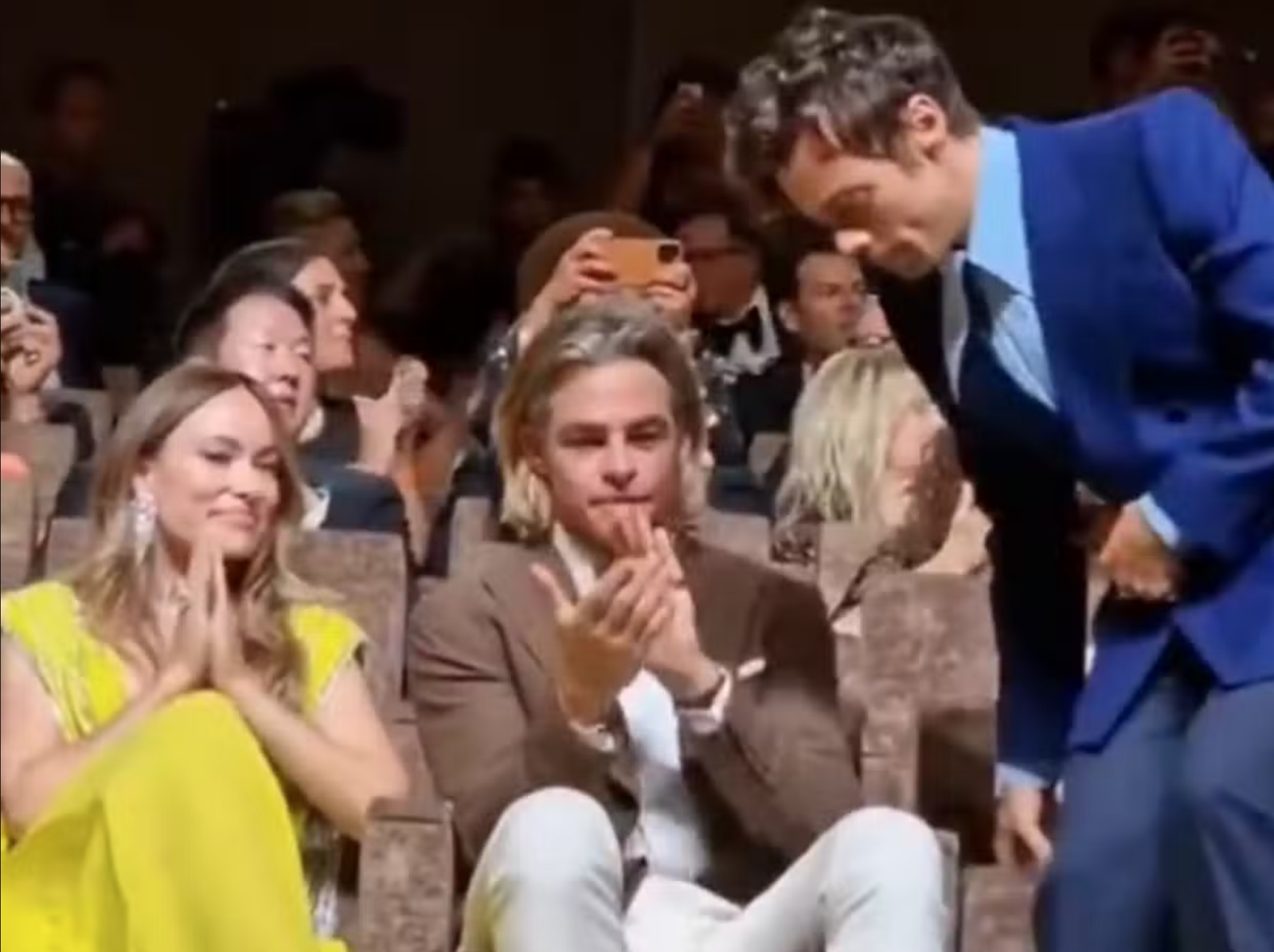 Harry Styles has finally broken his silence and addressed the claims that he spit on Chris Pine after a video appearing to show him do so went viral online.
It's been quite the whirlwind week for Harry Styles.
In case you need catching up a bit, the 28-year-old pop icon has recently ventured into acting and has taken on his first leading role in the upcoming drama film Don't Worry Darling – which is directed by his partner Olivia Wilde, and stars Oscar-nominated Florence Pugh, Nick Kroll, Gemma Chan, KiKi Layne, and of course, Chris Pine.
The film is due for release at the end of September, but it has premiered at the 2022 Venice Film Festival this week – and has been grabbing headlines for a variety of reasons ever since.
To sum up all the drama and controversies surrounding the film would probably mean that we'd be here all day, but by far one of the most talked-about moments from the festival has, bizarrely, been whether or not Harry Styles spits on his co-star Chris Pine as he sits down in his chair to watch a screening of the film.
Caught live on camera, Chris Pine's shocked reaction to the supposed 'spit gate' interaction had fans convinced that it happened, and only added to the growing rumours that there was a rift between the two men.
The footage subsequently went viral online, and racked up millions of views and saw people weigh-in with their opinions in their thousands.
While many were convinced from the initial viral video that the Cheshire singer does, in fact, spit on his co-star, videos of the interaction from other angles began circulating on social media shortly after which disapproved the widely-believed claims as it looked like Styles did nothing of the sort.
This only left the world even more in doubt and demanding answers.
First, Chris Pine's team released a rather serious statement quashing the rumours and calling it a "ridiculous story".
A spokesperson told People Magazine that it was "a complete fabrication" and "the result of an odd online illusion that is clearly deceiving and allows for foolish speculation".
"Just to be clear, Harry Styles did not spit on Chris Pine. There is nothing but respect between these two men and any suggestion otherwise is a blatant attempt to create drama that simply does not exist."
But the silence by Styles was becoming deafening.
With days passing, the drama growing, and Styles or his team of representatives yet to address the spitting claims, the singer finally appeared on stage in New York at Madison Square Garden and told the audience of doting fans the truth they've all been waiting to hear.
No, he didn't spit on Chris Pine.
Seeming very amused by the whole situation, Styles comically tells the audience: "This is our 10th show at Madison Square Garden, and it is wonderful, wonderful, wonderful to be back in New York.
"I just popped very quickly to Venice to spit on Chris Pine – but fear not, we're back."
Most people were able to pick up on the sarcastic tone Styles took with his response to the situation, but, as there often is, not everyone realised he was joking.
"He definitely spit on him," one person said on Twitter, while another questioned: "DAMN IT, DID YOU OR DIDN'T YOU?!?! …. Why am I so invested in this?", and a third added: "But did he do it?"
Others took it as a chance to poke fun at people who didn't realise the irony, with one commenting: "I think my favourite part is how many people don't realise he's making a joke at their expense. He's both right and wrong for this and I love it and I'm here for it."
Another said: "Even more strange how so many people are taking this as confirmation it happened as opposed to him joking about how dumb the notion was."
The majority of people, however, are just glad it's all over.
"And with that, SpitGate comes to a close. Great job everyone. A terrific 48 hours."
Featured Image – Twitter