Trending
'Kind-hearted' Bolton Asda employee goes viral and gets engaged on the same day
Wednesday 2nd December isn't a day Gemma Parish will be forgetting any time soon.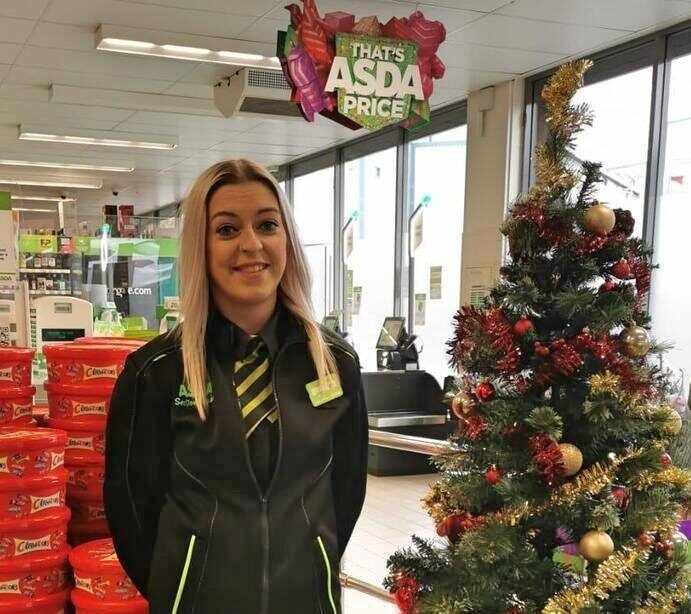 A "kind-hearted" Asda employee – who went viral for her actions after an elderly man collapsed in store – has revealed she also got engaged on the same day.
Gemma Parish – 26, who is originally from Devon but now lives in Hindley, Wigan and also works part-time for the North West Ambulance Service – leapt into action when a customer fell over at the Asda supermarket in Daubhill, Bolton, back in October.
She rushed to look after the elderly shopper and stayed with him for half an hour, reassuring him until he felt better, before paying for his shopping out of her own back pocket and arranging for a taxi to pick him up.
Gemma was given a 'Silver Service Superstar Award' by Asda following the incident.
The supermarket chain took to social media to share the story of Gemma's heroic actions earlier this month on 2nd December in a now-viral post which saw over 29K interactions, hundreds of shares and thousands of comments from members of the public.
The store reimbursed Gemma for her kindness and store manager Ava Joyce – who nominated Gemma for the Asda award – said: "The customer – who's a regular here – had a small amount of shopping and was panicking that he needed it, so Gemma went and paid for it from her own pocket so that the gentlemen had his essentials [and] she then arranged for him to get a taxi home.
"This was a lovely gesture and we are all very proud of her here."
She added: "Gemma's a lovely caring colleague who always goes above and beyond."
Speaking on her viral fame, Gemma said: "People keep tagging me in it and every time I look there are loads more people liking and sharing it. I was one of the store's first aiders but he didn't want any help so I just stayed with him".
She continued: "He normally had a mobility scooter but it had a puncture so he'd walked and I just think he was exhausted."
That's not all though.
Wednesday 2nd December isn't a date Gemma is going to forget any time soon as it also happens to be the day her now-fiancé Tom Sutton proposed.
Gemma and Tom met while travelling around Australia last year.
"We got together October last year but we actually met in June when we were backpacking," said Tom.
"We came back to England in March because of COVID. She's originally from Devon but she made the decision to come and move here with me. She's worked for Asda for four years, first in Devon and then Hindley, and then moved to Bolton to be section leader in the summer.
"When she was asked into the store for a photograph we didn't really think anything of it, but it's just taken off.
"She found it hilarious at first but she can't believe how far it's gone. You always hear these stories of people and you think 'it'll never be me' but it is, so it's quite funny really."
From everyone here at The Manc – congratulations Gemma & Tom.