Trending
Plans for a new £60 million wave park mean you'll soon be able to go surfing in Trafford
Modern Surf Manchester would house the region's first surf lagoon with "perfect, ocean-like waves" of up to 8ft.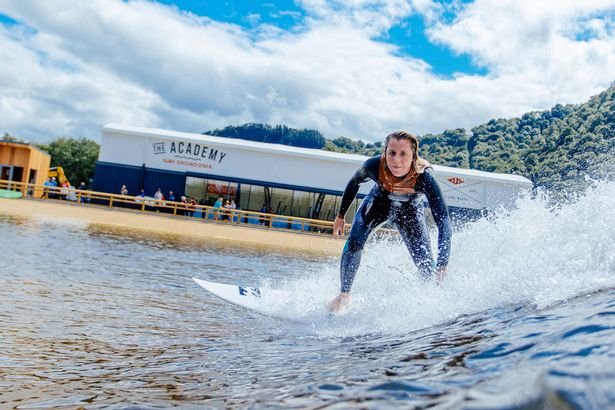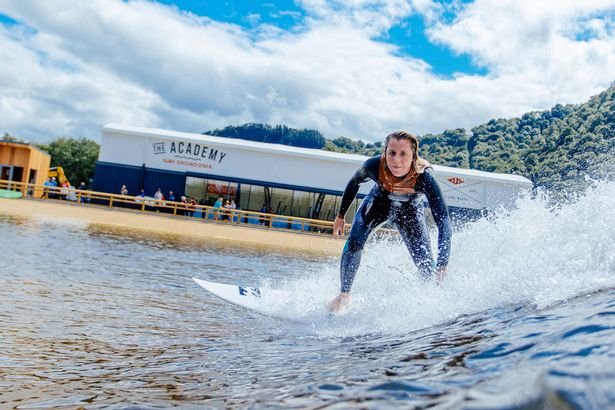 Developers are gearing up ready to submit plans for a brand new £60 million outdoor surf centre in Trafford next month.
And it sounds like we could be in for a wild ride if it all becomes a reality.
If the ambitious plans are approved, Modern Surf Manchester – based on Barton Dock Road, in TraffordCity – would be a leisure complex housing the region's first surf lagoon that enables beginners, learners and even professionals to test their surf skills in a fun, safe, and natural-looking environment.
The lagoon would be powered by Wavegarden – a company specialising in man-made wave technology that promises "perfect, ocean-like waves" of up to 8ft.
Wavegarden already powers similar attractions, such as Surf Snowdonia in Wales, and The Wave in Bristol.
That's not all either, as plans also show the complex boasting several other interactive attractions for visitors to have a crack at, including a pump track and fitness zone, half-pipe skateboarding area, bouldering and balancing zones.
A number of on-site bar and restaurant facilities are also planned.
But before we can all grab our surfboards and hit the waves, the project's developers – McKinney Group – are seeking Mancunians' feedback on the plans via a virtual consultation, prior to submitting a full planning application to Trafford Council later this month.
In addition to that, two live discussion forums will also be hosted through the consultation website giving local people the chance to speak in real-time to the project team.
These will take place on 4th February at 1pm-5pm, and 11th February at 1pm-5pm.
Modern Surf Manchester could also complement the new £250 million Therme Manchester wellness resort that has already been approved nearby, which will feature indoor pools and warm water lagoons, a wave pool, slides, swim-up bars, botanical gardens and spa facilities.
So there's lots to look forward to.
Speaking on the launch of the consultation, Billy McKinney – Managing Director of McKinney Group – said: "We are pleased to be investing into Trafford and adding to the unrivalled leisure offer available in TraffordCity.
"From the Trafford Centre, to Chill Factore, and the recently approved Therme water leisure complex, Modern Surf Manchester will be in perfect company and we look forward to attracting yet more visitors to this thriving area.
"We urge everyone interested in the plans to get in touch and share their views with us by visiting our virtual consultation."
Paul Shuker – Director at Lambert Smith Hampton, who is advising on the plans – added: "The concept of bringing surfing to Greater Manchester was considered during the dark days of the first lockdown, and it's with great excitement that we could have a world-leading surf facility in the city-region that will become part of a wider 'Wavegarden' network across the planet and put Greater Manchester on the surfing circuit for local, national and international competitions."
Modern Surf Manchester is expected to open by 2023 if permission is granted, creating around 100 full-time equivalent jobs in the area.
You can have your say on the plans via the online consultation here.