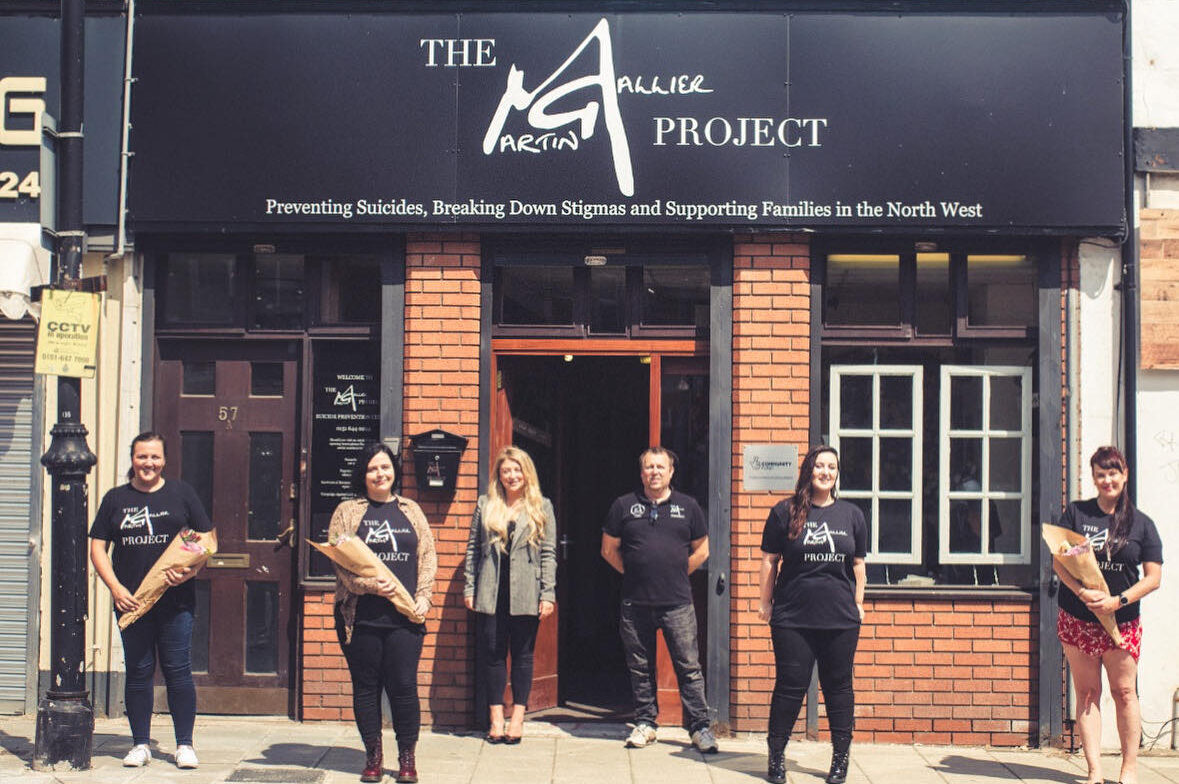 A Wirral-based suicide prevention and support charity reveals that it helped a record number of people since the first lockdown began last March.
And it went on to prevent more than 1,500 deaths.
The Martin Gallier Project – which is the only suicide intervention, prevention and postvention service in the North West of England – was set up by founder and CEO Jesccia Gallier back in 2019 in memory of her 55-year-old father who took his own life in 2017.
The charity provides crisis support through immediate suicide interventions with no barriers to access or waiting lists, which thus reduces the need for clinical interventions and hospital admissions, and also aims to support family members bereaved by suicide – who are then at higher risk of suicide themselves – by providing an initial assessment to ensure the individual is not in suicidal crisis, as well as providing Applied Suicide Intervention Skills Training (ASIST) and a variety of skills-based workshops for individuals and groups.
But sadly, the charity says the number of those they have helped has more than tripled in past year.
This has seen them unfortunately struggle to meet demand.
Speaking to ITV Granada, Jessica Gallier said: "We've really struggled to keep up with the numbers of people we're seeing without creating a waiting list, and the last thing we ever want to do is have a waiting list for somebody that is considering suicide."
In order to aid in continuing to provide such vital help however, the charity has welcomed a National Lottery Grant of almost a quarter of a million pounds, which will enable it to expand its much-needed services and provide support for people like Penny – not her real name – who was planning on taking her own life in the weeks before Christmas.
Penny said: "I feel incredibly grateful, I can't put into words how grateful I am because the way I feel about my life is completely different. The way I feel about my future is completely different – I have a future now and I've got things to look forward to,
"And I've never felt like that for as long as I can remember."
The grant means the centre has been able to open a new space for group work, activities and suicide intervention training.
"It's not slowing down, it's getting more, and those numbers are going up so quickly that there isn't that time to stop and reflect on how many people we're supporting," Jessica added.
"If I even stop and do the calculations of 1,500 people since the end of February it just shows how important it is that we're here, and how important it is that we're here during this pandemic and how important it is that we've stayed open as well."
You can find out more about The Martin Gallier Project via its website here, and you can also show your support on its social media platforms – Facebook, Twitter, and Instagram.
You can also text MGP to 70450 to donate £5.
___
If you or anyone you know may be struggling right now, please know that you are never alone and there are many different places you can reach out to for support right here in Greater Manchester.
Suffering in silence never need be the way.
Manchester Mind – An organisation that has supported people in Manchester for over 30 years. Most services are now available over the phone, by email or video call. The number is 0161 769 5732 and the opening hours are Mon – Fri 10am – 2pm.
The GM Mental Health NHS Foundation Trust – The local NHS helpline is open 24/7 which you can call any time, day or night, if you feel your mental health is beginning to suffer: 0800 953 0285.
Andy's Man Club – A group dedicated to starting conversations about mental health, assuring people that it's ok to talk. You can contact them by email on: [email protected]
CALM – The Campaign Against Living Miserably supports people via phone and webchat. You can call 0800 58 58 58 or speak to a support worker online. Open 5pm to midnight.
Samaritans – The Manchester & Salford Samaritans offer emotional support by telephone and email. The phone lines and email support are available 24/7. Call 116 123 or visit the website.