What's On
The best Halloween events happening in Manchester 2021
From an immersive drive in cinema with a 'scare tunnel' to dinner in the dark and a horror maze set in an old mill, there's loads going on for Halloween in Manchester this year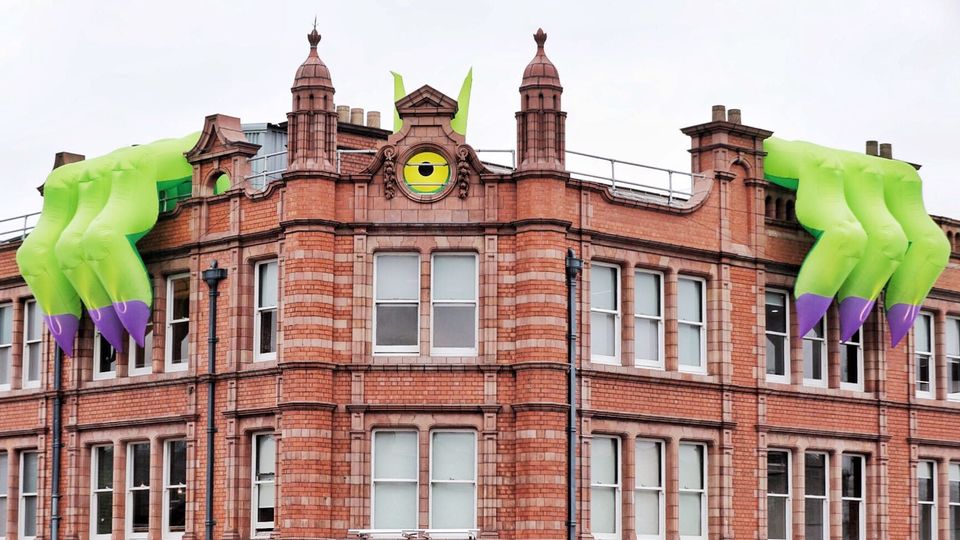 There is so much happening for Halloween in Manchester this year, with a host of truly frightening spooky events taking place across the region in 2021.
From the return of the much-loved inflatable monster trail to some new events including an immersive horror maze featuring live actors, and even a spooky skate rink where you'll glide on the ice alongside monsters, there's plenty to get stuck into this Halloween.
Keep reading to discover some of our top picks for what's going on in the city (and further afield) this year.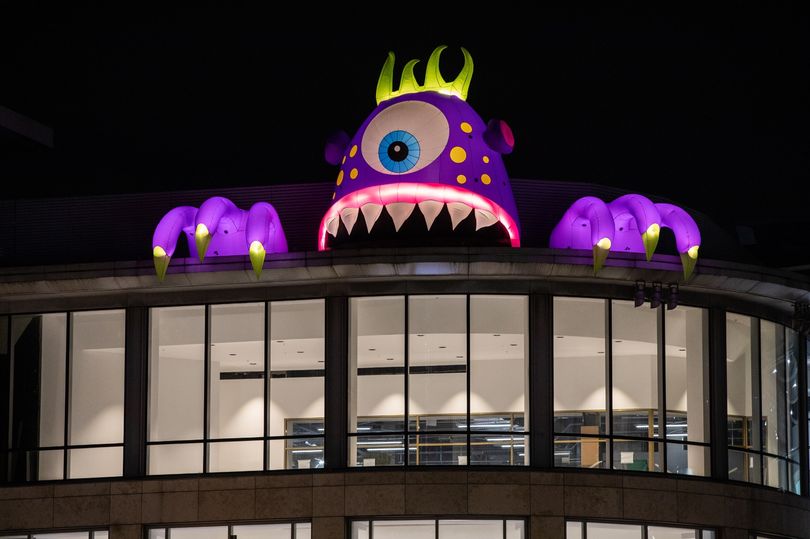 An inflatable monster trail in Manchester city centre
Every year City Co pulls out a host of inflatable monsters, which perch on rooftops and hang off buildings around Manchester city centre throughout the spooky season. This year, there will be eight dotted around town created by artists Filthy Luker and Pedro Estrellas.
Find the list of their locations and more info here.
A classic murder mystery tale, reimagined at the theatre
The Manchester Opera House is hosting a reimagined telling of the classic murder mystery tale The Cat and The Canary. Having inspired three classic movies starring the likes of Bob Hope, Honor Blackman, and Olivia Hussey, it's now coming to Manchester for a week-long run starting on Monday 25 October.
Find out more here.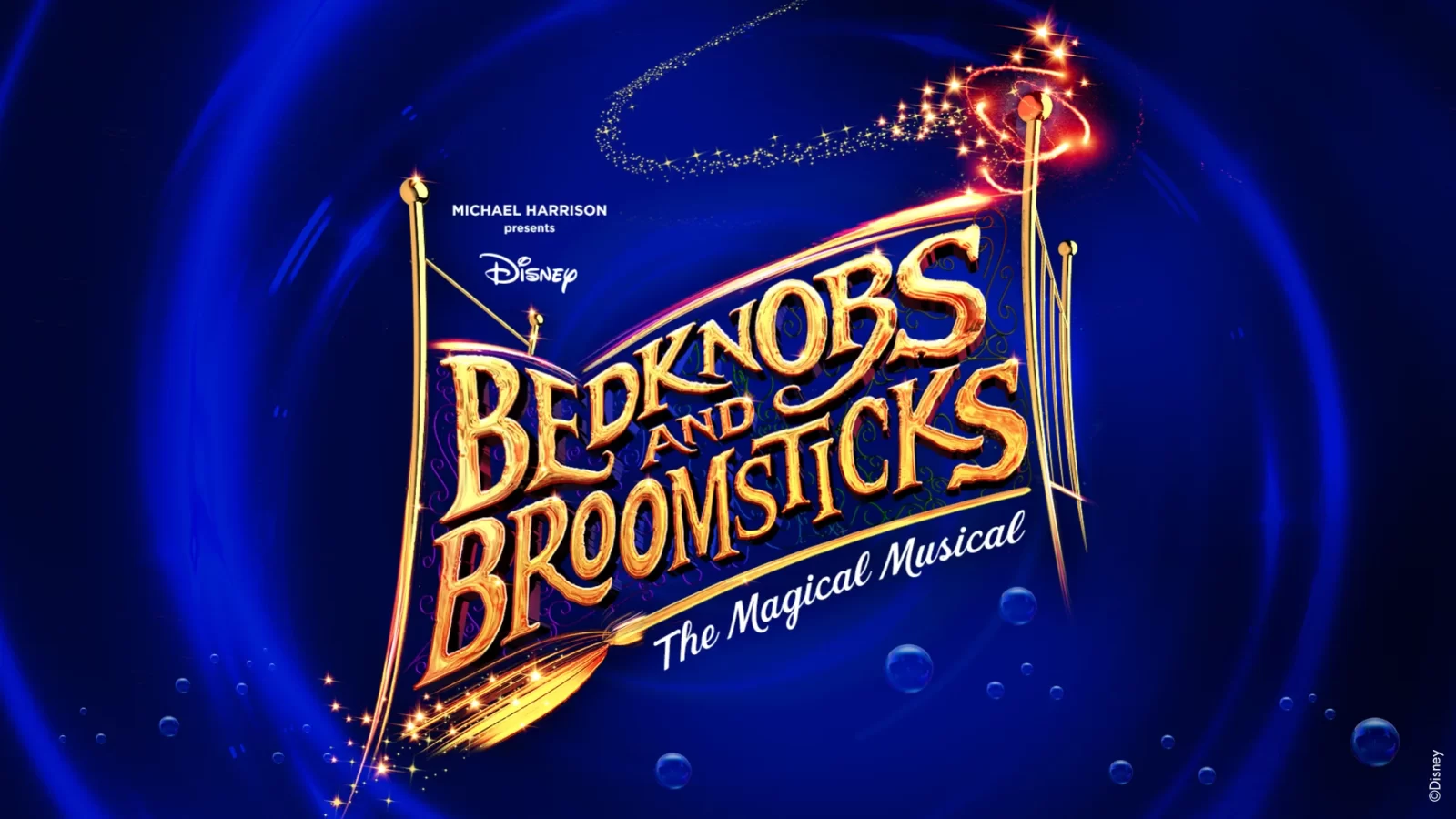 A magical adaptation of Disney's Bedknobs and Broomsticks
Disney's classic movie Bedknobs and Broomsticks makes its world premiere in Manchester this October, kicking off at the Palace Theatre on 19 October.
Find out more here.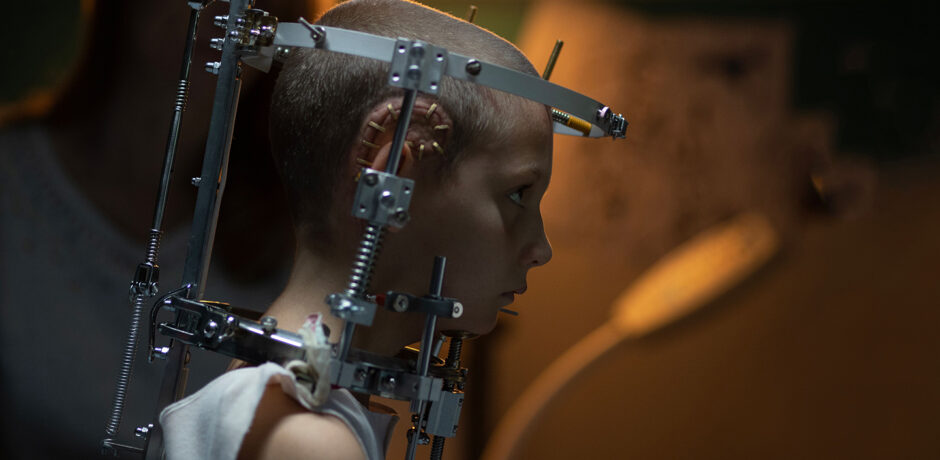 A series of Film4 FilmFear festival screenings at HOME
Bringing a line-up of horror, dark fairy-tales, eerie thrillers, and chilling tales to HOME, FilmFear returns to HOME for its sixth year. You can also catch it on the Film4 channel throughout the Halloween period.
Find out more here.
Pumpkin carving inside the KAMPUS bungalow
The feminist craft collective will be hosting a fun evening of pumpkin carving at KAMPUS from 7 to 9 pm on Wednesday 27 October.
Find out more here.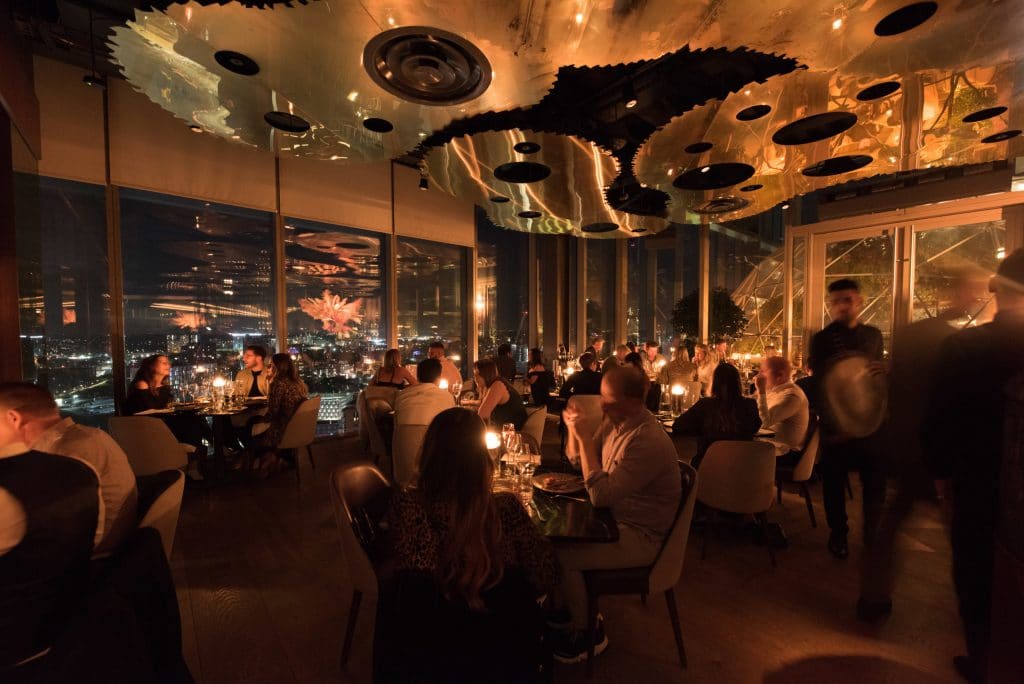 Dinner in the dark at Manchester's highest restaurant
Manchester's highest restaurant 20 Stories is hosting its annual dining in the dark event on Sunday 31 October, offering a four-course menu alongside a welcome drink for £55 a head in partnership with Belvedere. Bookable in three sittings, the blackout dinner is a seasonal favourite.
Find out more here.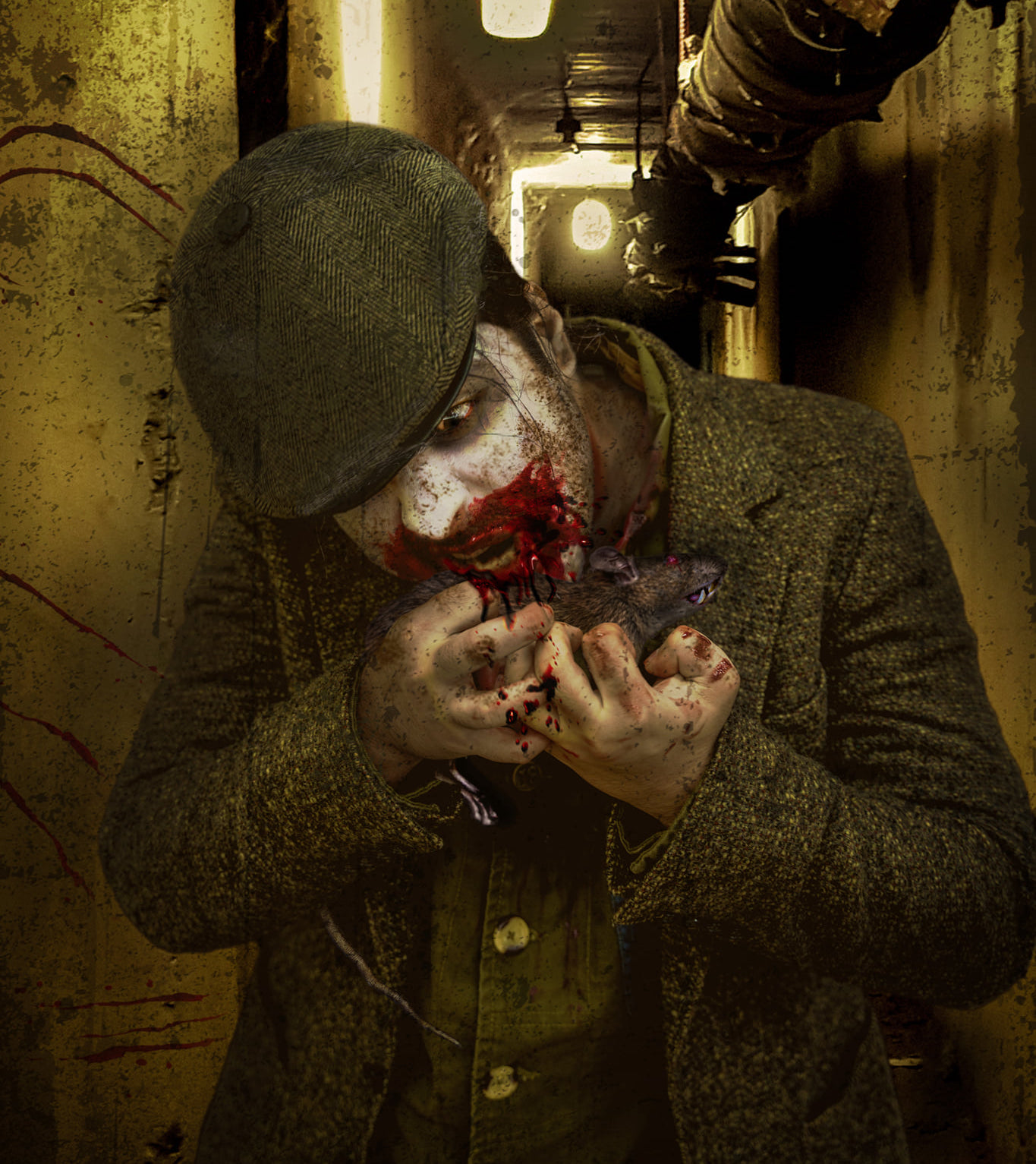 An immersive horror maze, set inside an old Victorian mill
A walk-through horror maze, set within an old Victorian mill, this immersive live Halloween experience is not for the faint of heart. Think live actors, sensory experiences, intense soundscapes, strobe lighting and atmospherics.
Find out more about Fear Factory Live here.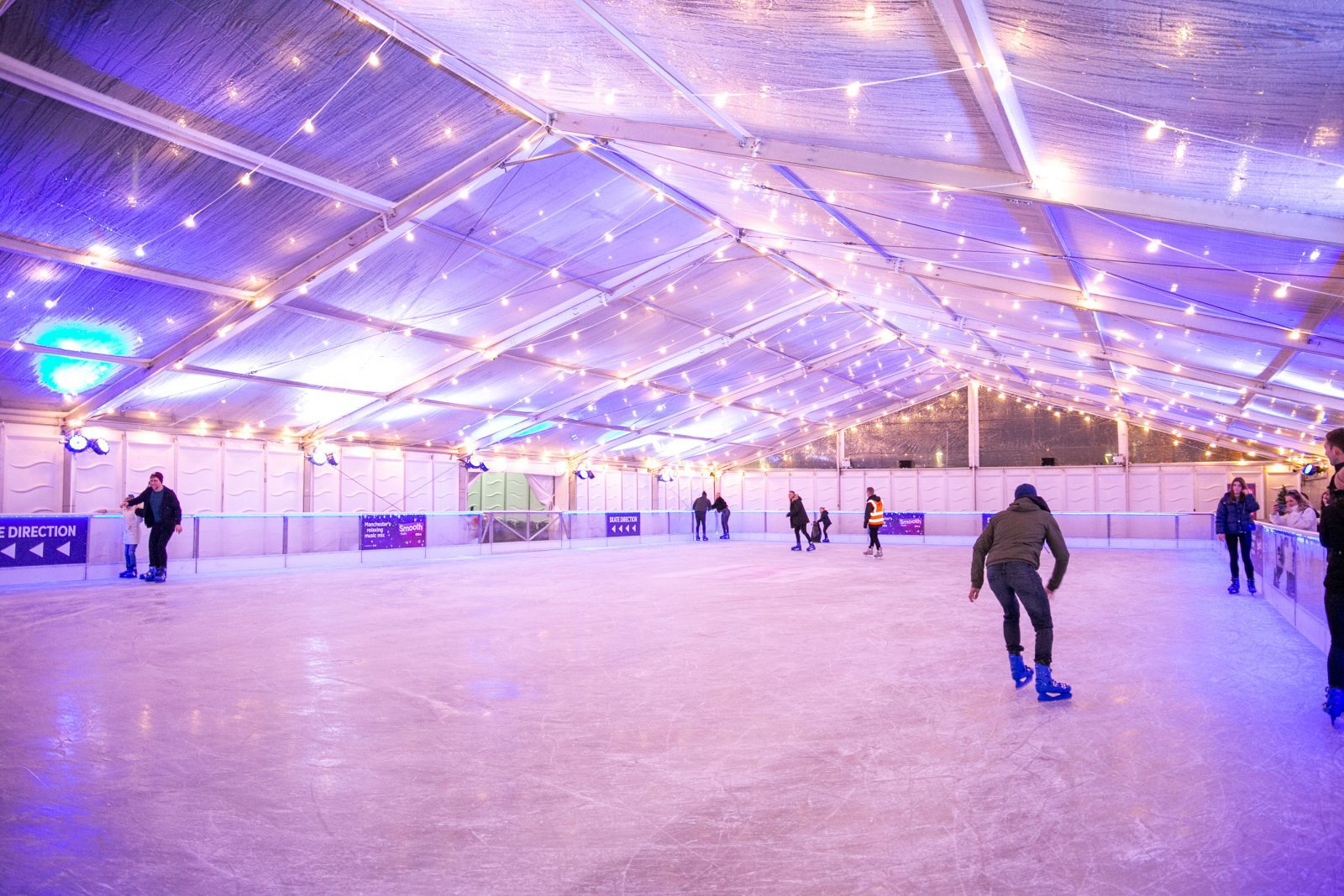 A spooky 'scare skate' ice rink experience
Complete with Halloween-themed music, lighting, and a band of ghoulish skating monsters, the scare skate ice rink experience takes place from 22 to 31 October. Suitable for the whole family, fancy dress is very welcome.
Find out more here.
A Halloween-themed mini escape room series for kids
With ten different rooms to choose from, this series of Halloween-themed mini escape rooms are tailored towards primary school-age children. Your group gets 5 minutes in each room to solve the riddle and move on to the next, with the whole experience lasting 50 minutes in total.
Find out more about Totally Gruesome here.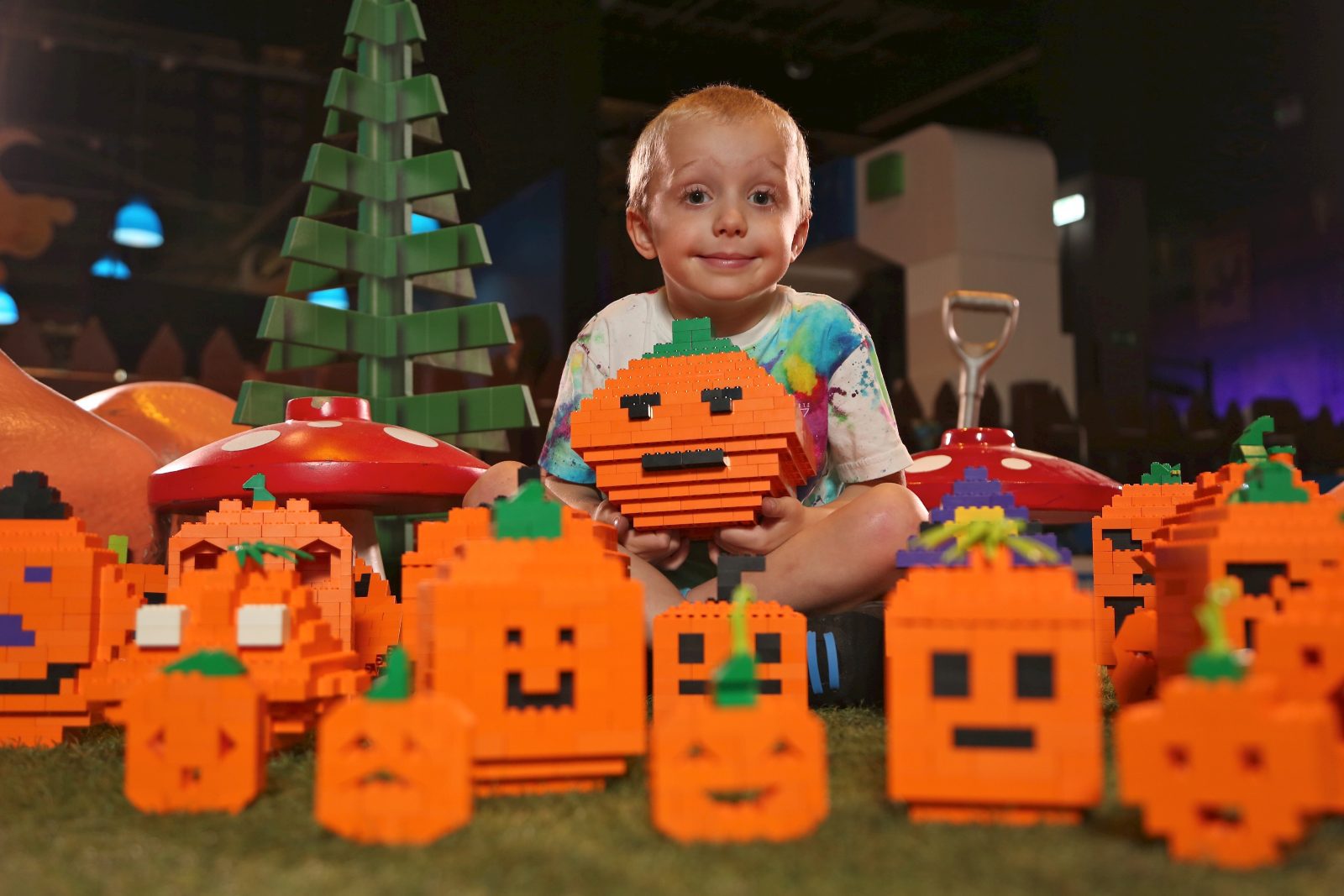 A 'Brick or treat' event at Legoland Discovery Centre
Featuring a special Lego pumpkin building session, a scarevenger hunt and a Halloween boogie with the centre's character mascots Scarecrow and Lord Vampyre, this 'brick or treat' event is great for kids this Halloween. You'll get to make a giant lego vampire with the Master Model Builder and loads more.
Find out more here.
An immersive drive-in cinema showing scary films
Park N Party's Scare City returns to Trafford's Soccer Dome, screening a frightening selection of films whilst terrifying performers swarm on unsuspecting viewers' cars. There's also a drive-through scare tunnel, for those feeling brave.
Find out more here.
A special 'Trick or Treat' Town at Alton Towers
All indoors, the specially-created Trick or Treat town at Alton Towers is full of townsfolk who trick or treat visitors. Walk down Spooky Avenue before moving onto houses in Treat Street, Witchy Woods, The Graveyard, and The Hill – knocking on doors to collect lots of sweet treats, as well as some spooky surprises.
Find out more here.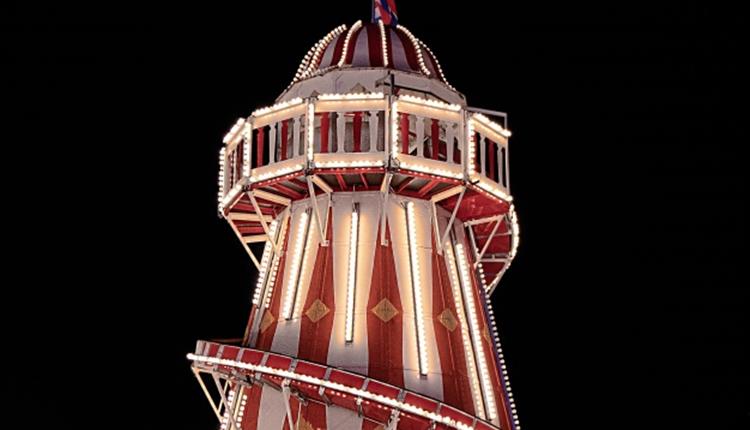 A carnival of monsters 'freakshow'
Billed as a 'family-friendly freakshow', New Cathedral street will be transformed for spooky season with roaming circus monsters, sideshow stalls, a kids' carousel and a traditional helter-skelter. You can also get up close and personal with the inflatable monster, Creepy Annie.
Find out more here.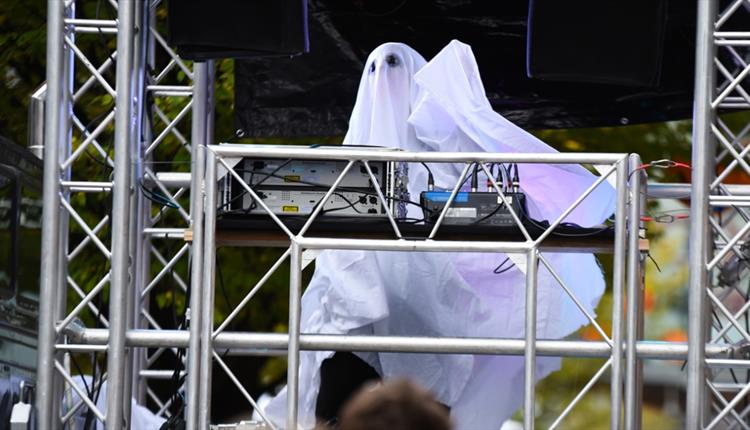 A monster DJ truck, featuring DJ Ghostman
DJ Ghostman isn't the first selector to hide his identity, but he might be the first to do so with a bed sheet. Find him playing a host of Halloween hits and monster bops from the Monster DJ Truck on Market Street across Halloween weekend.
Find out more here.
Dr. Mancenstein's exploded castle and garden experience
Visit the home of Manchester's mad-for-it scientist, Dr. Mancenstein, encountering dragons, giant marauding crows, Mr Arsenic the castle butler and eerie groundskeepers along the way whilst dodging the man-eating plants. Free to attend, her garden and cemetery are also home to a menagerie of creepy characters.
Find out more here.
A 'monsters welcome' procession through Manchester
Walk The Plank, who also create the annual Manchester Day parade, are putting on a crazy procession of monster puppets, stilt walkers and a five-piece band across the Halloween weekend – and everyone is invited.
Find out more here.