Audio
All the shows announced so far at Manchester's newest arena, Co-op Live
The list is already huge and it just keeps on growing.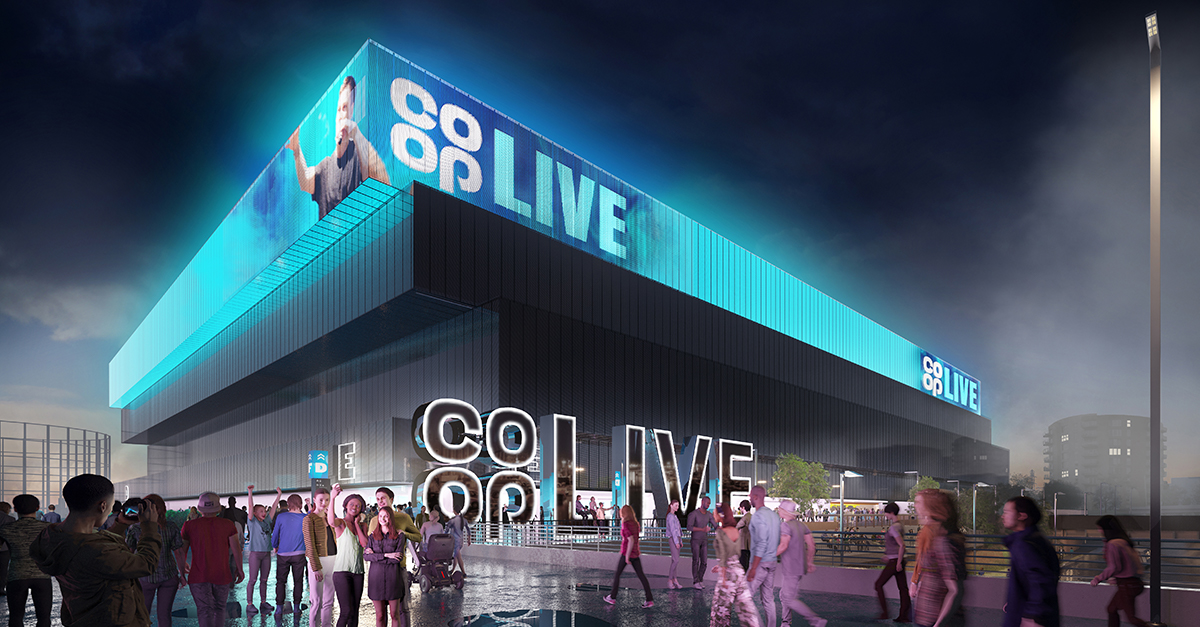 The Co-op Live finally opens its doors in April 2024 and while we're still a way off, it already has a huge list of shows planned for next year and even into 2025.
Manchester's newest arena, entertainment venue and arts space, which will be the largest indoor arena in the UK when finished, is set to host some huge musicians over the next year or so. No surprise considering Harry Styles is an investor.
So far a total of ten acts have been confirmed, which includes beloved pop acts like Jonas Brothers, Olivia Rodrigo, Keane and even Take That, who have already signed up for a frankly ridiculous SEVEN shows. — but there's sure to be plenty more revealed in the coming months.
Here's the full list of artists confirmed for Co-Op Live thus far.
Everyone confirmed as playing Co-Op Live
In chronological order, here all the Co-Op Live gigs on the schedule over the next two years:
1. Olivia Rodrigo — 3-4 May, 2024
Olivia will be hitting up Manchester during her GUTS World Tour. It's in support of her second album of the same name, which was released back in September. The last time she was in Manchester, fans were shocked to see her casually singing and having a drink in Bunny Jackson's after the show. Let's see where she ends up post-gig this time in May.
2. Keane — 5 May, 2024
They're back and they're celebrating 20 years since their landmark debut album Hopes and Fears. They'll be playing songs from throughout their career, performing the best of the best and to make things even better, they'll also have support from Manchester's own, The Lathums.
3. Take That — 7, 8, 10, 11, 12 May AND 11-12 June (wow…)
They announced a new tour alongside the announcement of their ninth studio album, This Life. We obviously thought these big hitters would be doing a couple of shows here but no one expected their return to involve them ramming seven massive Manchester shows down our throats — not that we're complaining.
4. Eric Clapton – 18 May, 2024
Adding one last show in Manchester to his UK tour, this is Clapton's first performance here in over a decade. Expect him to be performing all his classics like 'Tears In Heaven' and 'Layla', as well as reminding everyone why he's still at it so many years later.
5. Barry Manilow – 19 May, 2024
With a huge legacy that includes multiple awards including a GRAMMY and a Tony, as well as officially surpassing Elvis for the longest-running residency in Las Vegas, our Barry has had quite the career. As for how he intends to spend next year, at least one chapter will include him coming to the Co-op Live for an exclusive Manchester-only show.
6. James – 14 June
One of the longest-running Manc bands, James will be putting on a huge summer hometown show and have chosen to be one of the first artists at the Co-op Live next year to do it, with a little bit of help from Noughties icons Razorlight as support acts, no less.
7. Jonas Brothers – 17 June
They've been doing their own solo stuff for so long that we almost forgot they were a highly successful boy band in the 2000 and 2010s. In case you weren't aware, they've been back making music together since 2019 and in May released their sixth studio album, but we're looking forward to them playing all the hits, of course. Alexa, play 'Burnin' Up'…
8. Niall Horan – 27 August, 2024
He's already announced he'll be playing in Manchester at the AO Arena in March. He'll be back though after his world tour ends as he's also announced he'll be playing at the Co-op Live in August. With Harry Styles an investor in the new arena, One Direction reunion when?
9. Simply Red – 27 Sept 2025
We don't know what we're doing next week, never mind in winter 2025. Mick Hucknall does though as he already has 'playing in Manchester' on his calendar for September 2025 to celebrate 40 years of Simply Red.
10. Jason Manford – 24 October 2025
Lastly, the most recent announcement is also the first comedian to be announced to perform at the Co-op Live. Jason Manford fans will be beaming to see the local funny man performing on such a big stage. Unfortunately, they'll have to wait two whole years to see him — but at least you've got plenty of time to sort tickets!
Read more:
And that's your lot: 10 top acts for you to enjoy in 2024 and 2025 already with plenty more to come.
It's been a while since we've had a brand new venue of this kind of size and calibre open anywhere in Greater Manchester, so we're looking forward to seeing what it looks like in the flesh once it's open.
In fact, The Manc even had the pleasure of popping inside earlier this year to take a glance at how it's coming along.
For all the latest news, events and goings on in Greater Manchester, subscribe to The Manc newsletter HERE.
Featured Image — Take That (via Facebook)/Co-Op Live/Jason Manford