Audio
Johnny Depp makes surprise appearance after Amber Heard trial at a gig …in Sheffield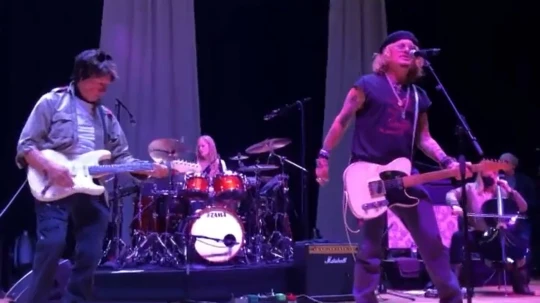 Fans at a gig in Sheffield were left open-mouthed on Sunday night after they looked up to see that none other than Johnny Depp had appeared on stage.
Depp, who has recently been embroiled in a very public defamation trial with his ex-wife Amber Heard, shocked and delighted music fans when he made a surprise appearance alongside his close friend Jeff Beck in the city over the weekend.
Seemingly out of nowhere, the Pirates of the Caribbean actor emerged alongside Beck, electric guitar in hand, to rock out on stage just days after the closing arguments were heard in his trial
The 58-year-old actor – who has been keeping a low profile throughout the court case – appeared triumphantly alongside his good friend Jeff Beck during a concert held on Sunday night, reports The Sheff.
The pair proceeded to rock out to their 2020 hit 'Isolation' – a remake of John Lennon's original hit, first released in the 1970s – with Depp delivering a funky electric guitar solo, before performing renditions of Jimi Hendrix's 'Little Wing' and Marvin Gaye's classic 'What's Going On.'
Fans erupted online with excitement at seeing Depp take to the stage with his guitar and close friend, just days after the closing arguments were heard in his highly publicised court case with his ex-wife, Amber Heard.
Sharing a picture of the gig on Instagram, one person wrote 'Wasn't expecting this, I thought he was in court but turns out he's in Sheffield with Jeff Beck.'
Before becoming a famous actor, Depp had begun his career as a musician. His mother gave him his first guitar aged 12, at which point he began playing in various bands.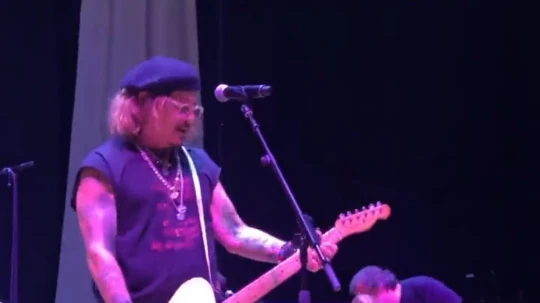 He later dropped out of high school, aged 16, to become a rock musician. before ultimately making it in Hollywood as a famous actor eight years later, when his career was launched by his role as a teen heartthrob in 21 Jump Street.
Despite his success as an actor he has continued to pursue his music and, alongside Alice Cooper and Joe Perry, went on to form the supergroup Hollywood Vampires in 2015.
Read more: Meet the Cheshire DJ with cerebral palsy playing sets in Ibiza
Depp has kept a low profile throughout his court cart with his ex-wife, reportedly going to stay at Joshua Tree due to the 'stress' of it, so it came as a shock to many to see him taking to the stage …and in Sheffield, of all places.'
He is currently suing Amber Heard for Defamation after she wrote an op-ed for The Washington Post about her experiences with Domestic Abuse in 2018.
The court case has been live-streamed throughout its procedures, leading to huge amounts of media coverage and fan speculation.
Read more: Inside the luxury Beetham Tower flat with rental price of £22k a MONTH

Both parties lawyers made their closing arguments on May 24 and the jury has since been sent away to deliberate. They are expected to return to continue discussions on Tuesday, May 31.
Feature image – @salveogvm/Twitter