Business
The tech company keeping Manchester in Sync for nearly 30 years
Over three decades, Sync has played a crucial role in nourishing a restlessly creative city - helping to cement Manchester's reputation as an artistic hub.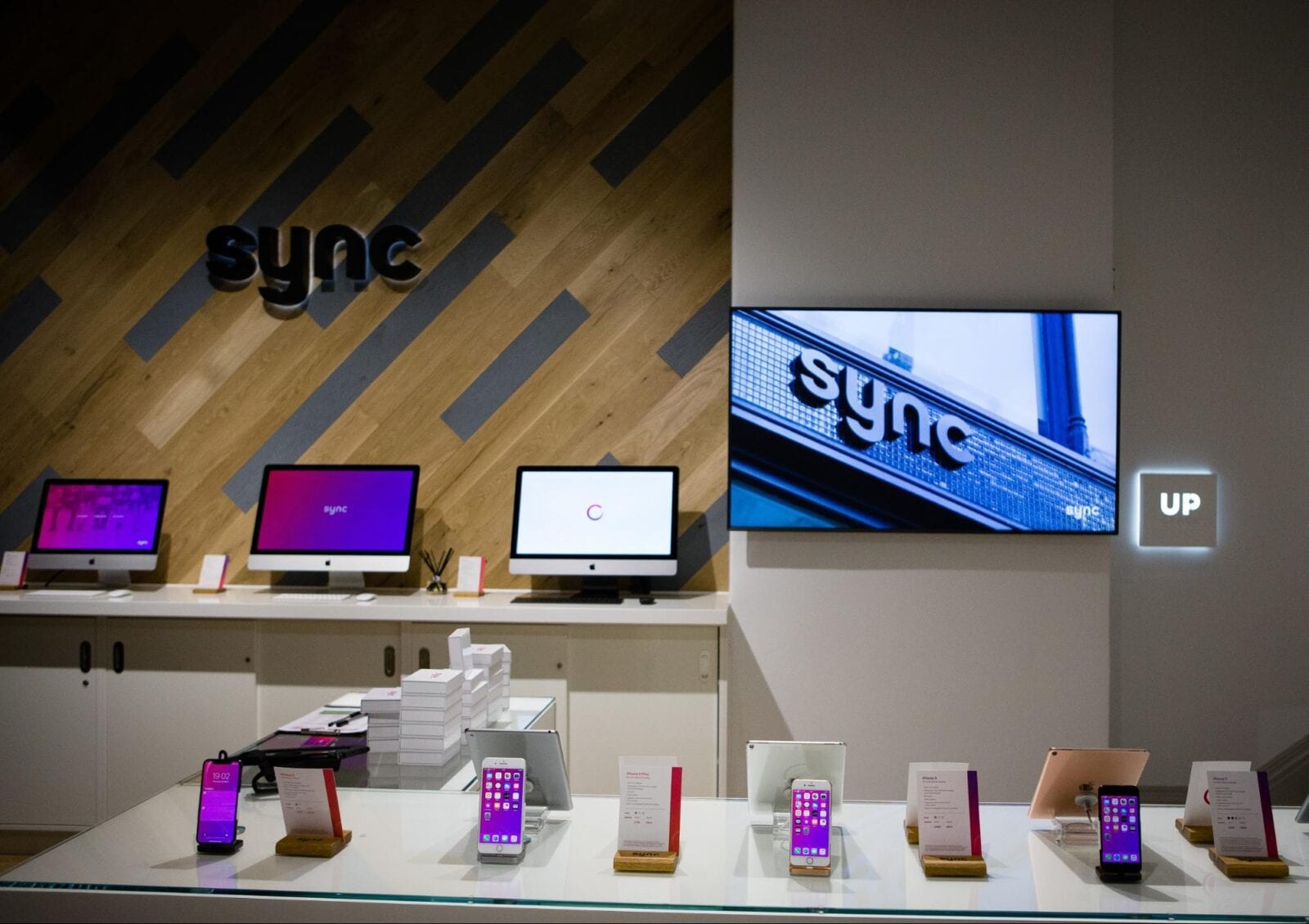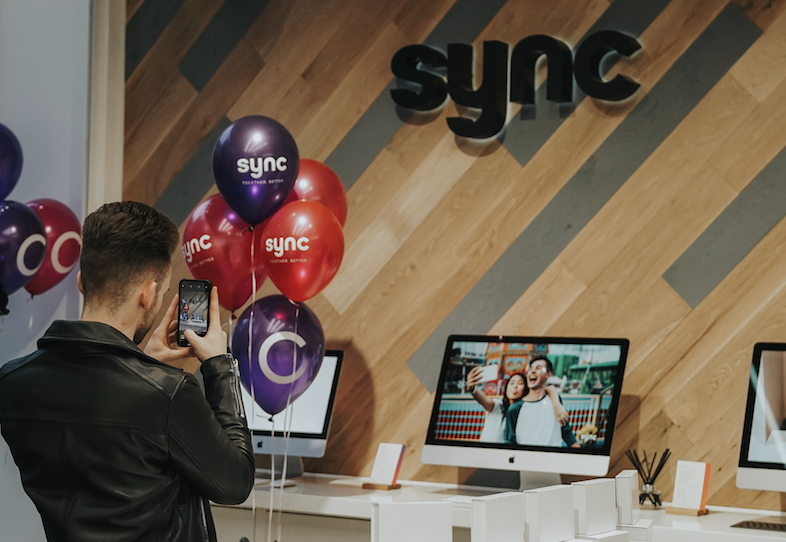 'Silver linings' has become a popular topic since the pandemic swept Britain.
It's human nature to find positives even in the most disastrous of situations. The ability to look on the bright side keeps people going even when times are tough… and few of us have experienced anything as tricky as the past 10 months.
The biggest silver lining for many during this period has been tech.
If a government-imposed stay at home order had to happen, at least it was in 2020 – an age where tech is so powerful and accessible, we've been able to stay in touch with loved ones, earn a wage from home, and fill any furlough time by streaming box sets.
Even 10 years ago, things would have been very different.
Tech has been deemed so valuable, in fact, that some shops have been classified as 'essential'; meaning they've been permitted to remain open through lockdowns to keep the country running.
One of those is right here in Manchester: Sync.
Based on Deansgate in the city centre, Sync was born of GBM Digital, who themselves were part of a design and print house set up in Ardwick all the way back in 1992.
Over the subsequent three decades, the company has played a crucial role in nourishing a restlessly creative city – helping to cement Manchester's reputation as an artistic hub.
Sync has been so impactful over the years, in fact, that the company has acquired 'partnership status' with the quartet of software juggernauts: Apple, Google, Microsoft and Adobe.
The business has teams across Britain, but the physical three-level Deansgate venue is considered something of a HQ – containing a tech shop, Apple service & repair centre, and a training and conference centre.
Throughout lockdown, Sync Deansgate remained a place where customers could get their Macs, iPads, iPhones, Watches and Beats under Apple warranty fixed – tracking the repairs every step of the way.
Booking slots are posted online – with customers sent specially-designed totes via a courier. People simply pop their device in the tote and the courier whisks it back – before delivering the fully-repaired product.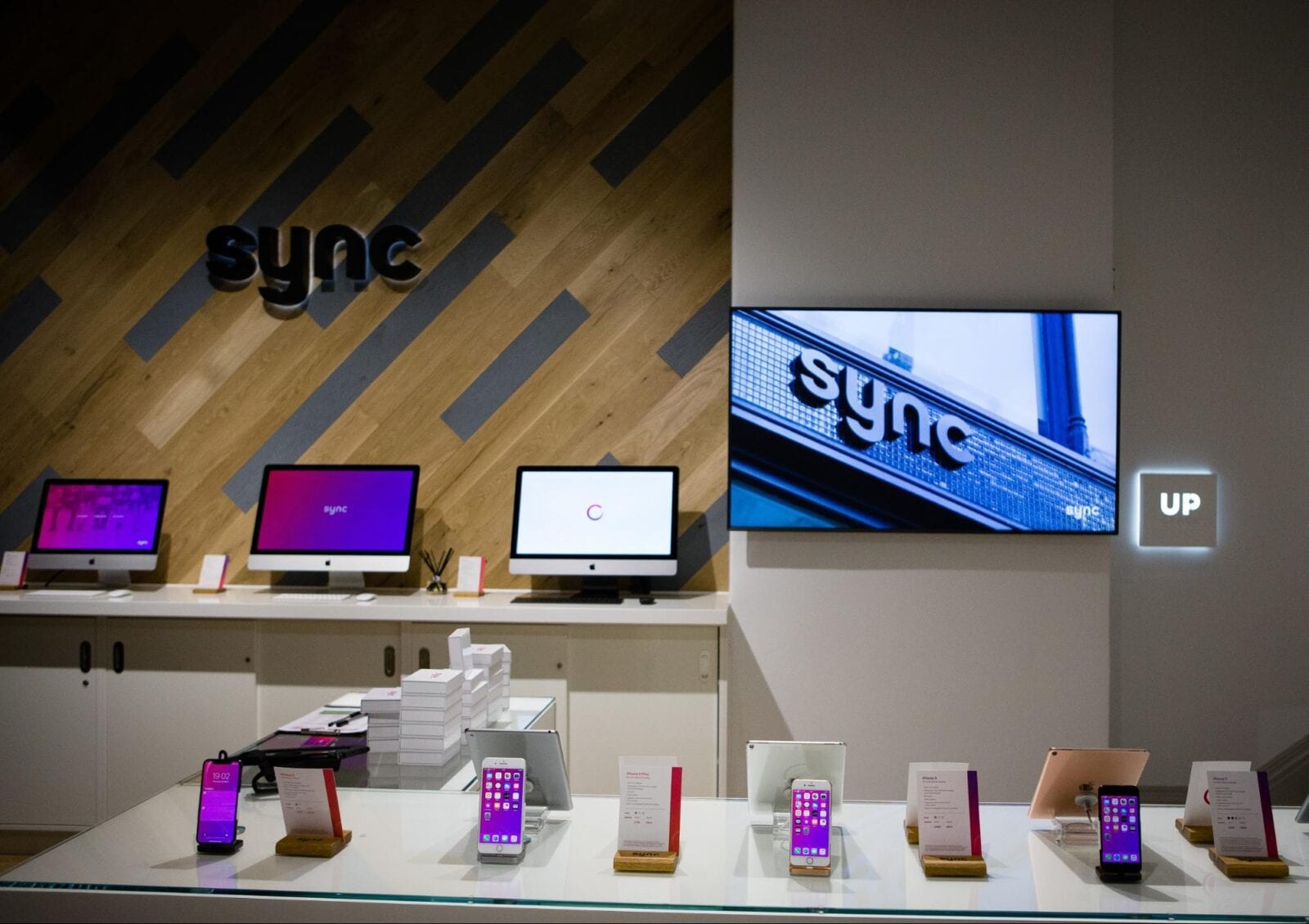 Money was also pumped into their new, state of the art website and e-commerce store – giving customers 24/7 access to services and ensuring Manchester continued to fire on all cylinders when the world was closing around us.
Sync has served as the city's digital support network during this difficult period. But instead of simply providing emergency-style patch and fix work, the brand has also continued to raise the bar.
For example, Klarna 0% finance has been made available for all Apple products from Sync (where baskets are under £1,000) – an offer unavailable anywhere else in the UK, let alone Manchester.
Sync is also the only company of its kind to provide full Mac configurators for schools and businesses – giving organisations the incredible power to build their own Mac for their own needs.
Staff are different, too – weighing with next-level aftercare for individuals and organisations.
Scott Bordoni, Head of Operations at Sync, described the company as a "tech business with heart".
"Our goal is to inform and educate," he explains.
"Our teams practice a consultancy-first approach, utilising their technical expertise and industry knowledge to address key challenges for our customers."
Adil Ladha, Digital Marketing Specialist, says it's this very ideology that has set Sync apart from its competitors.
So often, a business-customer relationship barely stretches beyond the point of sale. But at Sync, they see the transaction as just the beginning.
"For us it's about the development of long-term relationships," Adil states.
"We put time, effort and energy into supporting our customers – giving them the opportunity to upgrade and futureproof quickly and easily whenever they desire."
Alongside repairs, one of the most valuable services Sync continued to provide during lockdown was training sessions – which were shifted online.
Scott says: "Prior to the pandemic, our teams were working at national scale, running and supporting over 280 days of face-to-face training and informational events per annum – all at zero-cost, in order to support businesses and schools.
"As key workers, our national teams remained in operation throughout the first lockdown, supporting businesses, public sector organisations (including the NHS), and schools – helping to ensure that other businesses, organisations and key workers were able to continue through the crisis."
Sync delivered an astonishing 110 free skills-based training sessions to businesses and key workers during the first portion of the pandemic – all-the-while remaining on hand to keep IT systems fully functional.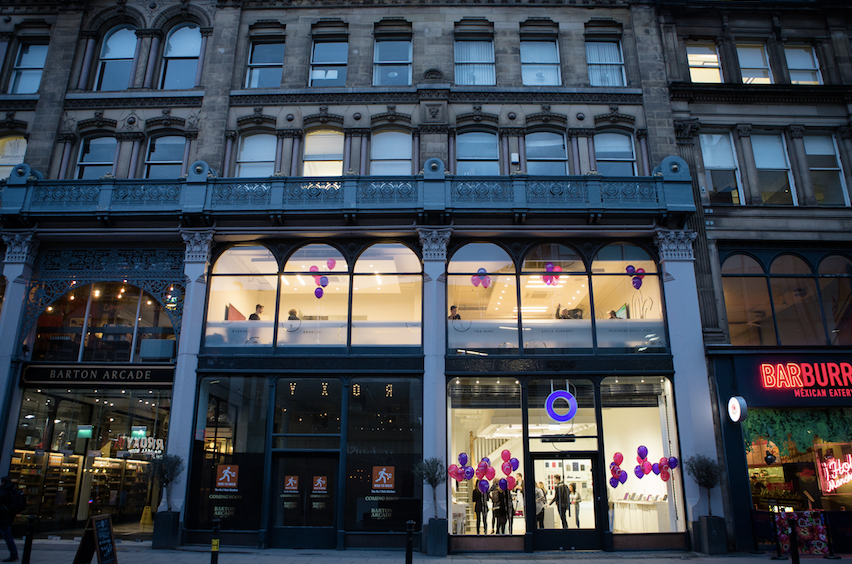 Siding with the big boys has helped, of course.
Sync's direct line to Apple means that customers get the creme-de-la-creme of tech services, supported by the kind of insight and knowledge that you'd find at the Genius Bar.
As well as being an Apple Authorised Reseller, Education Specialist, Service Provider, and Training Provider, Sync also partners with the Big Tech business on Financial Services – providing flexible finance (and better deals) on the latest Apple technology.
Being closely allied with Apple on this many fronts looks impressive on paper. But it's even more applause-worthy when you realise what's required to get on the team.
Getting accredited by Apple doesn't just involve firing off a charming email or launching a savvy piece of modern marketing that turns heads at Silicon Valley. Sync is tasked with repeatedly demonstrating the highest standards in knowledge and expertise – as well as frequently providing evidence of capability and performance.
It's tough stuff, hitting such high standards day in, day out. But Sync staff appear to revel in the challenge.
The brand boasts around 70 employees nationwide today – and some of them were at GBM when it launched 28 years ago.
The team have grown up together to build something quite special – and their reputation is spreading.
Scott adds: "Whilst the technology and deployment practices have updated through the years, our mission statement has continued to stay the same: Delivering customer-centric solutions via a consultancy-lead approach."
The typically hectic stretch of tarmac on Deansgate has quietened down again in recent weeks due to Lockdown 2.0. But Sync is still operating.
The Barton Arcade site remains open for repairs by appointment only – with 'collect and repair' services available to anyone who can't visit the store.
Almost every single person in Manchester has relied on tech in some capacity to carry us through the toughest few months many of us can remember.
Teachers. Nurses. Office workers. Joe Public. We've managed to bear up and power through via laptop and phone screens.
Take tech out of the pandemic, and you're left with a totally different picture – probably one with fewer businesses, isolated communities, and significantly lower morale.
Being in a digital era has at least offered something of a silver lining.
And it's Sync that's helped to keep that silver lining intact.