Eats
'Crispy pig tails take nose-to-tail dining to the next level': The Moorcock Inn, reviewed
Crispy pig tails, stuffed with sausage meat and blackened to the point of crumbling, take nose-to-tail dining to the next level at The Moorcock.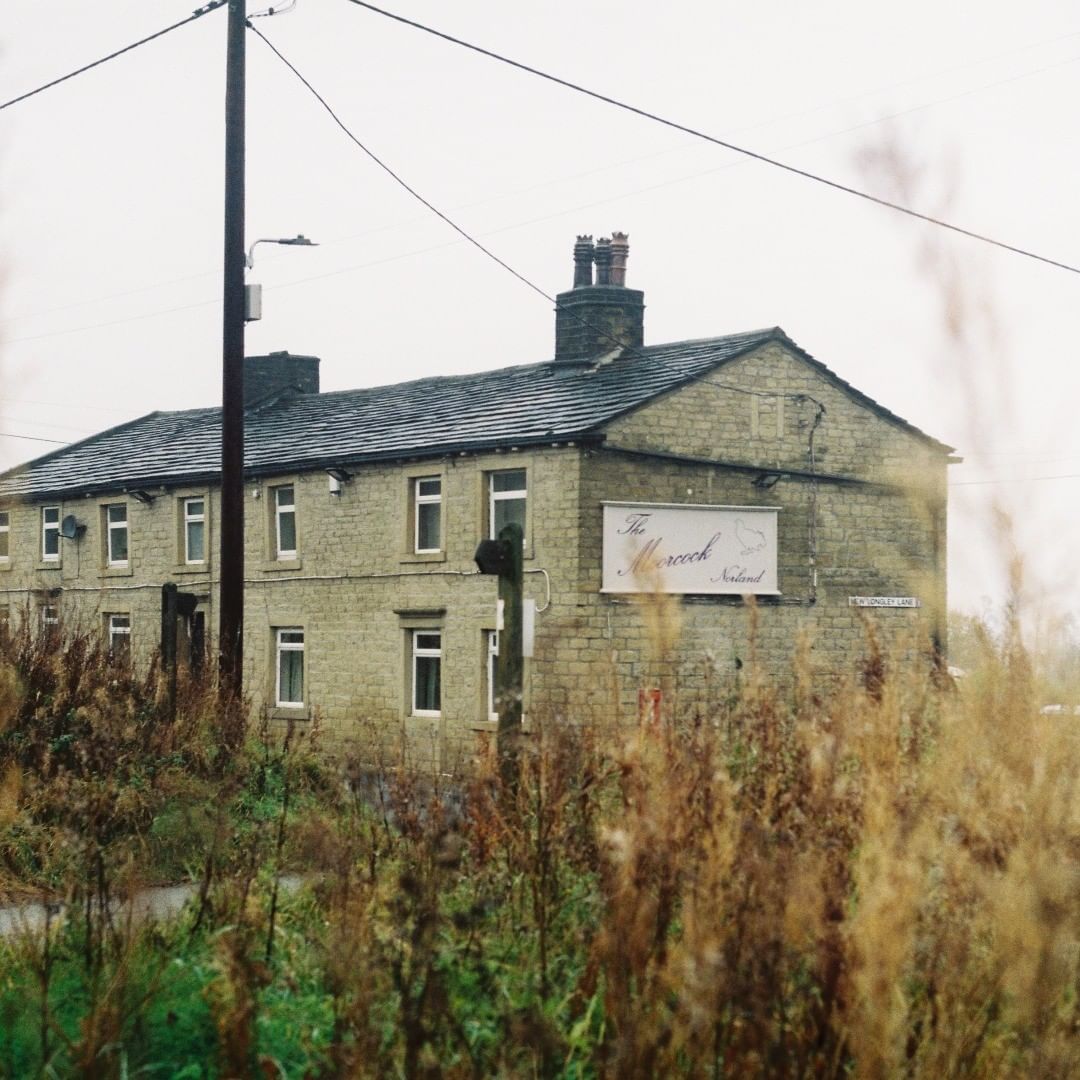 Just a forty-minute drive from Manchester, The Moorcock Inn is a favourite amongst foodies on both sides of the Pennines.
Recently awarded a top spot in the esteemed 2022 Estrella Damn Gastropubs Top 50, we knew we had to pay it a visit.
The pub recently merged its two menus into one, combining the bar menu with the restaurant tasting offerings into what equates to a long, glorious list of dishes designed to share – each sounding more indulgent than the last.
An unsuspecting candidate, this old-school Pennine boozer at Norland above Sowerby Bridge looks very ordinary from the outside. In fact, as we pull into the car park behind it, a bit stressed in the torrential rain, we all question whether we're in the right place.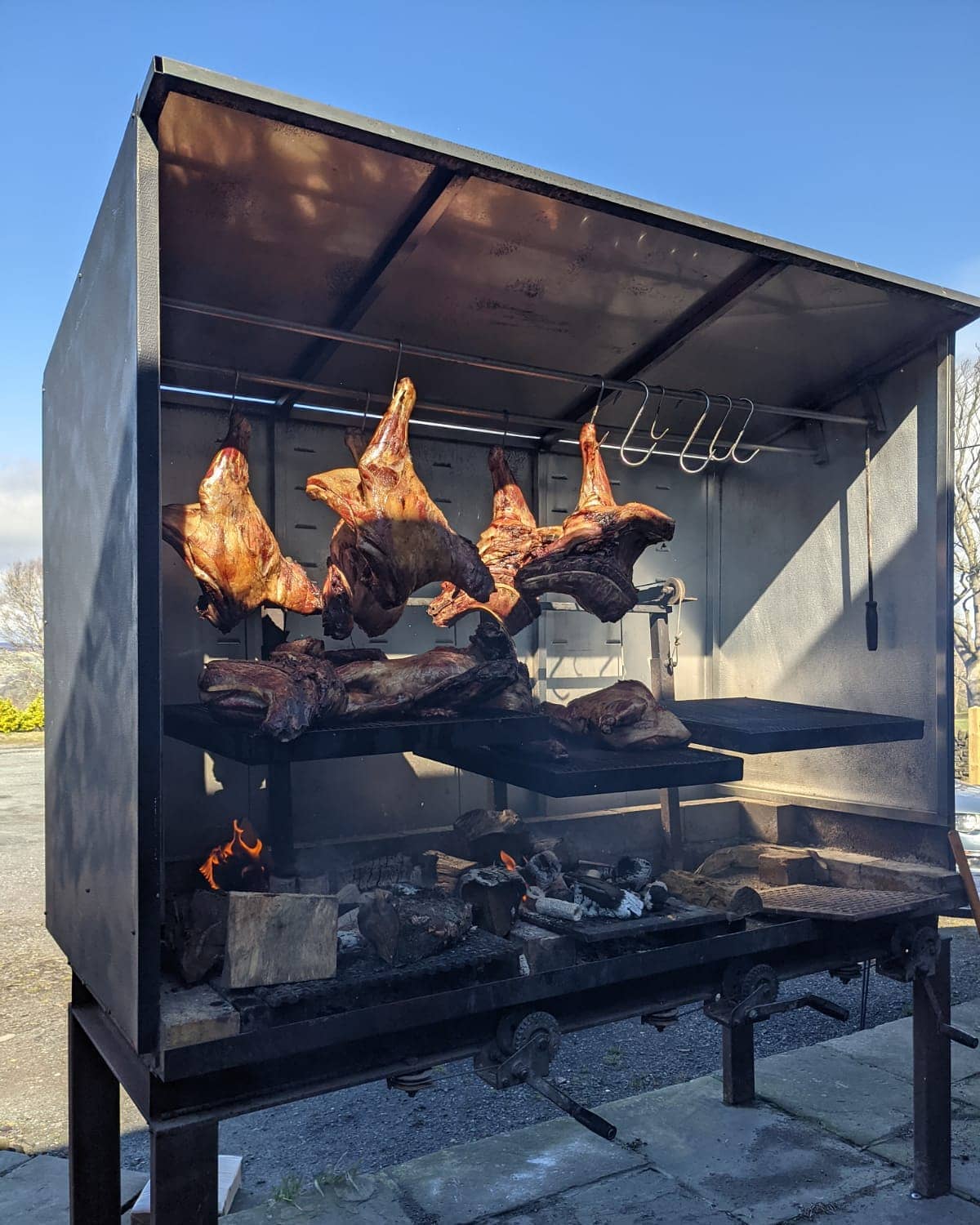 We are. A chef in a cap, completely unprotected from the blizzard in his t-shirt and apron, is out there getting drenched. Talk about passion. With much of the menu here cooked over fire, we expect he's accustomed to it. Wet weather is part of the moorland's, erm, charm.
Stood in front of a roaring outdoor barbecue, he intermittently runs the gauntlet to grab what appears to be clumps of hay, thrusting his head into a covered box and emerging with armfuls of the stuff to help smoke and fire the huge charcoal grill.
Billowing clouds are smashed to smithereens by the driving wind and rain without mercy. We leg it past the barbecue, landing safely at the end of the bar – all wooden beams, exposed stone walls and black-as-the-night chalkboards – before being taken to our table in the snug.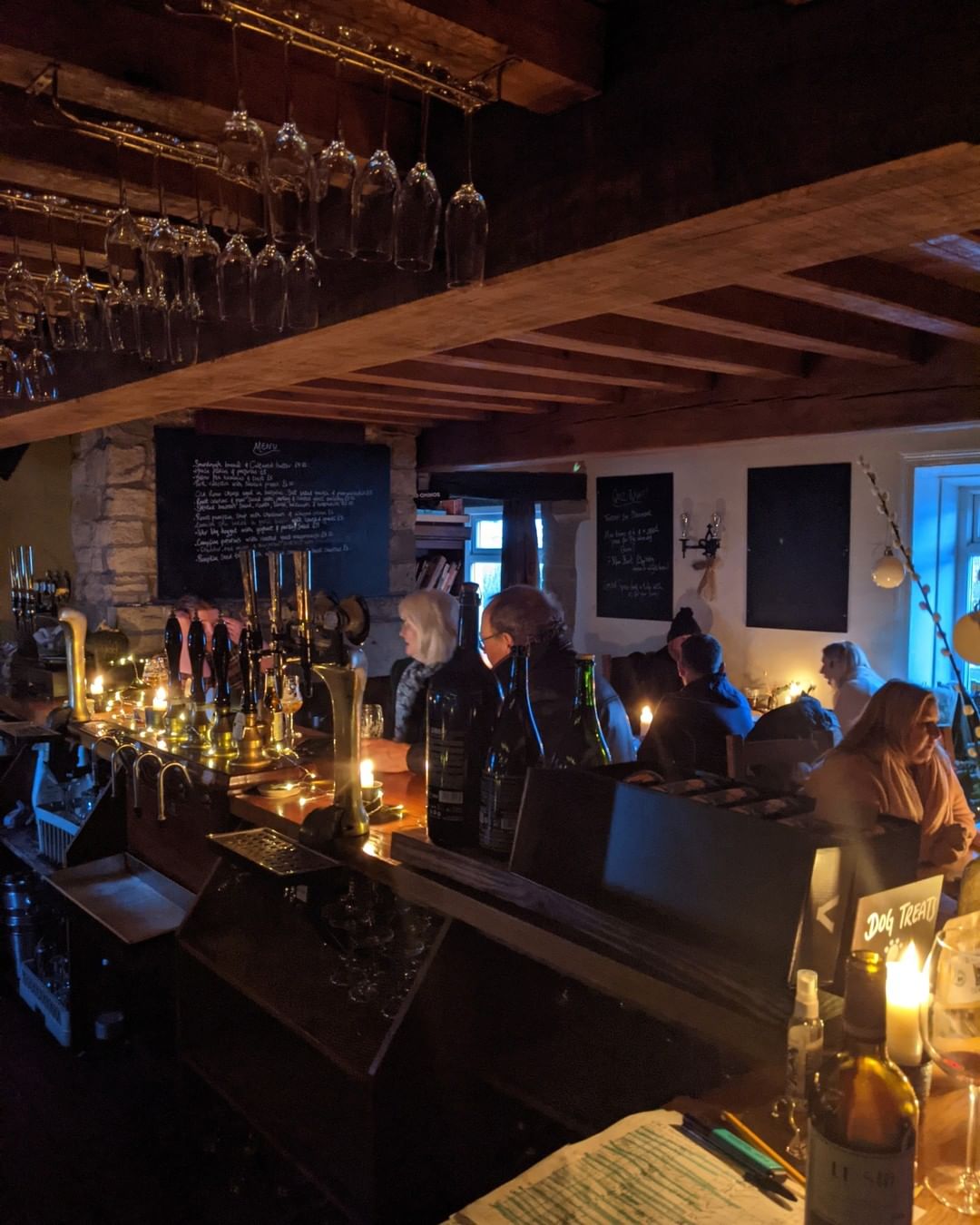 Snug it is, enough to quickly forget the downpour outside and de-layer whilst poring over the extensive drinks menu. Yes, it's a pub, so you'd expect the drinks list to be relatively decent – but this offers so much more.
Experienced sommelier Aimee Tufford has put a lot of love and care into composing it, with a huge number of low and no alcohol beers sitting (quite literally) side by side with quality craft, keg and bottle options. There are stouts, hazy IPAs, lagers, saison – the 0.5 percents happily rubbing shoulders with the twelves.
Wines are mostly organic and low intervention, many served by the glass or carafe, more by the bottle. Elsewhere, there is a good choice of gin, kombucha, sake, cider and more. On it goes.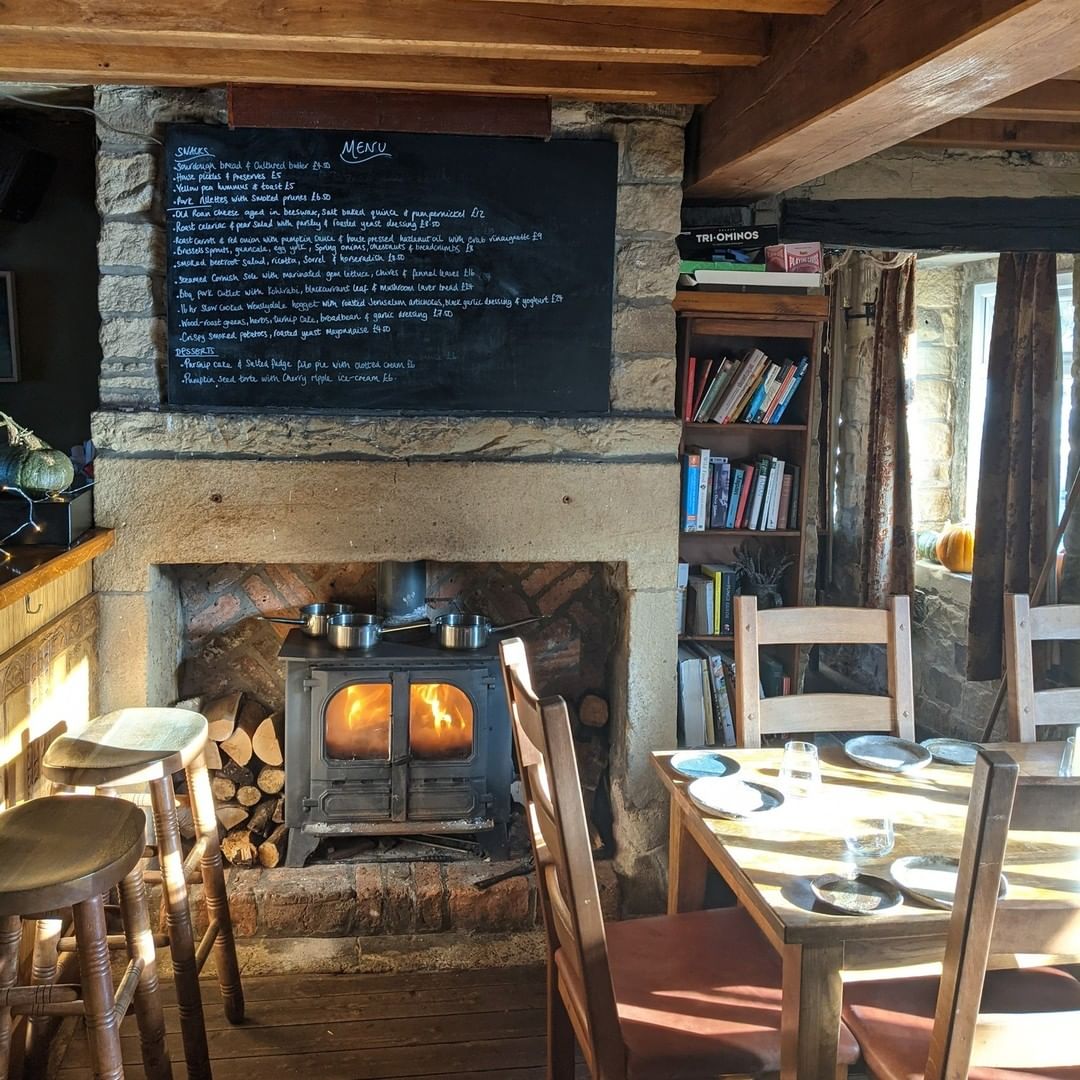 Aimee heads up front of house with her British-Australian partner, Alisdair Brooke-Taylor, the chef. Prior to opening The Moorcock, the pair spent years together at Michelin-starred In de Wulf on the Belgian-French border.
Before its closure in 2016, Alisdair functioned as the right-hand man to Kobe Desramualts. At that time, it was considered in some influential circles to be the third-best restaurant in Europe. Let's just say, the locals here are blessed.
Crispy potatoes, long-smoked over that fire outside then crisped and cracked in the deep fat fryer, take a pub classic to the next level – served split in a heap with a small dish of yeasty mayonnaise.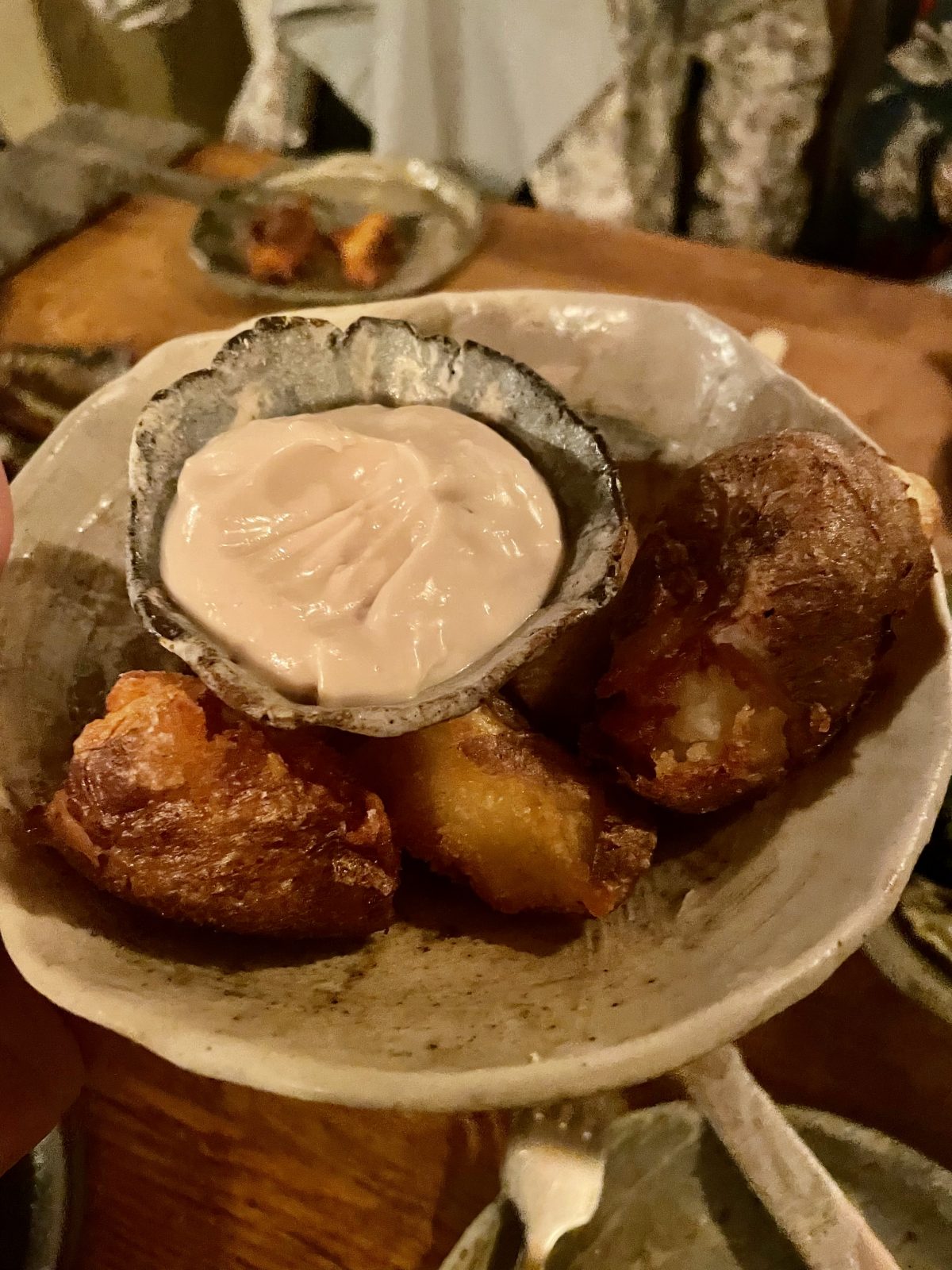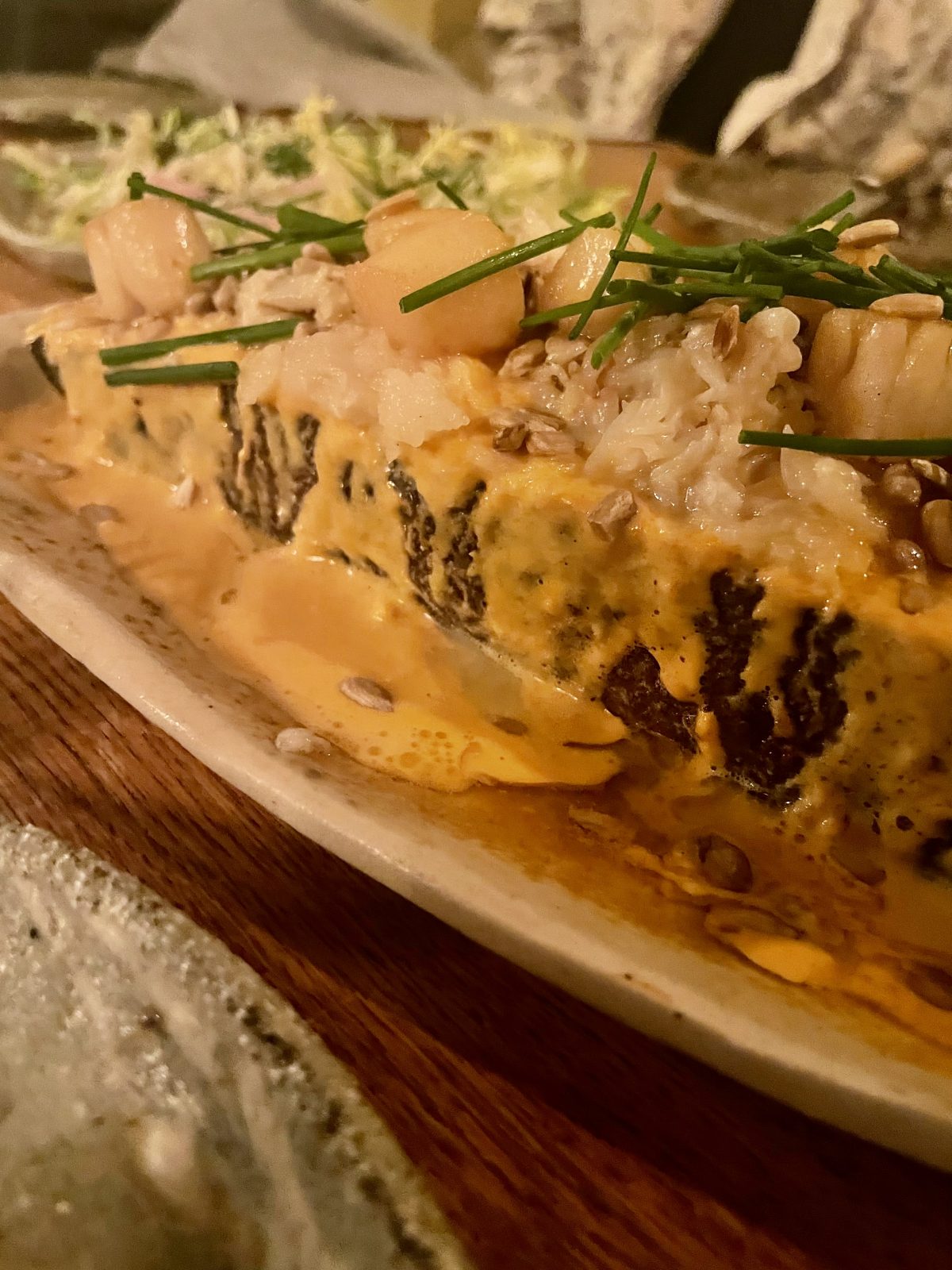 A serious hunk of sourdough – loaded with queen scallop, spider crab, grated turnip, chives and sunflower seeds – is turned to an eggy-bread sponge, oozing with salty-sweet roe custard that drips down the sides and swims at its base.
A whole charcoaled flounder, roasted and smeared in butter made from dried mullet roe, is soft and buttery, leant an umami saltiness from the bottarga.
Sauteed greens dressed in garlic and anchovy bring more of that salty, Southern Italian depth to the table, whilst a plate of shaved celeriac frisee with ricotta salata, capers and mustard lends the meal a smoky, pickled, earthy freshness.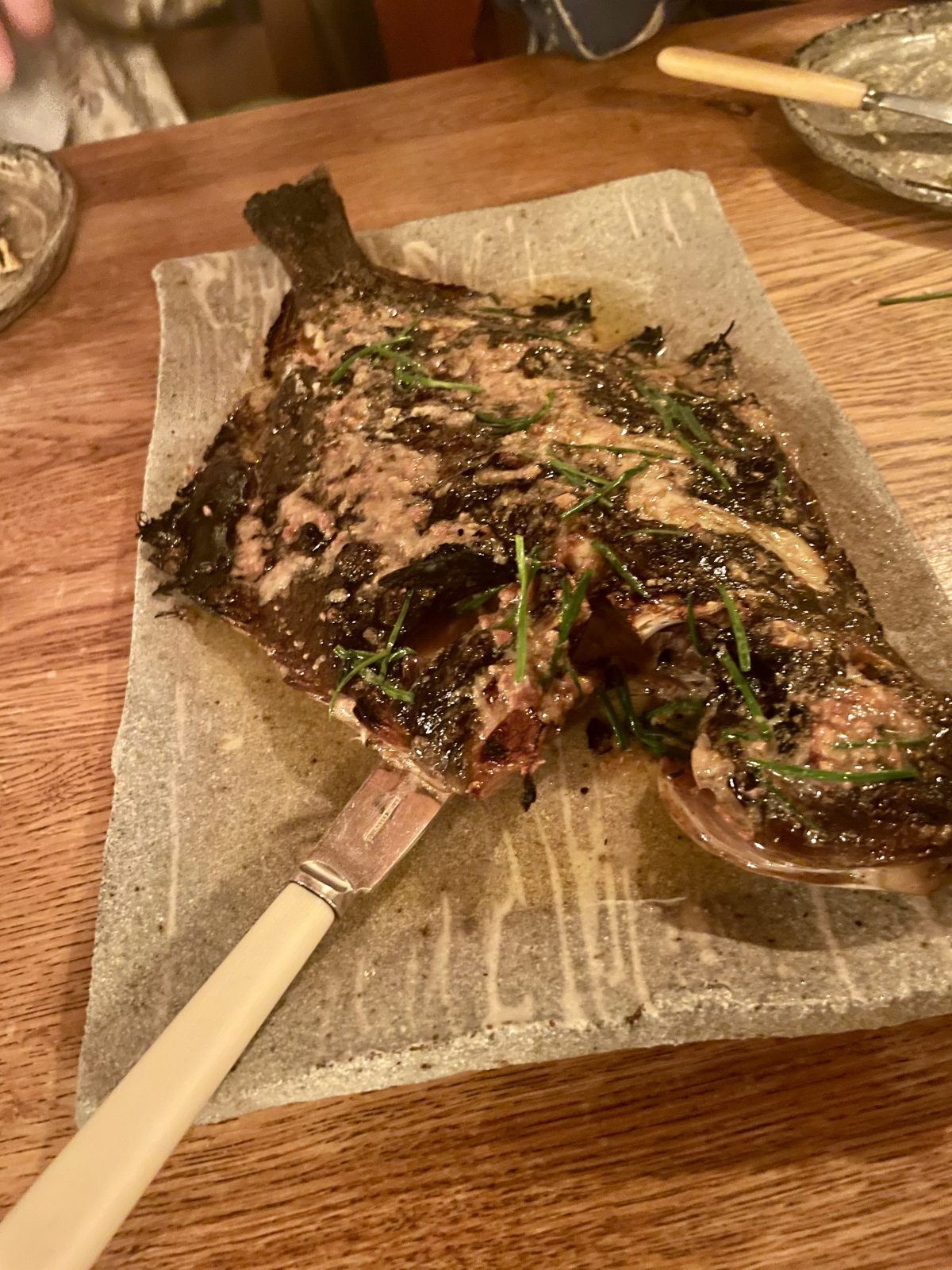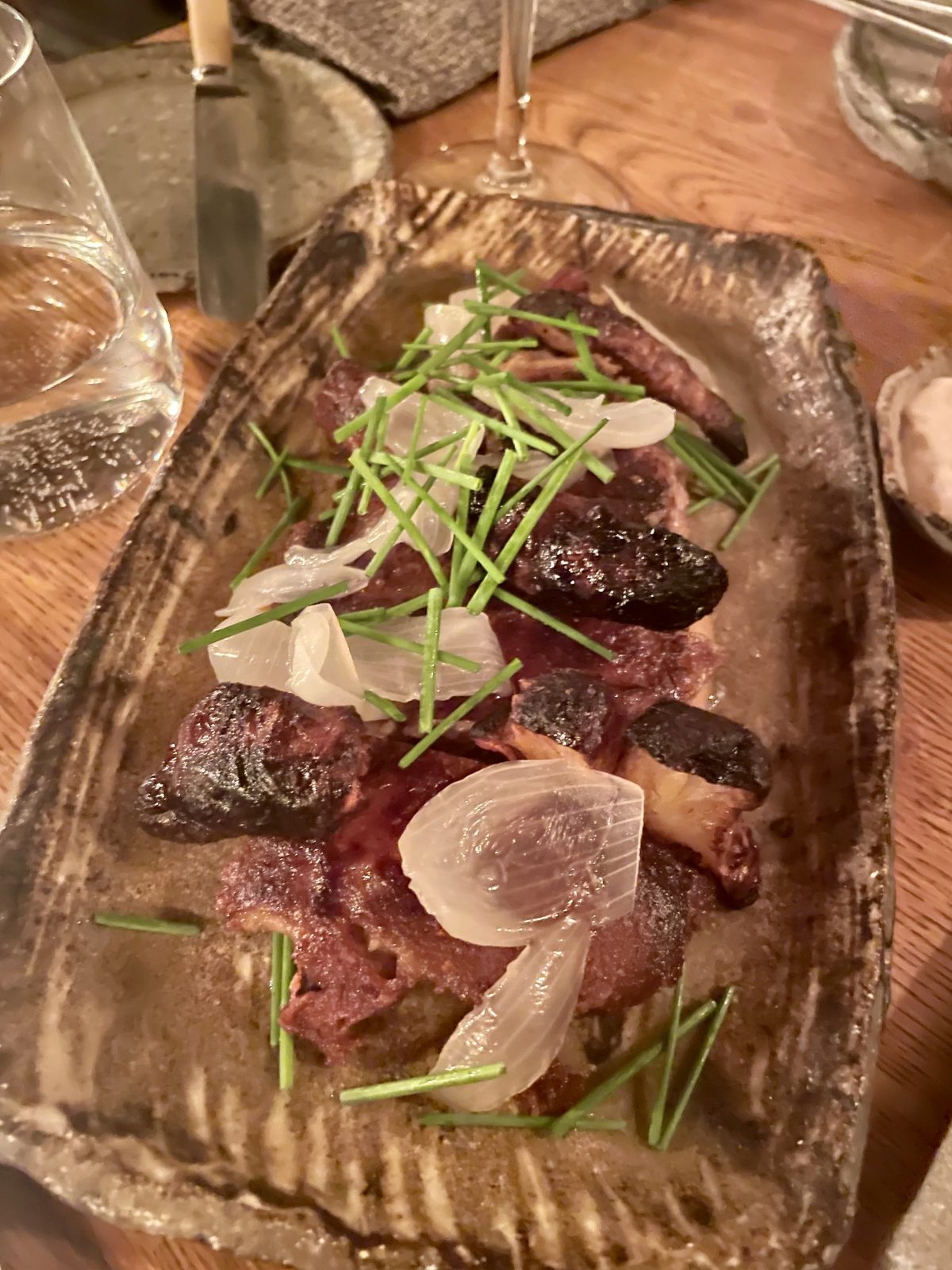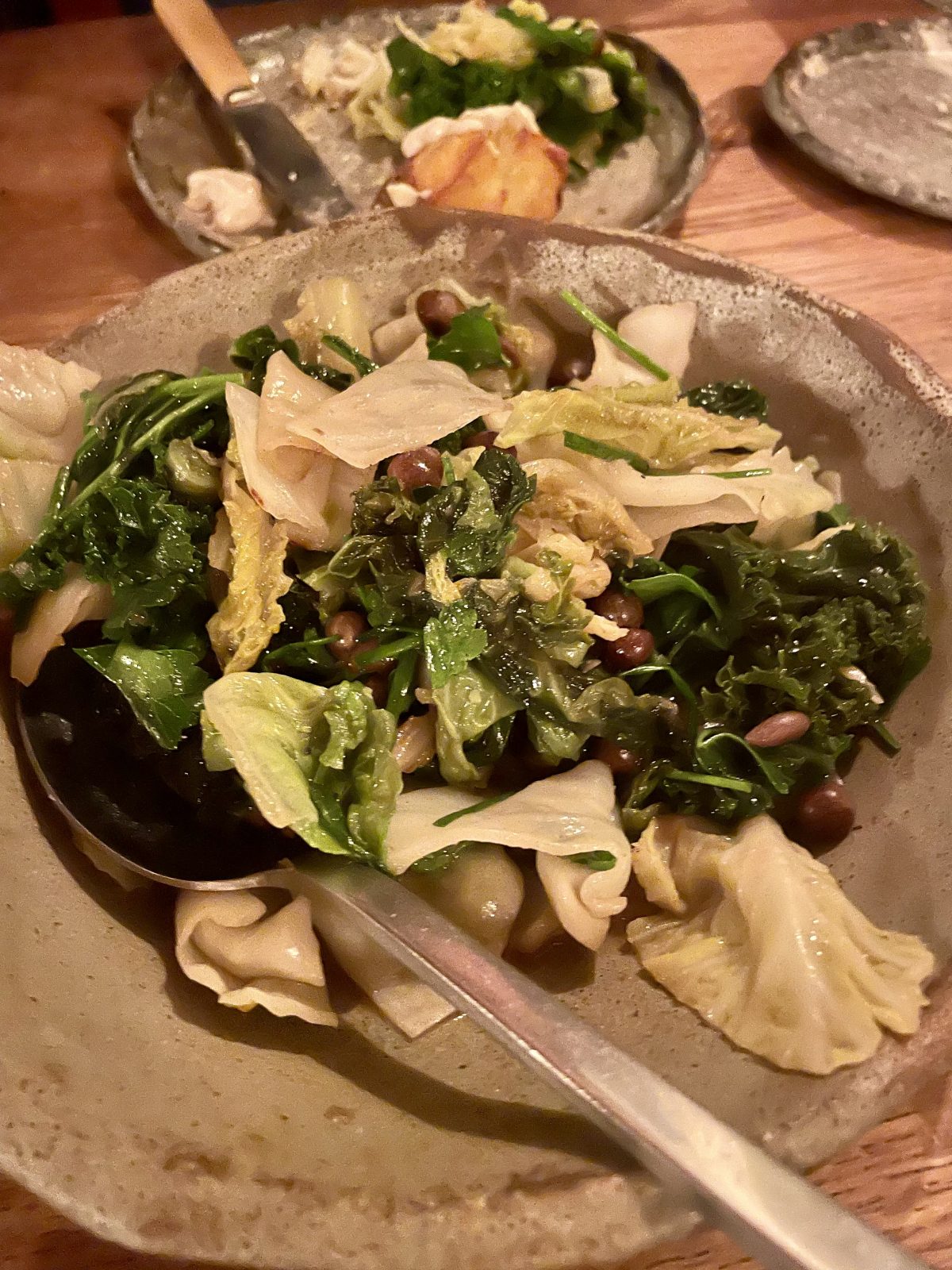 Crispy pig tails with apple sauce and artichoke, stuffed with sausage meat and blackened to the point of crumbling, are a literal reminder of The Moorcock's nose-to-tail dining ethos. Nothing is wasted, as their presence so boldly attests.
Meat here is dry-aged and butchered on-site, using mature, whole animals taken from select local smallholdings that work mostly with the Rare Breed Survival Trust as a preference.
These regenerative ethics extend to the rest of the menu, too. Sustainable fish and seafood are taken from native waters in day boats only, and vegetables are organic, sometimes homegrown in their 2-acre kitchen garden, sometimes foraged.
Very much in the school of forage, ferment, cure and preserve, the ever-evolving seasonal menu champions a host of traditional homesteading techniques- right down to the handmade crockery on which everything is served.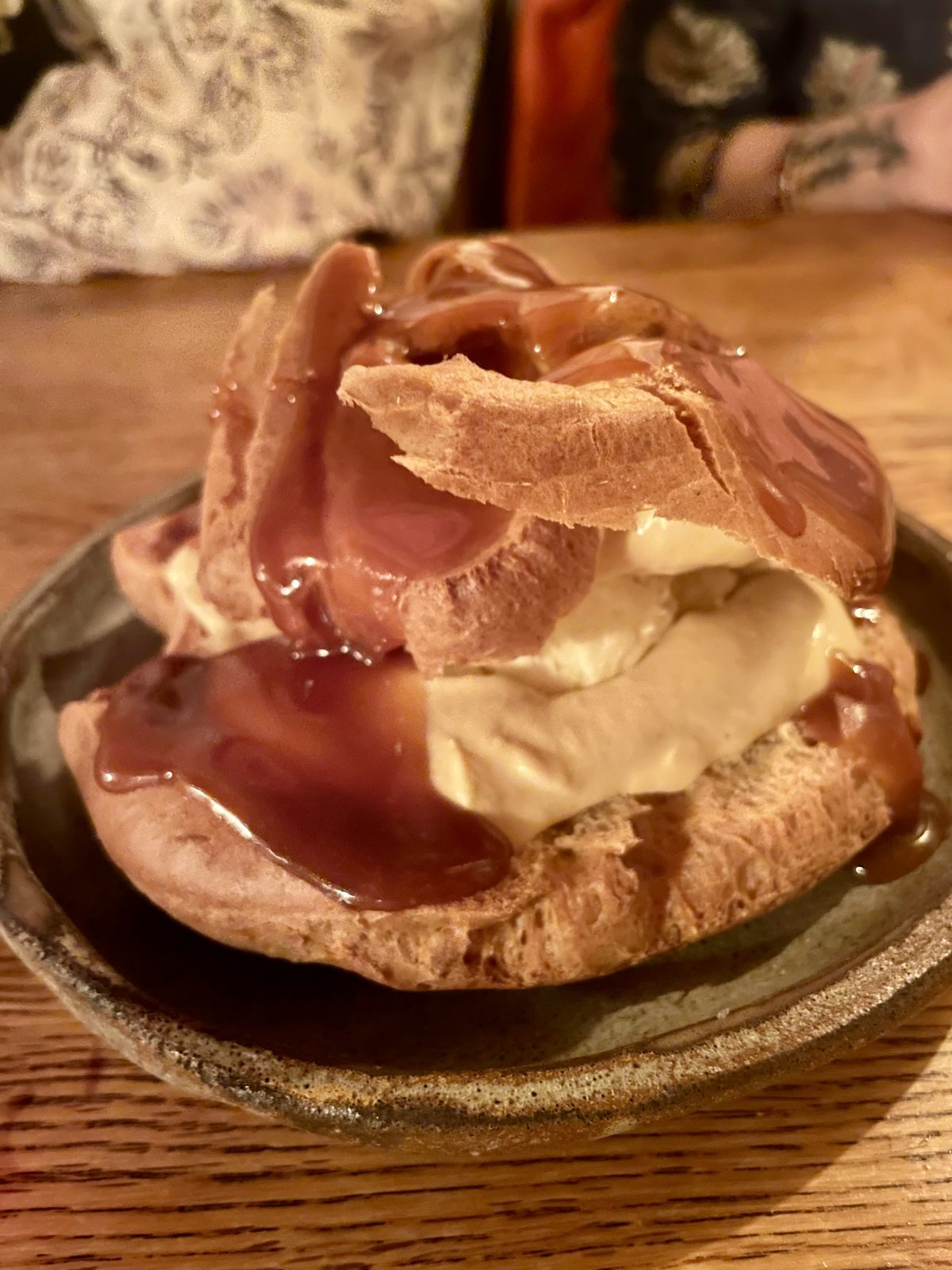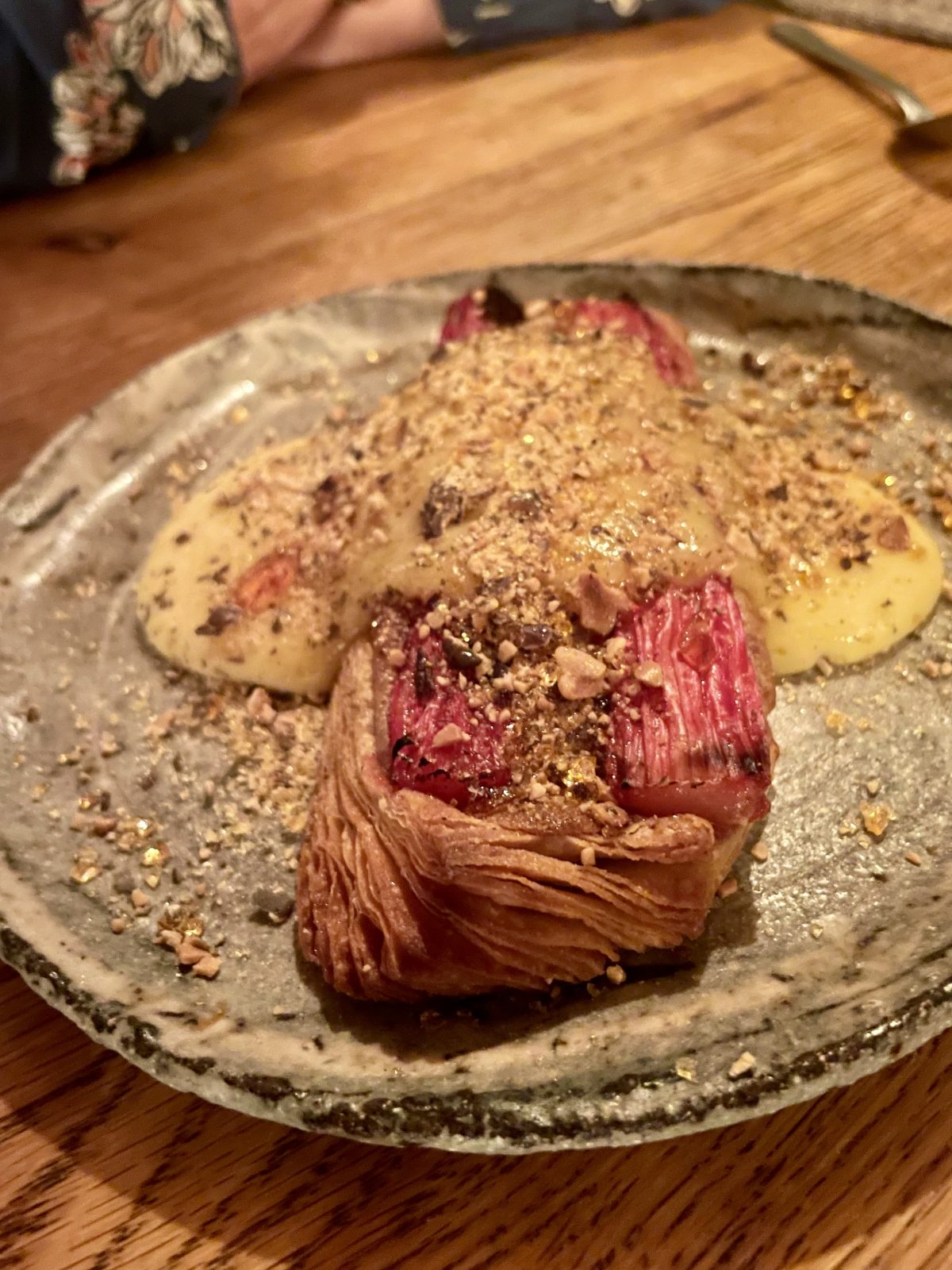 We finish with both of the puddings (there are just two on the list). In a nod to locale, one is a rhubarb frangipane puff pastry tarte doused in a thick. tangy lemon curd with pumpkin seed praline. The other, a giant plate of choux pastry boldly redefining any interpretation we previously held about profiteroles.
Filled with a squash cheesecake mousse and milk ice-cream, it gives off the slightly cheesy tang of fermentation. All is balanced by a huge drizzle of salty-sweet butterscotch sauce. It's the pudding that keeps giving, all three of us attack with vigour – only turning over to the rhubarb puff when it's done.
This is a glorious pub, serving glorious food. This new offering feels wonderfully relaxed, combining the best of both restaurant and bar menus. We completely see what all the fuss is about.
Feature image – The Moorcock Inn