Eats
Festa Italiana 2022 – full line-up, opening times and how to get there
Brought to Manchester by Salvi's, the festival has become something of a favourite amongst local foodies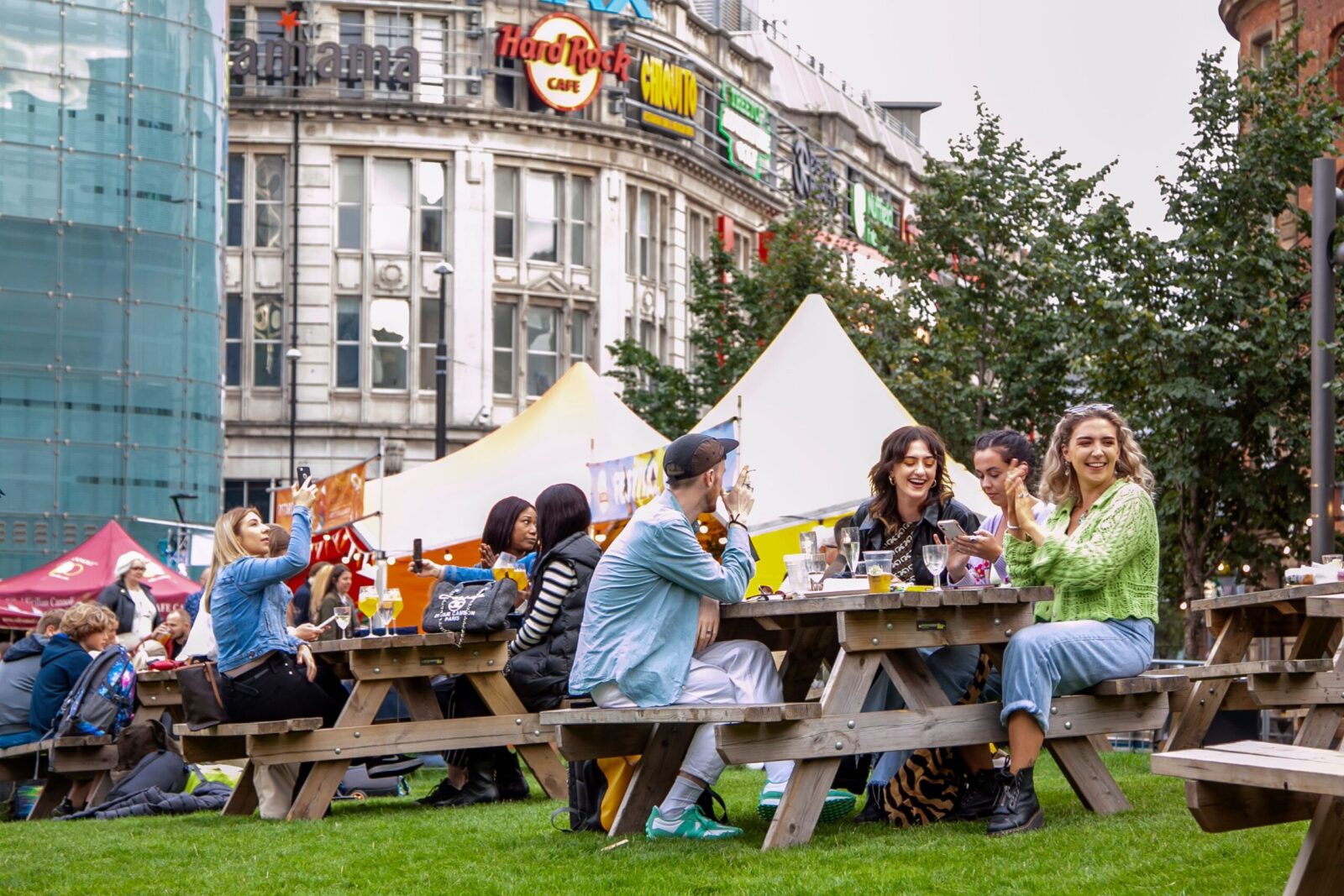 Festa Italiana, the free-to-enter weekend-long festival celebrating Italian food, drink and culture is returning to Festival Piazza this August bank holiday weekend for its fifth year in the city.
Taking place from 26 to 28 August 2022 at Cathedral Gardens in Manchester city centre, it will bring together some of the city's best Italian and Sicilian eateries alongside a host of live music, Italian bars and special chef masterclasses.
Featuring street food pop-ups from the likes of Pasta Factory, T'arricrii and Lucky Mama's, to a dedicated Aperol Spritz bar and Airstream bar selling Italian craft lagers, and a special intimate chef's dinner event, there is a lot for foodie fans to get excited about this year.
What is the street food line-up at Festa Italiana 2022?
Over the course of the weekend, foodie fans can enjoy sweet treats from Café Cannoli, wood-fired Neapolitan pizzas from I Knead Pizza and Proove, and 'rasta pasta' from Chorlton-via-Eccles favourites Lucky Mamas.
T'arricrii will bring along handbuilt arancini and fritto misto, whilst the Pasta Factory will be on hand with its authentic plates of fresh Puglian-style pasta dishes.
Elsewhere, there'll be sweet treats from festival founders Salvi's, doughnuts from Destination Doughnut and grilled paninis, cakes, drinks and snacks from Kickback Coffee.
What bars are on offer at this year's Festival Piazza?
The main festival bar will serve Italian favourites including fine Italian wine, Ponte prosecco, Luxardo, gin and tonics and other popular Italian spirits.
An Airstream Bar from Birrificio Angelo Poretti will serve Italian craft beers, whilst an Aperol Spritz bar will be on hand serving up everyone's favourite low-ABV aperitivo. Soft drinks and coffees will also be available on-site across the weekend.
Live music
This year, Compagnia Sole Luna will bring traditional folk music from Naples, revisited in a folk-rock style from southern Italy.
There will also be a full lineup of local artists and bands including the city's best-loved opera singer The Manchester Tenor, while DJs will be spinning records each night.
What events and masterclasses are taking place?
Festa Italiana Feaast – Dine with legendary Italian restaurateurs, authors, and UK TV favourites at the Festa Marquee
On Saturday 27 August an intimate chefs' table dinner featuring top-class Italian TV celebrity chefs, Gennaro Contaldo, Giancarlo Caldesi, and Aldo Zilli, hosted and cooked by Salvis-owner Maurizio Cecco, with fresh pasta made from scratch by Carmela Serano Hayes. Guests and chefs will dine alongside one another, enjoying a four-course meal and drinks reception hosted by Gin Mare.
Festa feast tickets available here
Masterclasses inside the Festa Marquee
Carmela's Kitchen – Carmela Sereno Hayes will be hosting 'Carmela's Kitchen' across the entire weekend, with free drop-in sessions on the hour, every hour teaching pasta-loving adults and kids how to make the perfect pasta.
Friday 26 August
1.30pm – Festival founder Maurizio Cecco hosts a cooking masterclass with his daughter Sienna.
2.30pm – The team from I Sapori di Corbara Tomatoes will be flying in from Naples and doing a talk showcasing the brand and their products
3.30pm – Giulia Martinelli of The Pasta Factory will be showyou how to be a pasta master
4.30pm – A drinks masterclass from the Luxardo Maraschino team, whose versatile cherries are used in desserts and drinks across the world.
5.30pm – A drink making Campari masterclass.
Saturday 27 August
1.30pm – Maurizio Cecco hosts a pasta masterclass
2.30pm – Masterclasses and book signings from Gennaro Contaldo, UK brand ambassador for Parmigiano Reggiano, (Saturday Kitchen, Two Greedy Italians, Jamie and Jimmy's Friday Night Feast)
3.30pm – Masterclasses and book signings from celebrity chef and award-winning restaurateur, Aldo Zilli (The One Show, This Morning, Celebrity Masterchef)
4:30pm – A drinks masterclass from the Aperol team, showcasing the methods behind some of the most loved Italian drinks
Sunday 28 August
1:30pm – Masterclasses and book signings from Giancarlo Caldesi (Return to Tuscany, Saturday Kitchen, Sunday Brunch
2:30pm – Gennaro Contaldo returns for a masterclass
3:30pm – A masterclass from Great British Bake Off 2021 winner Giuseppe Dell'Anno
4:30pm – A very special pizza making masterclass by the team from Pizzeria Da Michele
When is Festa Italiana 2022 and what are the opening times?
Festa Italiana 2022 will take place from 26 to 28 August 2022 at Cathedral Gardens.
It will open across the weekend from 11am to 11pm, Friday to Sunday.
How do I get to the Festa Italiana festival hub?
Located opposite Manchester Victoria Station, the Festa Italiana festival hub sits in Cathedral Gardens. It can easily be accessed via tram, bus or train and is a short walk from Manchester Piccadilly.