Eats
Inside Stockport's coolest new cocktail bar as Blossoms frontman opens Bohemian Arts Club
Tom and Katie Ogden open the speakeasy this week.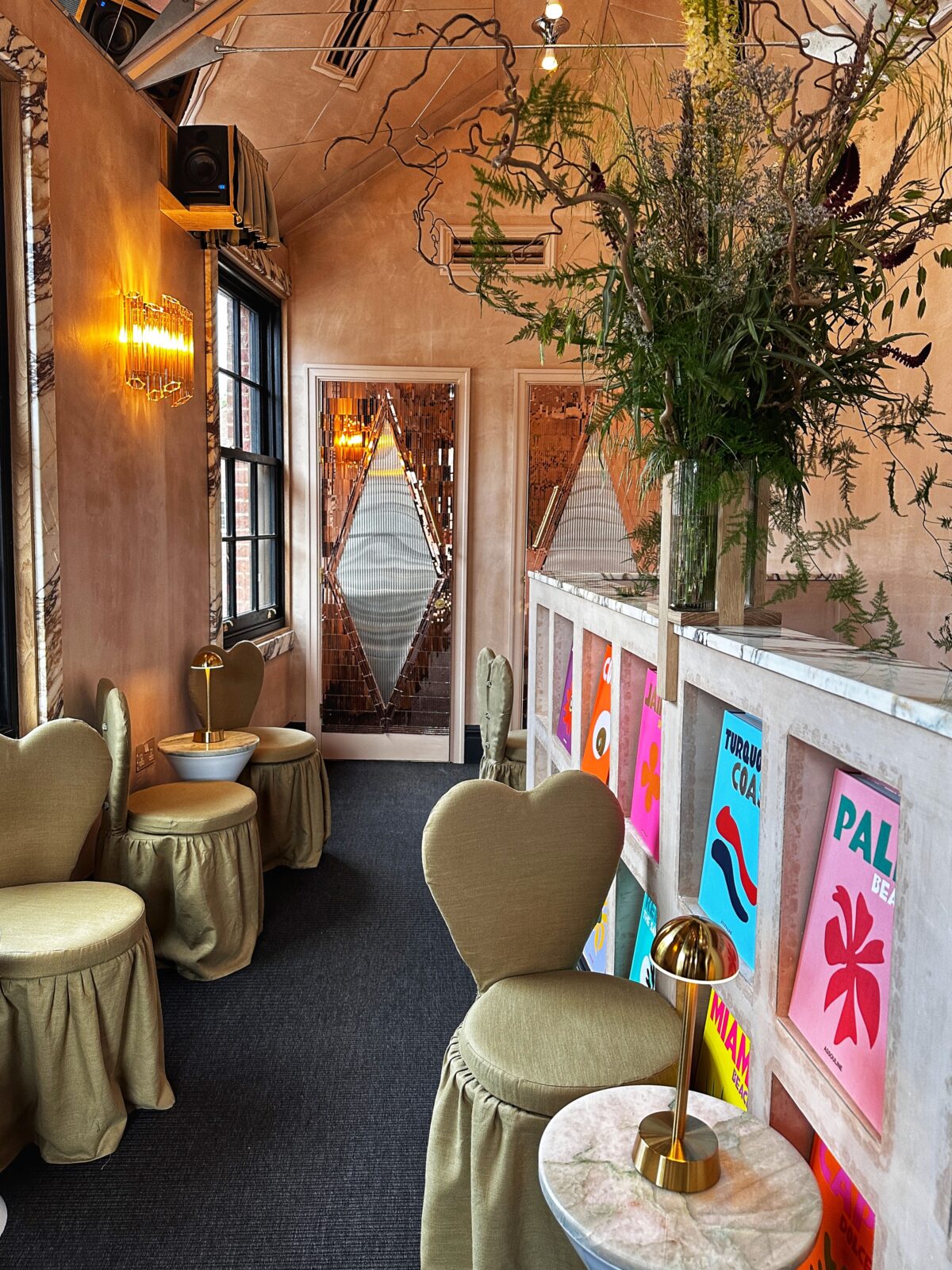 Tom Ogden, of Blossoms fame, and his wife Katie are preparing to open the doors to Bohemian Arts Club, a new cocktail bar in Stockport.
The stunning speakeasy has taken shape in a formerly derelict three-storey building on Coopers Brow, transforming a run-down space into a luxury and intimate venue.
While the ground floor is occupied by a new Bohemian hair salon for stylist Katie, the top two floors have been given a stylish makeover, all soft terracotta walls and marble window frames.
Set to open this weekend, the couple's personalities and tastes are stamped all over Bohemian Arts Club, from the mirror-tiled doors and ceilings to the heart-shaped chairs hand-made by Katie's mum and dad.
Even the concise 12-strong cocktail menu has been inspired by the people and places who are special to Tom and Katie, like the 'Feral', which is a tribute to Katie's dad, and 'George's Marvellous Medicine', named after their dog.
The couple met and married in Stockport, so it was a natural choice for their first bar together.
Katie told The Manc: "We've been so inspired by all these cool little speakeasies we've been to across the world. We love all those bars hidden away down a little alleyway or a secret door.
"For us, we've lived in Stockport all of our lives, and for me it felt like a gap in the market to have a really nice cocktail with a decor that matched."
Speaking of this weekend's opening, Tom added: "We feel excited… slash relieved. It's been a long two years. You go from being really excited and dreaming up this idea, visiting all these other bars for inspiration – and then your life becomes an episode of Grand Designs for ages.
"I'll be excited to get back to writing songs again after this!"
The entire space, hidden up a small flight off stairs off the historic cobbled streets of Underbanks, has been designed by Katie. There are marble surfaces, tainted mirrors, plush fabrics and dim lighting.
Alongside the core dozen cocktails is a selection of classics, plus wines and beers, all delivered via table service.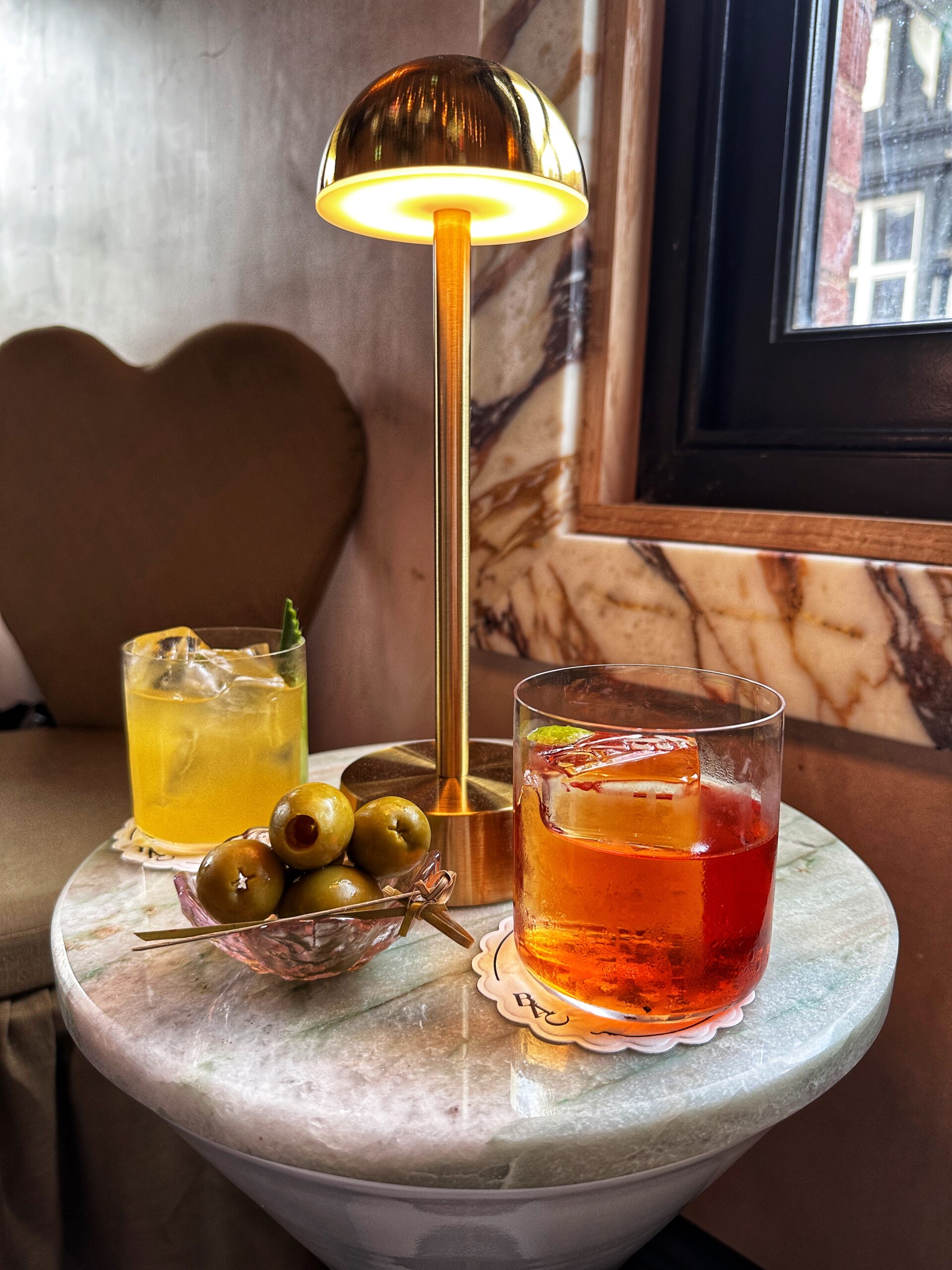 Tom added: "Katie and I met and married in Stockport, it's where everything started for the band, it's our home town; the place means a lot to us.
"There's something special in the air at The Underbanks; the shops, restaurants and bars opening here have a certain charm about them, as do the people visiting.
"When we found this spot we knew it was perfect for the vision we had in mind and we can't wait to welcome in guests to our own little gem in the heart of the town that holds such a special place in our hearts."
Bohemian Arts Club opens on Saturday 27 May. It will be open 5pm-11.30pm on Wednesdays and Thursdays, 4pm-1.30am on Fridays, 2pm-1.30am on Saturdays, and 2pm-11.30pm on Sundays.
To book a table visit bohemianartsclub.com
Featured image: The Manc Group