Eats
McDonalds are now doing triple cheeseburgers for £2.39
Eats
The GIANT £375 chocolate Easter egg that's 'too beautiful to eat'

Daisy Jackson
One of the north's most legendary hospitality businesses has created an Imperial Easter Egg, and the effort that goes into crafting it is wild.
Coming in at 10kg, 22 inches tall, and £375, Bettys enormous chocolate treat shows off a whole lot of artistry.
The iconic tearoom, which has sites across Yorkshire, has shared the behind-the-scenes video to its TikTok page, drumming up almost half a million views.
The mouth-watering video shows first milk chocolate being hand-painted onto a chocolate egg-shaped mould to create the Easter egg's beautiful textured appearance, The Hoot reports.
Then layer after layer of melted chocolate is poured in from a chocolate tap, before being trimmed and tidied.
Bettys, which has tearooms across Harrogate, York, and Leeds, uses the finest Swiss Grand Cru chocolate for its imperial Easter egg, and every bit that's trimmed away is melted down to reuse elsewhere.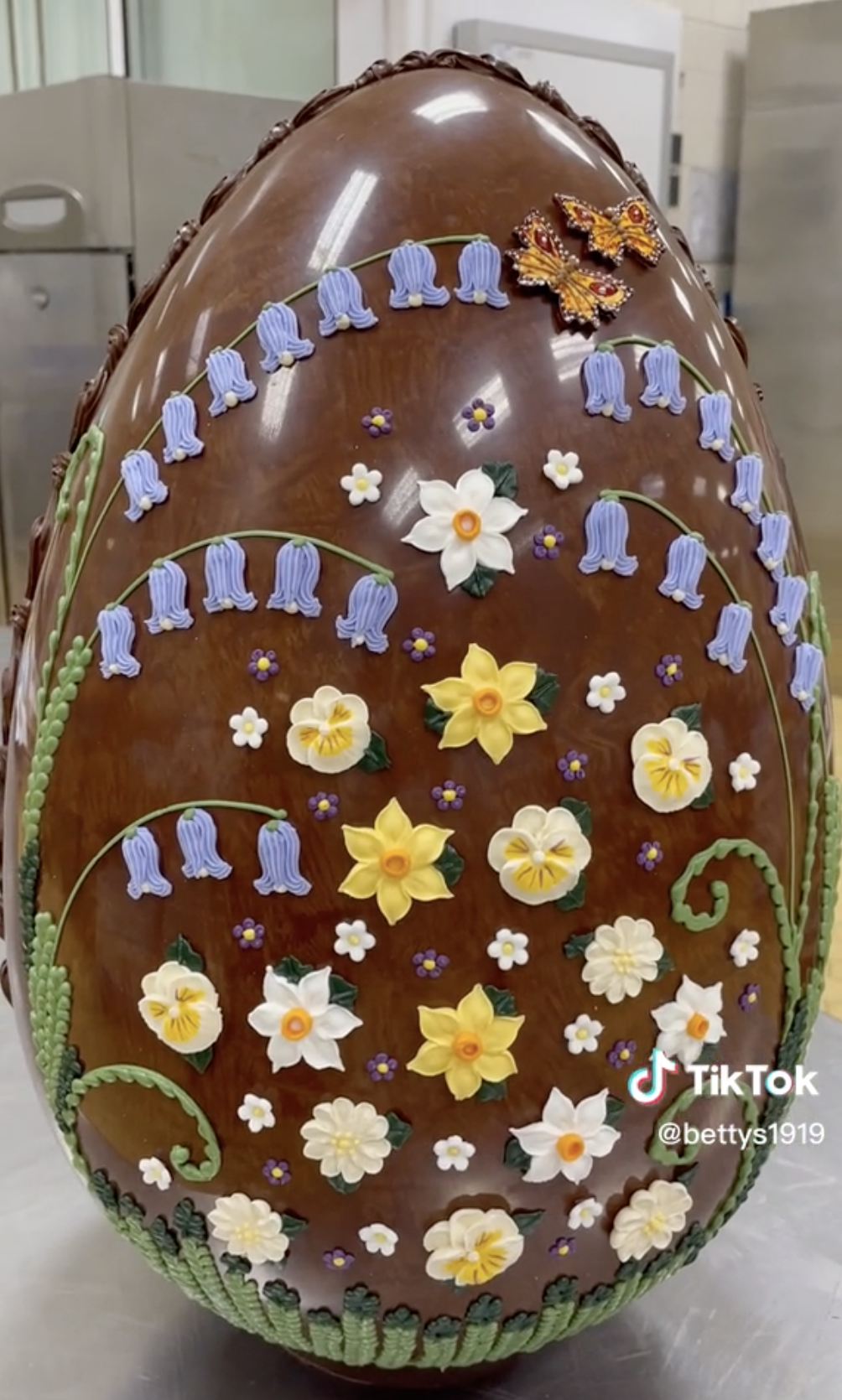 Then a pastry chef at the tearoom will spend up to an hour PER EGG piping on the ornate decorations, carefully piping on coloured white chocolate stems and ferns.
Then colourful royal icing flowers are placed on its surface, each one again hand-piped by their cake decorators.
The end result is a whopping Spring-time masterpiece covered in shades of green, yellow and purple.
Bettys Imperial Easter Egg weighs in at a massive 10kg and stands at 22 inches tall.
Bettys says: "Celebrating the creativity and craft that makes Bettys unique, our handmade Imperial Easter eggs continue a tradition stretching back more than a century, when our founder Frederick Belmont designed eggs which were ornately embellished with hand-piped icing designs.
"Containing over five kilos of Grand Cru Swiss chocolate made from prized Venezuelan criollo cocoa beans, the Imperial Egg is a true work of art, showcasing the highest skills of our chocolatiers and cake decorators.
"Each Imperial Egg carries an array of delicate, individually crafted spring blooms and foliage including primroses, narcissi and pansies, with hand-piped stems as a final perfect touch.
"Our Imperial Easter Egg is made to order and is only available for collection from one of our Yorkshire shops."
Read more
And if £375 is a bit out of budget, you can buy a miniature version that's just as beautiful for a tenth of the price.
In the comment section on the video, one person wrote: "30 mins and a cup of tea and I'd polish that off."
Another said: "A chocolate… tap?! I'm calling my plumber."
Someone else wrote: "That's just too beautiful to eat! A work of art!"
What a beautiful beast indeed.
Featured image: Bettys
Eats
Inside the Manchester restaurant serving 'India's answer to a Wigan kebab'

Georgina Pellant
When it comes to finding new and innovative ways to enjoy the humble potato, it's fair to say that we Brits pretty much have the art down.
From creamy mash to deep-fried chips, crunchy hasslebacks, hash browns, and the all-time classic that is bubble and squeak, you name it, we've tried it.
Still, somehow it took the arrival of Indian street food favorite Bundobust for us to be introduced to the concept of a mashed potato burger – and we are forever thankful.
Comprised of a deep-fried potato dumpling placed inside a brioche bun, accompanied by two house-made chutneys and a whole green chili pepper, since its introduction to the Manchester food scene in 2016 the Vada Pav has become one of Bundobust's most iconic dishes.
Also known as a Bombay burger, the vegetarian fast food snack sells in its thousands back home in Mumbai and has now become something of a signature dish here in Manchester too.
We recently popped down with Deliveroo for an episode of Takeaway Champions to try the dish, and after one taste our reviewer immediately called it the 'Indian answer to a Wigan kebab'. It's simply carbs on carbs on carbs, and we're here for it.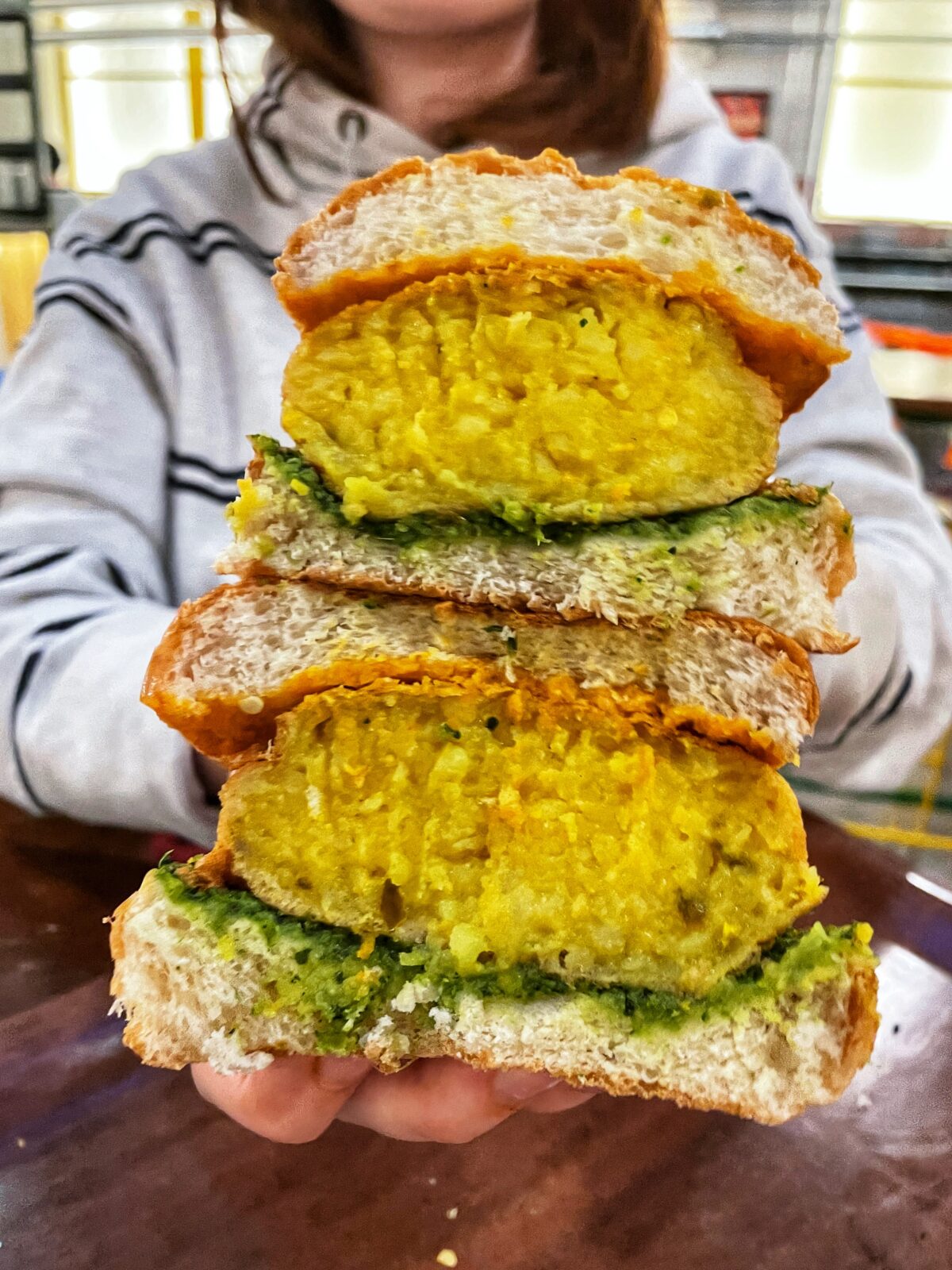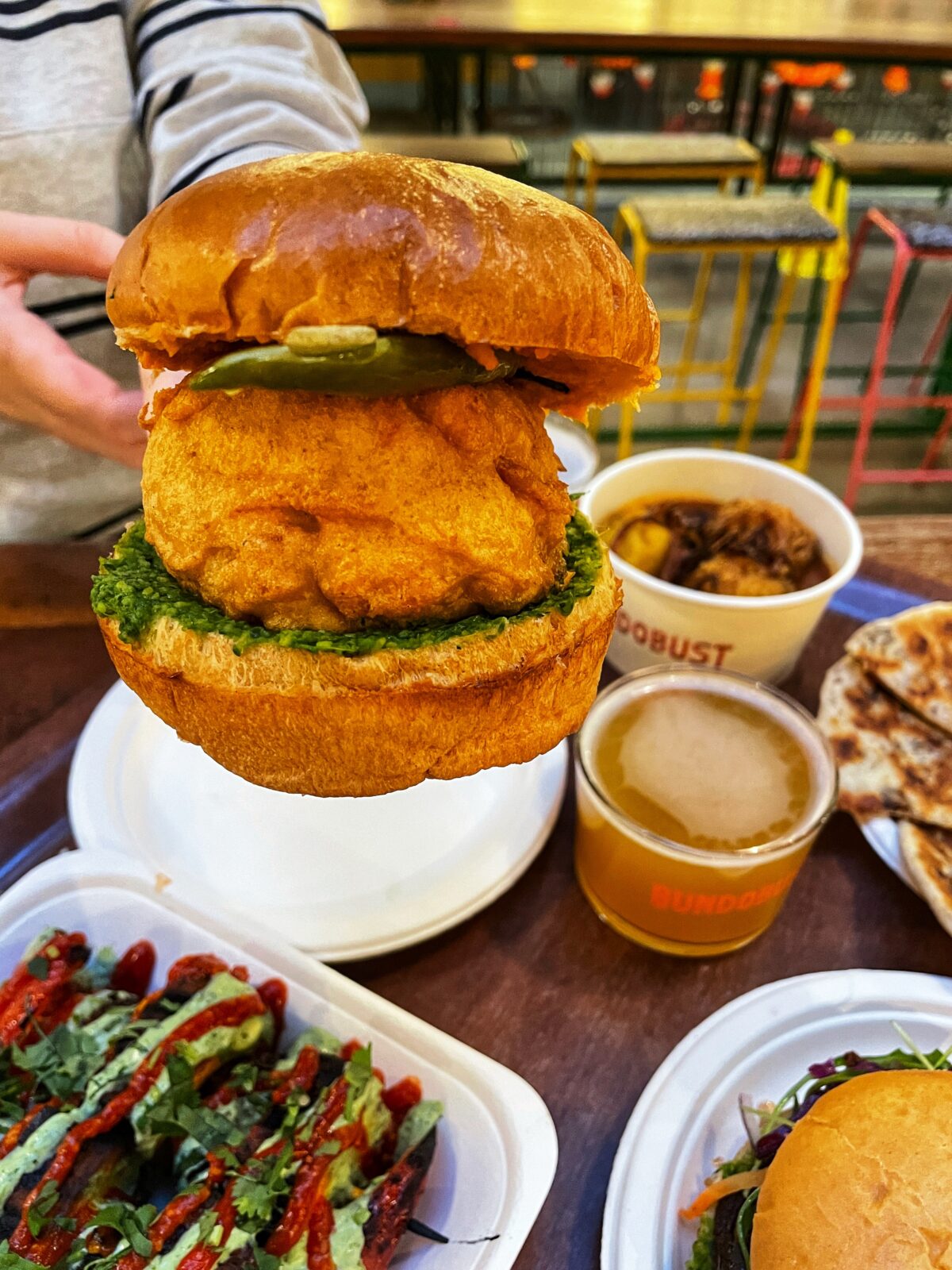 That said, it's not the only thing worth ordering when you visit.
Other longstanding menu staples at Bundobust include its barbecued paneer, mushroom and pepper tikka kebabs, sweet and crunchy Bundo chaat, and crispy okra fries; whilst new dishes include the Ragda Pethis – a north-meets-east combination of mushy peas and potato cake, sev, tomato, onion, and tamarind chutney.
Having first opened in Manchester in 2016, today Bundobust has two sites in the city centre. Its original home still sits underneath Piccadilly Gardens, with a second restaurant and in-house brewery residing over on Oxford Road.
The restaurant – initially born in Leeds before making its way to Manchester – has always had a strong reputation for sourcing excellent craft beer, but since quietly opening its own brewery during the Covid lockdowns it's only gone from strength to strength.
Read more: 'We were treated awfully' – ex-staffer speaks out as Freight Island gears up for reopening
Housed in a unique 100-year-old space within the iconic Grade II listed St James building, the Manchester-based brewery is a custom-built 10-hectolitre facility capable of producing 20,000 pints a month.
Today, alongside beers from other respected brewers, the restaurant serves up a list of specially-made house beers, all designed to complement the flavours of its dishes.
These include a coriander lager, a masala chai porter and a tropical pale ale, as well as its latest concoction: a mango lassi beer created in collaboration with brewers at Northern Monk.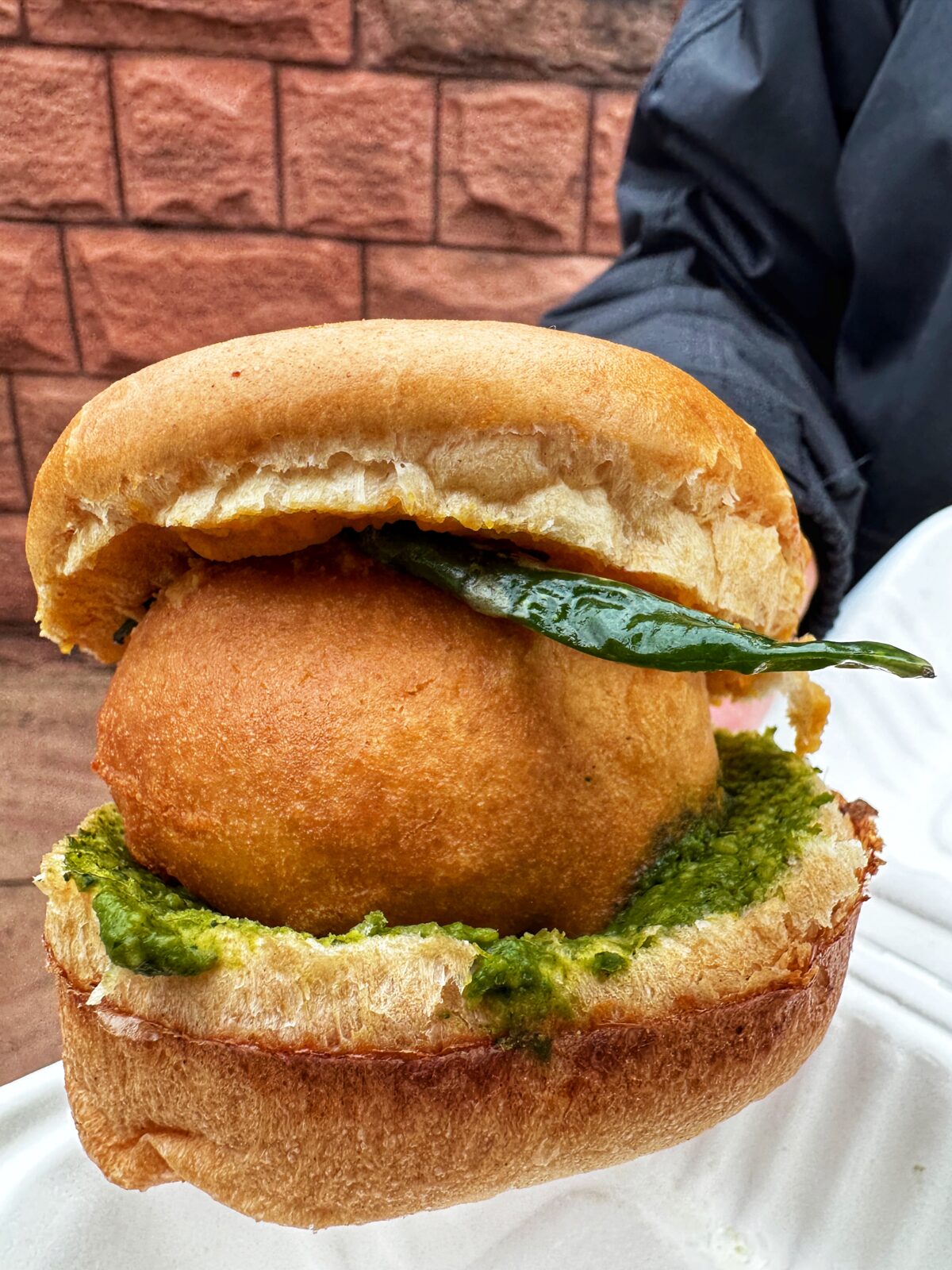 Read more: The Sparrows 'ever so proud and honoured' after award from famous 'lip licking Michelin Man'
To see the full menu click here and to find out more about Bundobust head over to their Instagram page here.
Oh, and to save on your next Deliveroo order from Bundobust make sure to use our code BUNDO10 when you check out.
Feature image – The Manc Eats